NEWS AND BLOG POSTS
We choose our favourite photographs of Burgess
Burgess Foundation

19th April 2020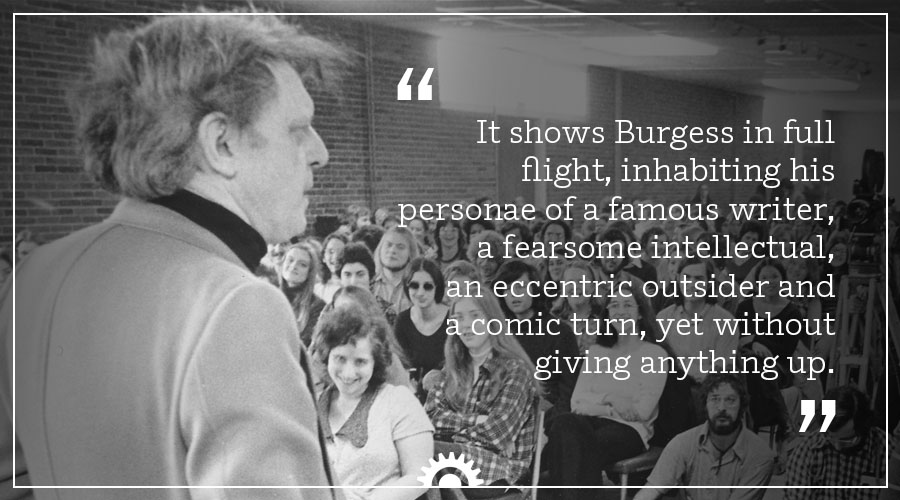 Before lockdown, we curated an exhibition of portraits of Anthony Burgess, chosen from our collection of thousands of images.
We look forward to showing you that exhibition when we reopen. In the meantime, to save you waiting, we asked staff at the Burgess Foundation to pick out some of their favourite images from the exhibition.
We hope you enjoy this handful of photographic insights into Anthony Burgess.
---
Choice 1: A faraway look
I like the faraway look in Burgess's eyes and that Liana's caught him while he's lost in thought.
In quite a lot of the professional shots, or on TV shows, you see Burgess performing for the cameras and I like that this image is more unguarded.
It's not the best shot composition-wise but I like the stillness – it leaves me wondering what he's thinking.
Anna Edwards (Archivist)
---
Choice 2: The mock surprise
Anthony Burgess is so often seen in photographs looking serious outside buildings or striding purposefully across plazas.
Although there is the ubiquitous ashtray, this photograph shows quite a different Burgess. His "oh no, you got me" mock surprise is delightful. Liana took this photograph while he was on tour in Australia – I presume this is a hotel room because nobody would choose that bedspread pattern or those headboard baffles.
The photo feels candid: it is a softer side of the performative Burgess. And yet his body language can also be interpreted as distancing: his hands create a barrier ("stop"), much in the same way he often leant his body away from interviewers on TV. Both gregarious and guarded.
Ian Carrington (Events Officer)
---
Choice 3: In full flight
Here is Anthony Burgess teaching at City College, New York in 1973.
He's standing, hands in jacket pockets, no stage or microphone, in front of a totally packed hall. We're just behind his right shoulder, and can see what he sees: a sea of young American students, all sneakers and denim, entirely captivated. Burgess is wearing a terrible polyester suit and is staring down the room. He has clearly just told a joke, or made some outrageous statement, causing a mixture of laughter and bewilderment.
I like this image as it shows Burgess in full flight, inhabiting his personae of a famous writer, a fearsome intellectual, an eccentric outsider and a comic turn, yet without giving anything up; he's giving his public what it wants, and he is still completely himself.
Will Carr (Deputy Director)
---
Choice 4: The pre-celebrity pose
This is my favourite portrait of Burgess because it shows so much.
It pictures Burgess in the mid-1960s, after he had gained some success out of writing, but before he became the celebrity figure he did in the 1970s and 1980s. As such, it's a portrait from a period where Burgess was rarely photographed.
Quite often Burgess was photographed while he was in mid-speech, lecturing or somehow performing the role of The Writer. And he was almost always photographed while shrouded in smoke from his cigar. In this photo, Burgess looks kind and thoughtful.
But it doesn't just show Burgess, it shows his working environment: the books in the background, the strange caricature on the wall, and the sandalwood box which now lives in the archive at the Foundation. It's clear from the composition of the photograph that Burgess has arranged his desk: the Chinese figure is much too close to the typewriter, suggesting Burgess wanted to have it in shot. Why? Of what significance is the figure? It is a mystery we will perhaps never know the answer to.
Graham Foster (Publications Officer)
Read more about our Portraits of Anthony Burgess exhibition here.