what's on
Literature: Burgess 101 – Ben Masters and Jim Clarke
The complex and controversial works of Anthony Burgess had an incendiary impact on twentieth century culture, bringing into public discussion themes of free will, ultraviolence, religious corruption, dubious gastronomy – and Shakespeare's love life.
As we approach the 101st anniversary of Burgess's birth, the International Anthony Burgess Foundation invites to his home town two writers to discuss, dissect and debate the works of Anthony Burgess. An ultimate primer on Burgess for new and old fans alike!
Ben Masters is a rising star of the writing scene. His debut novel Noughties tracked the antics of demob-happy Oxford University students and was compared by both the Sunday Times and Dazed & Confused to works of Martin Amis. Costa-shortlistee Nikesh Shukla called the book "real and tender and hilarious". His new Oxford University Press book 'Novel Style' examines iconic novels and ethical trends in fiction since the 1960s, with subjects including Angela Carter, Zadie Smith and, of course, Anthony Burgess.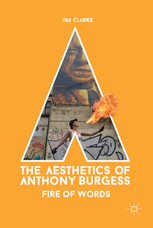 Jim Clarke is an expert on Anthony Burgess, and is the author of the Oxford University Press bibliography of Anthony Burgess, as well as articles on Burgess for The Sunday Independent, Thinking Faith and Babel magazine. His new publication 'The Aesthetics of Anthony Burgess: Fire of Words' is the first full-length text on Anthony Burgess's fiction in a generation, and reveals the artistic process behind Burgess's diverse back catalogue. Clarke is chief investigator for the 'Ponying the Slovos' invented languages project. He is senior lecturer in English and Journalism at Coventry University and has also written extensively on James Joyce and JG Ballard.
This free event (click here to book your ticket) will begin with a wine reception at 6pm. Doors at 5.30pm.