what's on
Literature: Ink Trade book launch
Wed 30 May 2018
6:00 pm
Free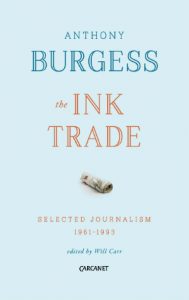 Join us to celebrate the launch of The Ink Trade, a new selection of Anthony Burgess's literary journalism, gathering previously uncollected reviews and essays from throughout his career.
There will be a drinks reception from 6pm to 8pm, during which there will be a brief presentation – and an opportunity to have a go on one of Burgess's very own typewriters.
Burgess wrote thousands of articles for dozens of periodicals – alongside the sixty books, plays, classical music, poetry, film scripts and everything else – and his journalistic writing is a hugely important part of his creative life.
Alongside literary essays and some stern appraisals of other writers, The Ink Trade contains pieces never before collected, with some never published in English and or never published at all, including:
'Why I Write', a lively account of Burgess's motivations for being a novelist, 'Joyce as Novelist', one of Burgess's most complete and personal statements on his great influence James Joyce, and 'A Movie That Changed My Life', on his love for Fritz Lang's Metropolis and the influence of cinema on his own fiction. It is a fascinating and diverse collection that showcases some of the best of Burgess's writing.
We invite you to celebrate the launch of The Ink Trade: Selected Journalism 1961-1993, published by Carcanet and edited by Will Carr.