what's on
Portraits of Anthony Burgess: special viewing (Monday)
Mon 17 Jan 2022
12:00 pm
Free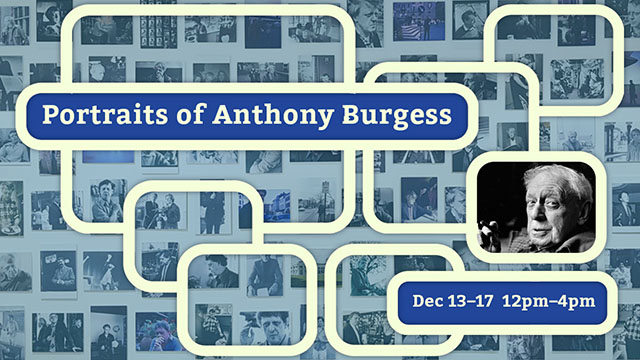 Our Portraits of Anthony Burgess exhibition spent 18 months hidden in lockdown. We are happy to announce a special viewing of this astonishing collection of Liana Burgess's photographs.
The exhibition draws on the many thousands of photographs that Liana took. Her pictures are intimate, casual and lively. Burgess is performing, delivering a lecture, being interviewed or reading from his work; and he is also shown in unguarded moments, relaxed with his family – and occasionally even smiling.
To see the exhibition, drop in to the Burgess Foundation during the following times: Monday 17th January to Friday 21st January, 12pm until 4pm. Entry is free, and there will be a Burgess Foundation staff member on hand to answer any questions you have about Anthony Burgess.
Some reading before you come:
Our collection contains more than 9000 images and paintings, a rich document of his life created by leading artists, and his friends and family. Here are some highlights from our exhibition.
Read more about Liana Burgess's photographs and how they provide a revealing record of the life of Anthony Burgess.
We can't have a portraits exhibition without featuring the infamous bust of Burgess. Here's more about the bust of Anthony Burgess by the American artist Milton Hebald.