NEWS AND BLOG POSTS
Object of the Week: Burgess and His Dog
Graham Foster

20th February 2017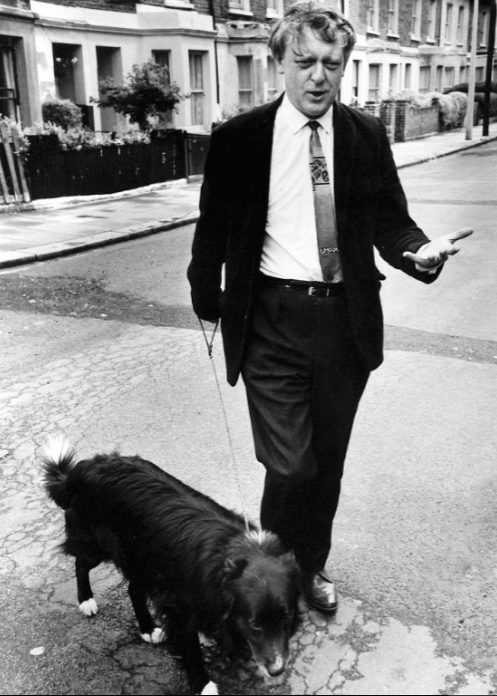 This picture, taken in Chiswick, shows Burgess with his border collie, Haji. Burgess and his first wife Lynne acquired their dog when they moved to Etchingham in 1960, where they also had a cat and kittens. According to Burgess, Haji was not the perfect pet: 'He was crafty, disobedient, and ignorant of the sexual life, except in perverted forms peculiar to himself […] He had no loyalty, leaving that commodity to us.' When Burgess left England in 1968, shortly after this photograph was taken, he left Haji with his friend Terry Sutton, who bought the house in Chiswick. In 1972 Sutton wrote with the news that Haji had died after suffering from a hernia and liver problems.
Animals were a constant feature of Burgess's domestic life. Lynne, in particular, was fond of cats, and she owned many during the 26 years that she was married to Burgess. In 1946 she bought a Siamese cat, which she named Lalage after a character in Horace's Odes. Burgess wrote that Lalage 'attached herself like a limpet to my wife and decided to hate me,' and that she enjoyed lapping sherry out of a saucer. She travelled with the Burgesses to Malaya in 1954, and Burgess described this journey as 'like taking coals to Newcastle.' Lalage remained in Malaya after the Burgesses left in 1957, and she ended her days with a family in Kota Bharu, Kelantan.
In Malaya the Burgesses began to accumulate a menagerie. He remembers acquiring twenty-five cats, 'with Lalage as a seal-pointed virgin matriarch who controlled them rigorously.' They kept a rooster named Regulus, a turtle, and an otter 'that whistled like a train when it wanted food.' Several of the pictures of Burgess and Lynne in Malaya show them holding kittens and puppies.
In 1964 Burgess agreed to write a non-fiction book about the animals he had kept in Malaya for Peter Dawnay, his publisher at Sidgwick and Jackson. This book was never written, although Burgess often mentioned his pets in articles, and in his two volumes of autobiography.
When Burgess and Lynne lived in England in the 1940s and 1950s, they owned a goat — pictured here, with Burgess in his tweed demob suit — and a collie dog named Suky, who lived with them in Bamber Bridge and Adderbury, along with Lalage the cat. This photograph is from the collection of Gareth MacLatchy, who was a neighbour in Oxfordshire.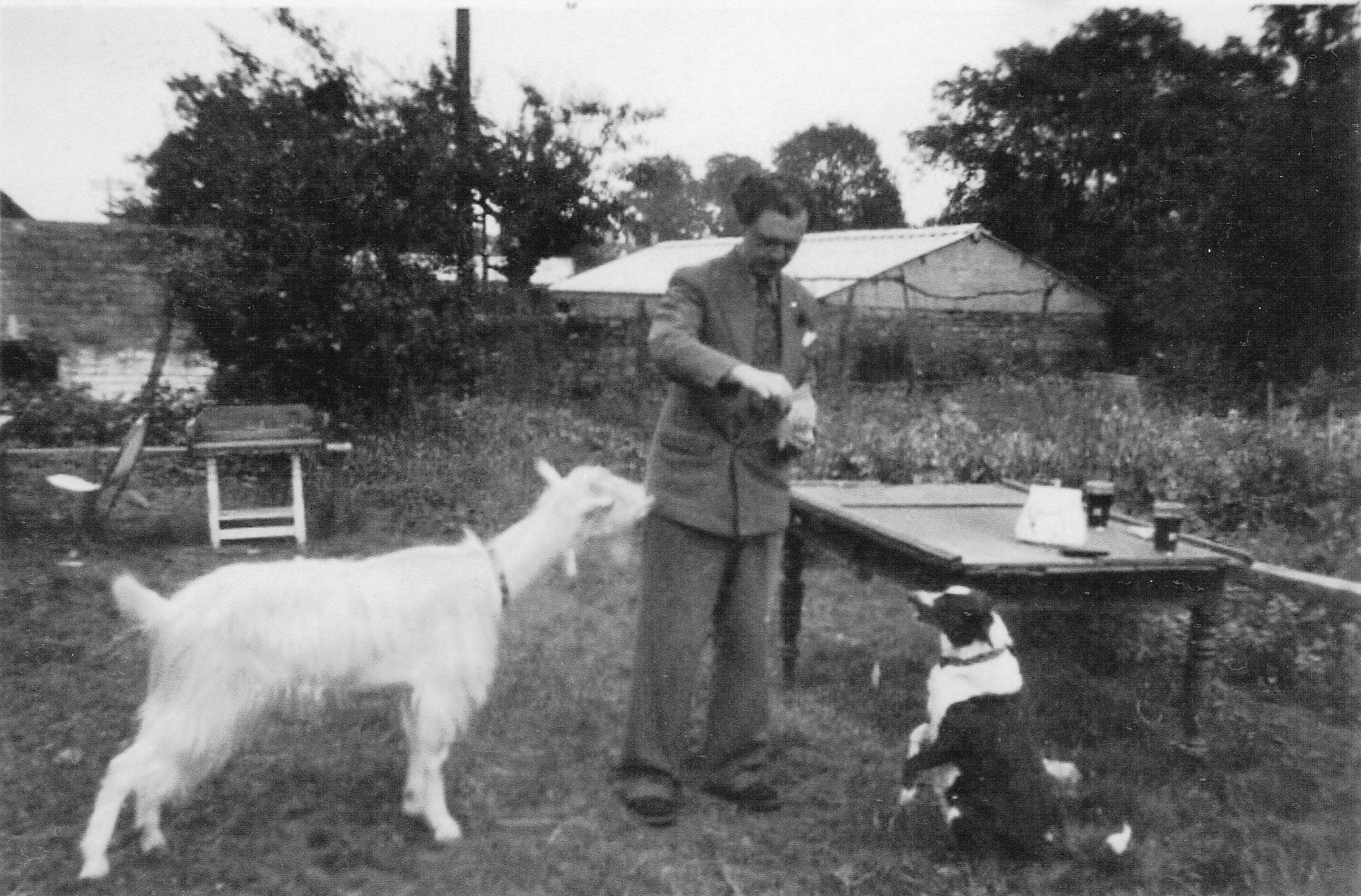 Once Burgess's lifestyle became more nomadic, pet ownership became more difficult, yet at various points in his life, he still managed to keep more cats, a big black rabbit, a hedgehog, and a mynah bird. His last known pet, when he was living in Monaco in the 1970s and 1980s, was a cat named Bruce, who leaped out of the fourth-floor window and died. In letters he writes fondly about Bruce, who sometimes slept in his bed.
Pets do not often feature in Burgess's fiction, but the most memorable one appears in his first novel, Time for a Tiger. The policeman Nabby Adams owns a large and happy black dog named Cough, whose clanking medallion accompanies Nabby through the first volume of the Malayan Trilogy. Burgess's affectionate account of this pet tells us much about the importance of animals throughout his own life and travels.