NEWS AND BLOG POSTS
Object of the Week: Burgess's Malayan Photo Album
Graham Foster

19th July 2017
The photographic collections at the Anthony Burgess Foundation span Burgess's entire life, from his Manchester childhood in the 1910s and 1920s, through his war years, to his latter years as an international man of letters.
Perhaps the most evocative images are those taken in Malaya during the 1950s, when he worked as a school teacher in the British Colonial Service (he is pictured above with his students). The photos, which number over 100, are prints from an early point-and-shoot camera, similar to a Kodak Brownie. The majority of them are in black and white, but there is a single colour slide depicting Burgess's wife Lynne, with an unknown man (possibly one of the models for Time for a Tiger's Nabby Adams).
Burgess's life as a colonial civil servant began on 5 August 1954, when his ship sailed from Southampton. Five weeks later, he was installed in his new post as an English teacher at the Malay College in Kuala Kangsar, the capital of  the state of Perak.
While at Malay College, he was housed in King's Pavilion, where he is pictured above. This building was designed by the British architect A.B. Hubback, who was also commissioned by the 28th Sultan of Perak in 1913 to build the grand Ubudiah Mosque in Kuala Kangsar (below). King's Pavilion has a gruesome history, and prior to Burgess's tenancy, it was used by the Japanese military to torture their prisoners during the Second World War. Burgess remembers that 'Dried blood, irremovable with any amount of Vim, stained the floor in the main bathroom, through whose open channels much blood had flowed'.
Many of the photographs show the people Burgess met during his time in Malaya. Donald 'Lofty' Dunkeley, the inspiration for Nabby Adams, is shown below sitting on the bumper of an Austin A70 with a dog between his legs (perhaps the original of Nabby's dog, Cough). Burgess writes about Dunkeley in his autobiography: 'there was one police-lieutenant of mysterious origin who might have been Anglo-Indian but spoke English with an accent undoubtedly Midlands though hard to place. He was sallow-brown through punishment of his liver. He was nearly seven feet high and was called Lofty'. It is clear that this is the man in this photograph as Lynne has captioned the back with his name.
In the below photograph, Burgess is seen drinking with an acquaintance identified as Phil Hilton, a fellow teacher in the colonial service. There is a framed painting on the wall above them, depicting an abstract scene of a London public house by the artist Gilbert Wood.
This painting remained in Burgess's possession after he returned from Malaya and is still in the archive at the Burgess Foundation today (pictured below). Burgess met Wood in London in the early 1940s and describes him as a 'petulant painter'.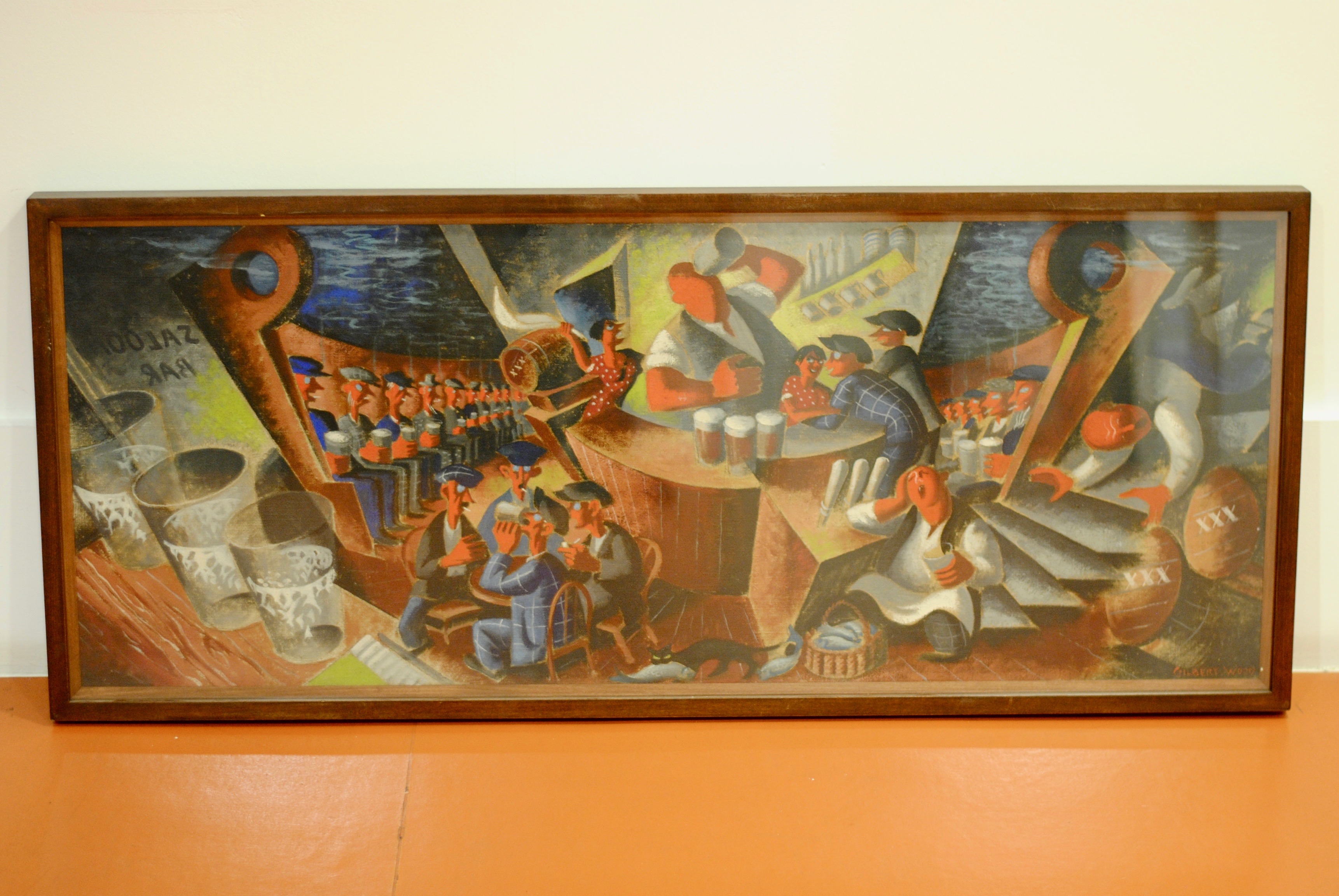 Many of the photographs of Malaya offer corroborating evidence for Burgess's writings about the country. He writes about his friendships with many of the local people, something which was unusual for white colonials at that time, and there are numerous photographs showing him with local friends and acquaintances.
The collection also contains professionally taken photographs that were given to the Burgesses by their local friends, and inscribed on the reverse. The photograph below has a Malay inscription, which translates as: 'For my friends. From Mek Hitam, 1956'. In his autobiography, Burgess claims that he knew her 'too well'.
Burgess's adventures in Malaya were artistically and personally formative. It was in Malaya that he found his voice as a novelist, and his time in the country resulted in his first three published novels, later collected in one volume as The Malayan Trilogy. His time in the Colonial Service also stoked a lifelong love of travel, and he remained curious about other cultures and civilisations. These photos show Burgess before he became a famous writer, and they offer an intriguing glimpse into colonial life in the last days of the British Empire.