The collections
Inside Mr. Burgess: diary of an archivist, part one
Veronika Schubert is a student at Saarland University in Germany, and as part of her course she has been with us on a work placement in the Burgess Foundation archives. Here is her account of what she has been up to.
"Being a German student of Literature and English, I am happy to spend a part of my stay abroad as a volunteer in a literary archive like the Burgess Foundation. On Tuesdays and Wednesdays, I get on the bus, and off again a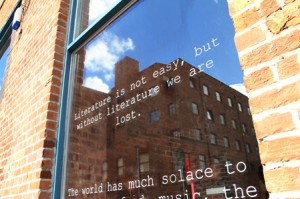 t the BBC buildings, and then find my way to 3 Cambridge Street. The building is impressive and pretty in a very Mancunian way: redbricks and a lot of glass – a modern interpretation of the city's industrial past.
Although the Burgess Foundation building is basically an archive for Anthony Burgess's things and a location for cultural events, its most obvious part is the café, visible through the large glass front. The archive itself consists of several store rooms and a reading room. It contains several thousands of books formerly owned by Anthony Burgess, and many more of his belongings: There are manuscripts and photographs, video tapes and slides, correspondence and tarot cards. There are paintings, musical scores, and paper clippings. There are typewriters, many of them. There is furniture, musical instruments, toys, and Malayan art. There are so many things it is hard to believe they belonged to one single person!
Some of these things are on regular display. When you come to the café to have a drink, you can buy a copy of one of Burgess's books which once was hanging around in his very own house. And when you descend to the basement, you will pass by harpsichords, bagpipes and a collection of fancy-coloured typewriters. If you like, you can even sit in the Reading Room among Burgess's books and have a look at his own personally annotated copy of a particular book you are writing your PhD thesis about.
However, many things still have to be catalogued, and this is where the work starts…"
A version of this article appeared on Back View magazine.