The Foundation
The Burgess Café
in this section
The Burgess Café: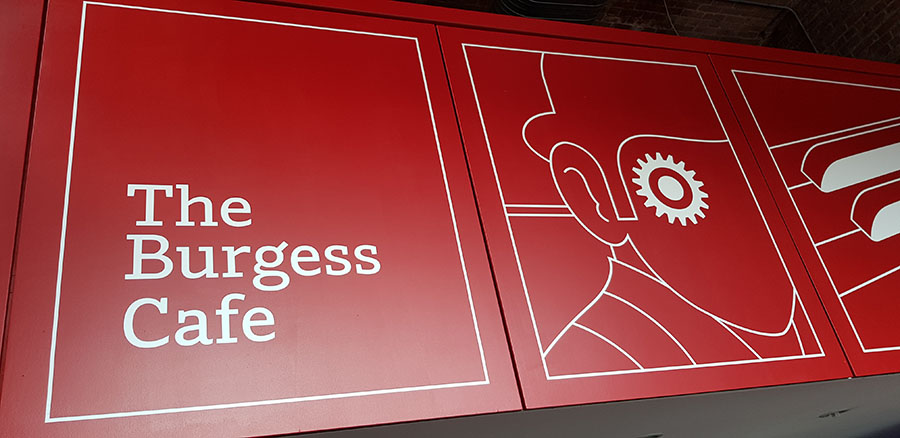 With consistently great coffee, loose leaf tea, soups, sandwiches, cakes, books and wifi, the Burgess Café is a fully-licensed, relaxed haven located just off Oxford Road where you can work, read and chat – or grab a quick take-out.
The café has now reopened following lockdown. We are open 10am until 2pm Tuesday to Friday, as take-out only, with anti-Covid measures in place to keep you safe. We are also relaunching our events programme, where our cafe will transform into a sensibly distanced catering service or bar, Covid-19 restrictions-allowing. Visit our What's On pages to find out more about forthcoming events.
At the cafe, we aim to use local fresh products and small independent suppliers. We believe that this makes our food and drink extra tasty! We've listed our wonderful suppliers below.
See our latest food menu here.
Please note that due to Manchester's Covid-19 Tier 3 status, we are not currently serving alcohol.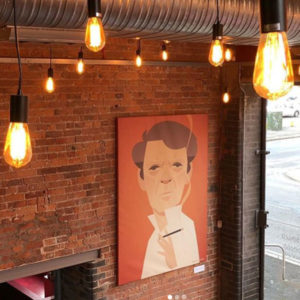 The Burgess Café is now home to a specially commissioned portrait of Anthony Burgess by the internationally-renowned illustrator Stanley Chow. We have A3 prints of this incredible artwork on sale exclusively in our Café for £12 each.
With our excellent catering service and drinks offer, the Burgess Foundation is a great place to host your work's away-day or your book launch. To discuss catering, get in touch via our Venue Hire page.
---
"It's a space for writers and readers, and as such there's no distracting background music, just quiet chatter and the sound of pages turning." Here's Creative Tourist's review of the Burgess Cafe Bar.
---
We love our brilliant cafe, and you will too… here's a list of the suppliers that make our service great:
Food: Barbakan, Chorlton  |  Little Pigs, Didsbury  |  Steep Soda, Manchester  |  Bohea, Manchester  |  Rcoffee, Stockport  |  Strawberry Catering, Manchester
Drink: First Chop  |  Beer Brothers  |  Brightside  |  Smashed Hops  |  Three Rivers Gin  |  Zymurgorium Gin  |  Thomas Dakin Gin  |  Manchester Gin