With consistently great coffee, loose leaf tea, soups, sandwiches, cakes, books and wifi, the Burgess Café is a fully-licensed, relaxed haven located just off Oxford Road where you can work, read and chat – or grab a quick take-out.
We are open 10am to 3pm Monday to Friday, and during our busy events programme in the evenings and at weekends. Visit our What's On pages to find out more about forthcoming events.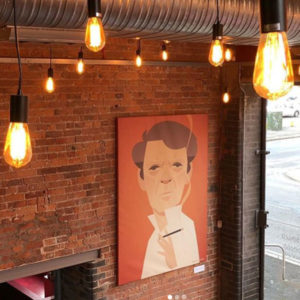 The Burgess Café is now home to a specially commissioned portrait of Anthony Burgess by the internationally-renowned illustrator Stanley Chow. We have A3 prints of this incredible artwork on sale exclusively in our Café for £12 each.
With our excellent catering service and drinks offer, the Burgess Foundation is a great place to host your work's away-day or your book launch. To discuss catering, get in touch via our Venue Hire page.
"It's a space for writers and readers, and as such there's no distracting background music, just quiet chatter and the sound of pages turning." Here's Creative Tourist's review of the Burgess Cafe Bar.
We love our brilliant cafe, and you will too… but there's one thing we don't do…
More disappointed customers in the Burgess cafe: we still don't sell burgers. Yes the word is nearly spelled the same. No we aren't sorry.

— Burgess Foundation (@anthonyburgess) September 12, 2017
Just to clear up the confusion, we DON'T serve burgers in the café, although we get asked for them on a regular basis. The enormous sign outside the building says "Anthony Burgess Foundation", not Anthony's Burgers. #anthonyburgess #burgers

— Burgess Foundation (@anthonyburgess) April 9, 2018
Another day, another customer asking for burgers in the cafe. For the nth time, the sign outside says "Anthony BURGESS Foundation". Our mission is to provide food for the mind. We don't serve burgers. #anthonyburgess #burgers

— Burgess Foundation (@anthonyburgess) June 8, 2018
A burger please

— BlackwellsManchester (@BlackwellsMcr) April 16, 2018
'International Anthony Burgess Foundation' is an anagram of 'Attain instant food – only, no burgers. Ha! Ennui."

Our cafe is open 10am-3pm on weekdays.

— Burgess Foundation (@anthonyburgess) July 5, 2018