The Foundation
Venue hire
Hire the Burgess Foundation for your event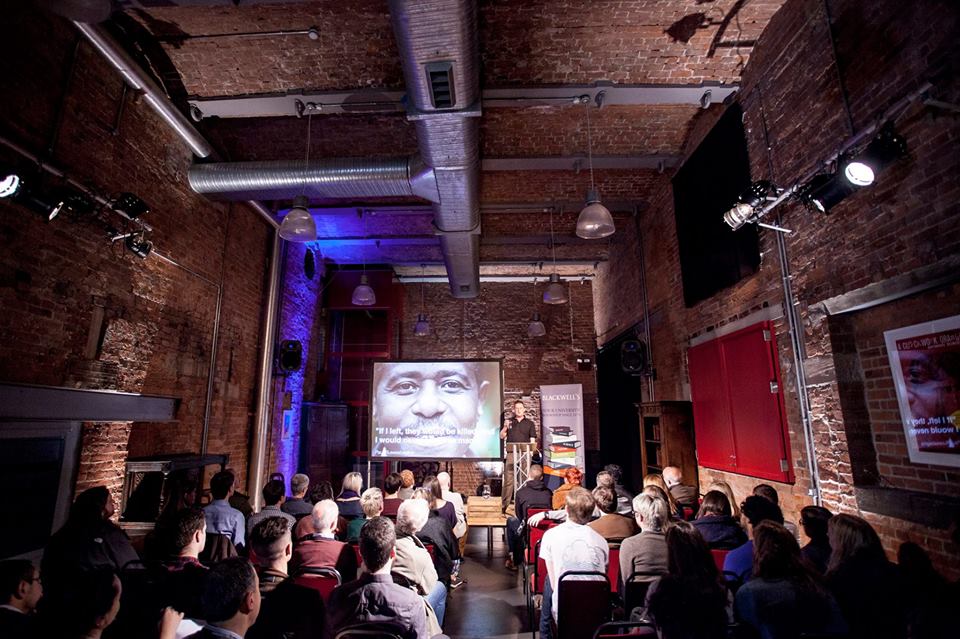 Situated in one of Manchester's oldest mills, the Burgess Foundation hosts a brilliant event space with plenty of brickwork akin to a New York comedy club. This former home of Manchester's bustling textile industry is kitted out with modern audio-visual facilities, the licensed Burgess Bar, and, for a truly unique feel, Anthony Burgess's own antique furniture and musical instruments.
The flexible event space can accommodate a wide range of activities, from concerts to comedy, from lectures to book launches, from meetings to workshops. You'll enjoy working alongside our experienced and friendly venue managers who will help your event come to life. Read on for more, or go straight to our quote request form.
---
Facilities and audience capacity

We can accommodate audiences of up to 100 seated theatre-style, depending on the room layout you require. For cabaret and boardroom-style seating, our capacity is around 25.
Our sound and lighting system was upgraded during lockdown, as was connectivity for our super-fast wifi. For a full tech list, get in touch. Hire doesn't include a sound engineer, but we will help with set-up and a little light sound-desk attending. Your hire includes opening of our Burgess Bar, which can offer drinks receptions, tea services and bar tabs. Ask us for a quote.
We are a wheelchair accessible building, with no steps on entrance, and with accessible toilet facilities on our ground floor. Our facilities are gender neutral. Please ask us if you have any special requirements for your visit to the Burgess Foundation.
Details of our facilities can be found beneath the video below. Tell us about your event requirements – scroll down this page and fill in our quick request form. If you want to talk about your event further, please contact Ian Carrington on events@anthonyburgess.org.
---
Hire rates

Our standard evening hire rate is £200+VAT. This gets you use of our venue between 5pm and 10.30pm. Our licensed bar will open for your event and you'll have a venue manager to ensure everything runs smoothly.
We can tailor daytime (pre-5pm) rates to your needs. As a guide, a four-hour hire is £180+VAT, rising to £325+VAT for an eight-hour hire.
We offer discounts for literature and classical music events, to reflect Anthony Burgess's interests. We also offer a lower rate for non-audience rehearsals and recordings that don't require much resourcing on our part, with hires typically starting at £125+VAT.
We don't operate a box office, so you should look after – and keep any proceeds from – ticketing. We will always list events on our website. If you do need advice on ticketing, just ask.
And now, a useful form:
---
Want to hire our space? Start here...
Use this form to get a quote for venue hire at the International Anthony Burgess Foundation.
---
Photographs of the event space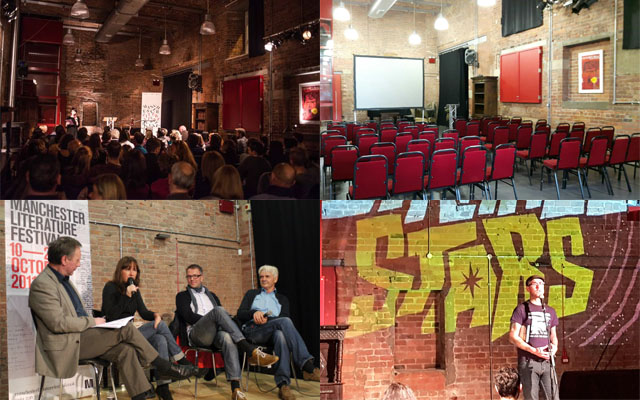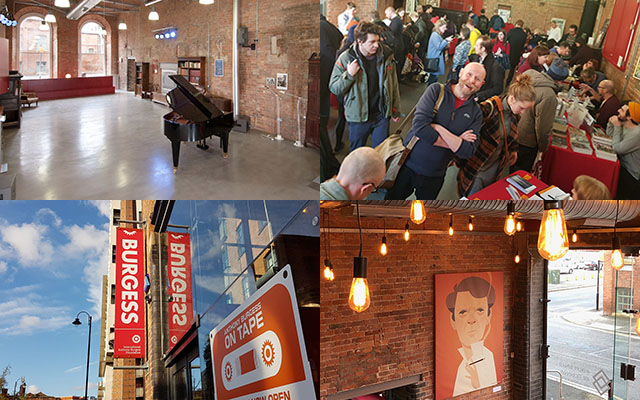 Doves: Cycle of Hurt, recorded at the Burgess Foundation
---
Click here to hire us via: Big Venue Book | Meetings Booker