The Foundation
Burgess Archive
As art is a mirror of oneself and oneself is one's life, so it is right to want to know about the life. – Anthony Burgess
in this section
Visiting the Archive:

Visiting us
The International Anthony Burgess Foundation is committed to making its archive available to as broad a range of users as possible. However, for logistical reasons, you need to make an appointment to see the archive.

Our archive is available for research visits from 10am until 3pm on Mondays, Tuesdays, and Thursdays. If you have a question about the archive, or would like to arrange a visit, please contact the Archivist 


You might have an academic interest in Anthony Burgess and his work. You may be an enthusiast, carrying out your own research. You are welcome to contact the Archivist to arrange a visit to study in our office space filled with Burgess's office paraphernalia.
We're continually developing ways to engage with the archive remotely, including learning resources, online exhibitions, podcasts and blogs. Please keep an eye on our website or follow us on social media for other updates and news.

We're really pleased to be able to welcome visitors back to our reading room and we've been busy putting a series of additional measures in place to help ensure everyone's safety on-site.
We'll be limiting access to the reading room to two researchers at a time. Please discuss any access requirements you might have with the Archivist when making your appointment.
Whenever you visit, our spaces will be regularly cleaned and you'll find hand sanitiser stations throughout the building. Please ensure you clean your hands frequently.
We'll ask you to request the material you'd like to consult in advance of your visit. Our Archivist will help you to identify relevant material as part of the booking process. For this reason, we're recommending that you book an appointment at least a week in advance.
Please don't come to the Burgess Foundation if you feel unwell, or if anyone in your household is showing symptoms of Covid-19. If you can no longer attend, please cancel your appointment by contacting the Archivist so we can reschedule your visit and offer your booking to others.
Thank you for being considerate of others and helping to keep everyone safe while you're here.

The Reading Room is equipped with power points for readers to use their own laptops: we have free wifi.
Visitors are permitted to take photographs of archive material for their own private research purposes under certain conditions and at the discretion of archive staff.
Lockers are provided for coats, bags and umbrellas. All items are left at the user's own risk.
Our toilets will be open, with enhanced cleaning procedures in place.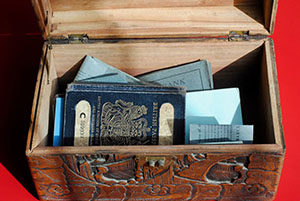 We have a responsibility to protect our archive materials, and so we have certain protections in place to ensure it's in the best condition when you visit.
We have some regulations we ask you to sign up to when you visit – click here for more information.
We don't allow public filming or photography, and we cannot allow any objects to leave the archive.
We keep food and drink (including sweets and water) outside of the archive space to prevent any potentially damaging spillages. We have lockers in which you can keep belongings.
We do allow laptops, and have free wifi that you are welcome to use. Our staff will be on hand to assist you with any questions about archive space usage.