The Foundation
Anthony Burgess novels
in this section
Anthony Burgess novels: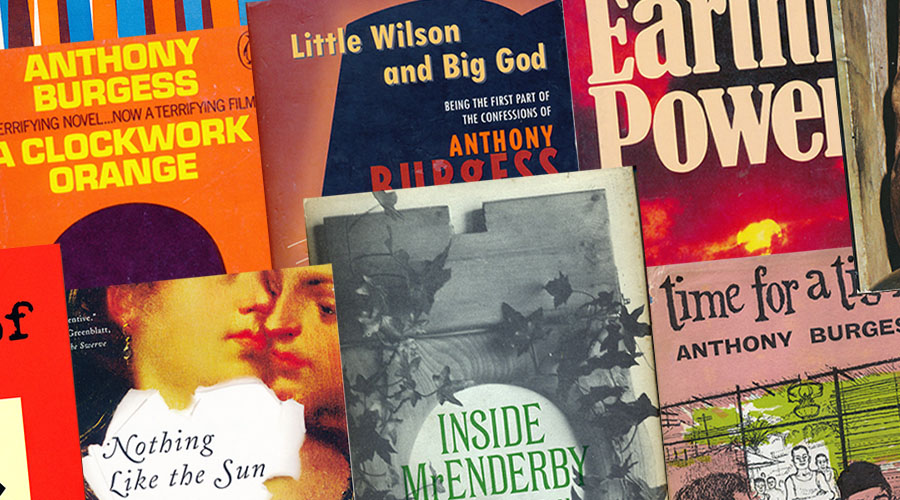 Anthony Burgess published his first novel, Time for a Tiger, at the age of 39. He is best known for his 1962 dystopia A Clockwork Orange and his epic saga Earthly Powers, which was shortlisted for the 1980 Booker Prize. In total he wrote 33 novels and 25 non-fiction books. This is a selective bibliography of Anthony Burgess's novels and non-fiction. There are many more works to explore beyond these edited highlights: study Anthony Burgess's extensive bibliography and references.
---

Time for a Tiger (1956) BUY
The lives of a colonial teacher, Victor Crabbe, an alcoholic policeman, Nabby Adams, and his junior officer, Alladad Khan, collide when Crabbe is persuaded to buy a car which they can all share. This novel, based on Burgess's experiences as an education officer in Malaya, revealed his talent as a comic writer and was an immediate success on publication. The first volume of the Malayan trilogy.
The Enemy in the Blanket (1958) BUY
Victor and Fenella Crabbe return in the second volume of his adventures. This time he takes up a new post as headmaster of a school on the east coast of Malaya, during the Communist insurrection known as the Malayan Emergency. The action is loosely based on Burgess's experiences in Kota Bharu in the state of Kelantan.
Beds in the East (1959) BUY
Victor Crabbe takes a burgeoning young Malay composer under his wing during the final days of British rule in Malaya. When he travels upriver, he discovers dark secrets about his own past. The conclusion to Burgess's Malayan saga, later published in one volume as The Malayan Trilogy (titled The Long Day Wanes in the USA) in 1972 (BUY).
The Right to an Answer (1960)
J.W. Denham, an expatriate Englishman who has been living in Japan, returns to an unnamed English city to visit his dying father. A lost play by Shakespeare is discovered in the local pub, and we meet Mr Raj, a student from Ceylon, who is writing a thesis about the sexual habits of British people.
The Doctor is Sick (1960)
Edwin Spindrift, a linguistics professor, is confined to hospital with a mysterious neurological illness. He worries about his wife's infidelities, breaks out of his ward, and is befriended by gangsters in the London underworld. A comic rewriting of Burgess's experiences at the National Hospital for Neurology and Neurosurgery in London.
The Worm and the Ring (1961)
A retelling of Wagner's Ring Cycle, set in a school in the Midlands of England. The headmaster, Mr Woolton, becomes tangled in the events surrounding the theft of a schoolgirl's diary. The novel is based, very approximately, on Burgess's time as a teacher at Banbury Grammar School in Oxfordshire, and was the subject of a libel action from the school secretary. A revised version was published in 1970.
Devil of a State (1961)
The construction of a new mosque in the fictional East African caliphate of Dunia is the backdrop to this tale of postcolonial conflict and marital unhappiness. Burgess draws on some of the characters and situations he witnessed while living in Brunei, although the story is heavily fictionalised. Selected by the Book Society as its novel of the month in 1961.
One Hand Clapping (1961) BUY
Howard, blessed with a photographic memory and the gift of clairvoyance, enters a television quiz show, leading to global adventures, gambling, and fancy hotels — but where is this glamorous lifestyle leading? Narrated in a minimalist vernacular style by Howard's wife, Janet, this is a richly comic novel.
A Clockwork Orange (1962) BUY
Alex, the leader of a teenage gang of 'droogs', enjoys violence, sex and Beethoven. When he is imprisoned for his crimes, he undergoes a revolutionary new treatment that promises to cure him of his anti-social impulses. Burgess's most famous novel was adapted as a film by Andy Warhol and Stanley Kubrick.
The Wanting Seed (1962)
A dystopian future Britain in which the cities cover all the land and the human race is oppressed by overpopulation, state-sanctioned cannibalism, and a phony war. Tristram Foxe, a history teacher, has to navigate this world with his wife, Beatrice-Joanna, who has become pregnant without the permission of the state.
Honey for the Bears (1963)
Antiques dealer Paul Hussey travels to Leningrad to sell a caseload of black market Rayon dresses, but when his wife Belinda is taken ill and falls in love with her nurse, with the Soviet police closing in, Paul realises he's made a mistake. Burgess gathered material for this absurd comic novel when he visited Leningrad in 1961.
Inside Mr. Enderby (1963) BUY
Meet F.X. Enderby, a dirty poet of the highest order, who composes his verses in the bathroom. He accidentally sends a love poem to the wrong person, resulting in a calamitous marriage. This novel is thought by many to be Burgess's finest comic creation.
The Eve of Saint Venus (1964)
Ambrose and Diana are to be married, but she is having second thoughts, and he has accidentally become engaged to the goddess Venus, whose statue has taken possession of the wedding ring intended for Diana. Originally written as a three-act verse drama in 1951, this is one of Burgess's earliest works.
Nothing Like the Sun (1964)
Subtitled A Story of Shakespeare's Love-Life. William Shakespeare arrives in London, ready to make his name, but falls in love with his aristocratic patron and a mysterious Dark Lady named Fatima. This richly-told tale blends Elizabethan language with Burgess's encyclopaedic knowledge of Shakespeare's writing.
A Vision of Battlements (1965) BUY
The first novel Burgess completed, drawing extensively on Virgil's Aeneid and the author's wartime posting to Gibraltar. Richard Ennis, a frustrated composer, is trapped in Gibraltar and tasked with motivating the troops. Moving from Army Education to accidental death, the novel includes memorable drinking scenes and an allegorical descent into Hell.
Tremor of Intent (1966)
Burgess parodies the Cold War espionage thrillers of Len Deighton and Ian Fleming. Denis Hillier, a British secret agent, is sent to Russia to retrieve his friend Roper, who has defected. The sea journey to Russia is filled with larger-than-life characters, athletic sex scenes, and  an epic eating contest against a sinister villain. The American edition is subtitled An Eschatological Spy Novel.
Enderby Outside (1968) BUY
Enderby's back, this time on the run in Spain and Tangier after he is wrongly accused of murder, and with his poetic muse in tatters. A comedic reimagining of Burgess's visits to North Africa and his meetings with expatriate writers such as William S. Burroughs.
MF (1971) BUY
A retelling of the Oedipus myth, set on Castita, a fictional island in the Caribbean. Miles Faber, a college drop-out, embarks on a quest to find the literary remains of Sib Legeru, the mythical Castitian poet and artist. It's a story of doppelgangers, strange Welsh-speaking bird queens and unusual religious festivals. This wildly experimental book was Burgess's favourite among his 33 novels.
Napoleon Symphony (1974)
The musical retelling of Napoleon Bonaparte's conquest of Europe is subtitled A Novel in Four Movements. Structured around Beethoven's Third Symphony, the novel uses modernist devices and poetic interludes to tell the story. Burgess draws on his own experience as a soldier to add texture and spicy language.
The Clockwork Testament, or Enderby's End (1974) BUY
In the third volume of the Enderby series, the poet is recruited by a sleazy Hollywood producer to adapt Gerard Manley Hopkins's poem, The Wreck of the Deutschland, into a film. The resulting sensationalist blockbuster forces Enderby to defend his work, now deemed obscene, from critics on all sides. An oblique response to the controversy surrounding Kubrick's Clockwork Orange film.
Beard's Roman Women (1976) BUY
Ronald Beard is grieving for his dead wife when he is convinced to write a film based on the life of Lord Byron by a Hollywood producer. In Los Angeles, he meets the seductive Paola Belli, and moves to Rome to live with her. Just as he thinks he has found happiness, he starts to receive ghostly phone calls from the wife who has died. The novel was originally published with photographs by David Robinson.
ABBA ABBA (1977) BUY
The dying John Keats is living in a house near the Spanish Steps in Rome, where he meets the Roman poet Giuseppe Gioacchino Belli and Pauline Bonaparte. The second part of this novel showcases Burgess's translations of Belli's blasphemous sonnets, which are re-voiced into Lancashire dialect.
1985 (1978) BUY
Burgess's response to George Orwell's Nineteen Eighty-Four. Part literary criticism, part novel, this book interrogates the meanings of dystopia, and the background and legacy of Orwell's vision.
Man of Nazareth (1979)
The story of Jesus, from the Nativity to the Crucifixion, partly based on Burgess's screenplay for Franco Zeffirelli's Jesus of Nazareth (1977). Jesus's life and works are retold by a Greek merchant who does not believe in holy men or miracles.
Earthly Powers (1980) BUY
Burgess's longest and most accomplished novel tells the story of Kenneth Marchal Toomey, a novelist and playwright, and his brother-in-law, Carlo Campanati, an Italian priest who is destined for greater things. Throughout his adventures, Toomey finds his life brushing up against history as he struggles to reconcile his sexuality with his Catholic faith. This novel was awarded the Best Foreign Novel Prize in France in 1981.
The End of the World News (1982)
A postmodern triptych of tales: Leon Trotsky journeys to New York shortly before the Russian Revolution of 1917; Sigmund Freud perseveres with his psychoanalytic research despite the rise of the Nazis in Vienna; and a rogue planet is on a collision course with Earth as governments scramble to save the human race. The novel is subtitled An Entertainment.
Enderby's Dark Lady, or No End to Enderby (1984) BUY
F.X. Enderby is resurrected, sent to America, and asked to write the libretto for a musical about Shakespeare. He becomes infatuated with the actress hired to play the Dark Lady of the Sonnets, as his intricately designed script falls prey to the mores of the entertainment industry. The four Enderby novels were later published as The Complete Enderby. BUY
The Kingdom of the Wicked (1985)
A sort of sequel to Man of Nazareth, this biblical tale rewrites the Acts of the Apostles, spanning the period from the Crucifixion to the destruction of Pompeii. This Roman epic, in the style of Robert Graves's I, Claudius, was derived from Burgess's screenplay for the television series AD: Anno Domini.
The Pianoplayers (1986) BUY
Burgess returns to his roots in north-west England. Ellen Henshaw relates the story of her father Billy, who plays piano in the pubs and silent cinemas of Manchester and Blackpool. Everything changes when Billy undergoes an ill-advised attempt to break the record for the longest non-stop piano marathon. The Pianoplayers draws on Burgess's childhood in Manchester, his holidays in Blackpool, and the music halls where both of his parents worked.
Any Old Iron (1989)
A blend of Arthurian legend, Welsh tradition, memories of Manchester and the two World Wars. The Jones family, half Welsh and half Russian-Jewish, discover the sword Excalibur in Soviet Russia, but their lives are set off course by the events of the twentieth century. A historical epic which takes in the Titanic disaster, the Russian Revolution and the founding of the state of Israel.
Mozart and the Wolf Gang (1991)
Written to mark the 200th anniversary of Mozart's death, this experimental novel speculates about the conversations of major composers in Heaven, while dramatizing aspects of Mozart's life and presenting a dialogue between two characters named 'Anthony' and 'Burgess'.
A Dead Man in Deptford (1993) BUY
Christopher Marlowe's short but dramatic life is revisited in this Elizabethan romp. Burgess's Marlowe is embroiled in a life of espionage, even as he lives the life of a dandy in the world of the theatre. This novel can be read as a companion piece to the Shakespeare novel,  Nothing Like the Sun. Burgess had been fascinated by Marlowe since he wrote his BA thesis on Doctor Faustus in 1940.
Byrne (1995)
The last novel Burgess completed is a narrative in verse about Michael Byrne, an Irish composer and painter. A relentless womaniser, Byrne romps around the globe leaving nothing but children in his wake. The ambitions he harbours for his work are unfulfilled, and he finds himself at the centre of the Third Reich in Germany before vanishing. His twin sons and a daughter embark on a quest to find their missing father. This bawdy novel represents Burgess's final statement about poetry, music and the transcendence of art.