The collections
A Chockwork Orange, by Brentwood Brewing Company
We're delighted that our friends at Brentwood Brewing Company are sponsoring the Fifty Years Of A Clockwork Orange event taking place at the Engine House on Thursday 18 October at 7pm.
Their acclaimed Chockwork Orange beer is a deep chocolate, malty beer brewed with oranges and matured to create a classic 'old ale' style. 'Milk-plus' strength at 6.5%, Chockwork Orange won the Best Strong Ale award and the overall Silver Medal at the Chelmsford CAMRA Summer Beer Festival. Free samples of this special concoction will be available at the event to taste and take away.
2012 marks the 50th anniversary of Anthony Burgess's most famous novel, A Clockwork Orange. An underground hit on publication, A Clockwork Orange went on to reach a mass audience via Stanley Kubrick's 1971 film. Its powerful themes, such as the problem of free will, the relationship of the individual to the state, and the possibility or otherwise of redemption, remain entirely contemporary; and its linguistic innovation and completely distinctive style continue to have a huge influence on popular culture. On Thursday 18 October at 7pm we're very pleased to welcome historian and broadcaster Dominic Sandbrook for an exploration of A Clockwork Orange and the culture of the 1960s and 1970s, and to celebrate the launch of A Clockwork Orange: The Restored Text, edited by Andrew Biswell. Dominic Sandbrook is the acclaimed author of the books Never Had It So Good, White Heat and State of Emergency, which, along with his new book Seasons in the Sun, has recently been adapted for television.
Part of the Manchester Literature Festival. Tickets available here.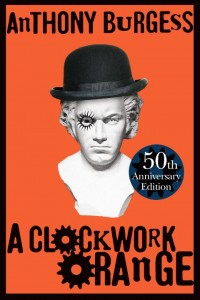 Will Carr