NEWS AND BLOG POSTS
A newly discovered love poem to Lynne Burgess
Burgess Foundation

14th February 2014
The latest discovery to have emerged from the collections of the International Anthony Burgess Foundation is an unpublished love poem written by Burgess to his first wife, Llewela (known as Lynne). The typescript of the poem, titled 'A Ballade for the Birthday of My Dearest Wife' was folded into Burgess's copy of Somerset Maugham's Collected Short Stories, published by William Heinemann in 1963.
The poem is a ballade with an envoi, written in the same medieval form as Ezra Pound's ballades, which Burgess is known to have studied as a teenager. There are several editions of Pound's poems elsewhere in Burgess's book collection, and he claims in This Man and Music that musical settings of Pound's lyric poems were among his earliest compositions.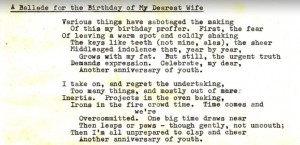 Burgess's ballade is a witty reflection on the persistence of love, written from the perspective of a middle-aged man who is losing his teeth and running to fat. The opening lines are as follows:
Various things have sabotaged the making
Of this my birthday proffer. First, the fear
Of leaving a warm spot and coldly shaking
The keys like teeth (not mine, alas), the sheer
Middle-aged indolence that, year by year,
Grows with my fat. But still, the urgent truth
Demands expression. Celebrate, my dear,
Another anniversary of youth.
There is no date on the poem itself, but it is likely that it was written around the time that Heinemann published the collected edition of Maugham's stories. If 1963 is the date of composition, Burgess and Lynne would have been celebrating 21 years of marriage in that year.
Burgess and Lynne first met when they were studying together at Manchester University in 1938. He was acting in a play for the university's Stage Society, playing the part of a Ruritanian colonel, and she was ('improbably,' as he later said) attracted to him. They married in 1942 and remained married for more than 25 years, until her death in 1968. Lynne was a gifted linguist, and their literary work together included a history of London and English translations of three French novels, published in the 1960s.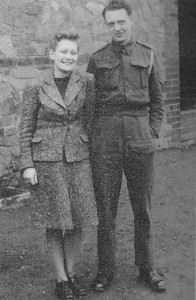 The ballade to Lynne is one of several occasional poems in the archive of the Burgess Foundation. A number of other unknown poems, written in a variety of verse-forms, were addressed to his second wife and adopted son. These previously unpublished works will appear in a new volume of Burgess's Collected Poems, which is being edited by the Burgess scholar Dr Jonathan Mann.
A two-year project to catalogue the archive of the Burgess Foundation has been funded by the Heritage Lottery Fund.