NEWS AND BLOG POSTS
A Shorter Finnegans Wake: editing an epic
Andrew Biswell

22nd March 2023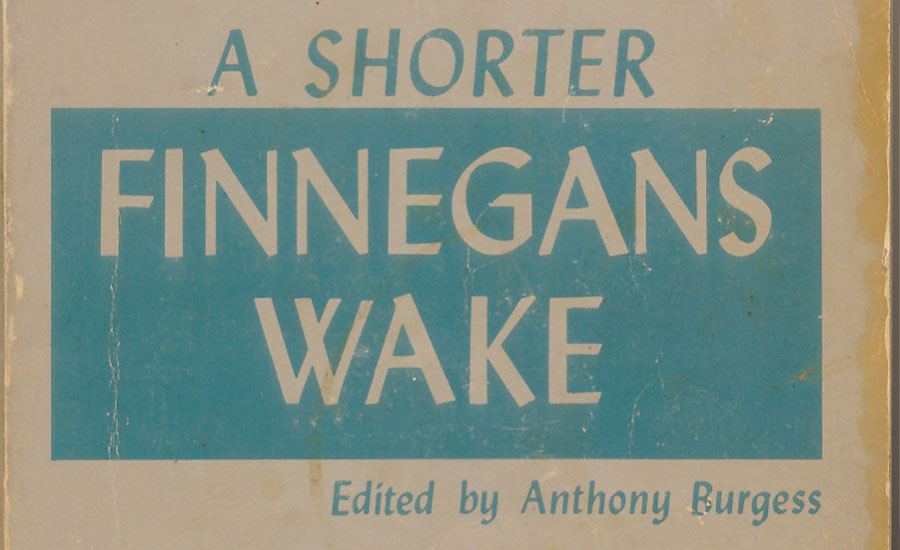 Anthony Burgess published his shorter version of James Joyce's Finnegans Wake in 1966. He was invited to edit the book by Peter du Sautoy, one of Joyce's executors and a senior publisher at Faber, following the success of Burgess's BBC television documentary about Joyce, Silence, Exile and Cunning, broadcast the previous year.
Faber had already published Here Comes Everybody, an introductory guide to Joyce's writing, in which Burgess provides a comprehensive survey of the canon, including often-neglected works such as the poems, the stage play Exiles, and Stephen Hero.
Burgess's edition of Finnegans Wake, intended as an easy way into the text for the benefit of readers who might be intimidated by the longer work, reduces Joyce's book to about a third of its original length, adding a long introduction and a series of linking commentaries between the passages selected, to explain what is happening and what is about to happen. He explains his intentions in the foreword: 'Here is the gist of the book, together with a brief account of what Joyce was trying to do and a number of signposts sticking like sore thumbs out of the thickets of the text.'
This was not the first attempt to present passages from Finnegans Wake in an edited form. T.S. Eliot had done something similar in an earlier book, Introducing James Joyce (1942), followed by Harry Levin in The Essential James Joyce (1948). Burgess follows in the footsteps of these other editors, but his selection of passages is more generous and ambitious, running to 250 pages.
Burgess gives a vivid account of his first reading of Finnegans Wake in Little Wilson and Big God, volume one of his autobiography, published in 1987. He recalls his excitement when he first read Joyce's final masterpiece, which was released by Faber in the summer of 1939, and priced at 21 shillings.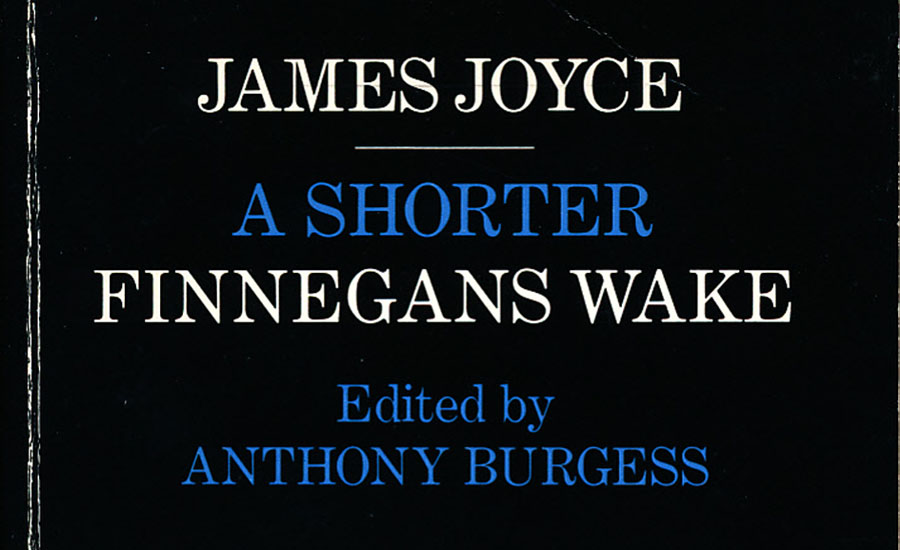 Joyce's work was dismissed as 'nonsense' by Burgess's fiancée (later his first wife), Lynne, who regarded the expensive book as a waste of money. As Burgess writes, 'I could have bought her a bracelet and two or three seven-course dinners' for 21 shillings. He adds: 'The book impressed Lynne only because the apparent typing chimpanzees had put me into it as 'J.B.W. Ashburner' [a reference to his real name, John Burgess Wilson]. It knew of the burning glands I took to Ashburne Hall.' Ashburne Hall was a women-only hall of residence in Manchester, where Lynne lived as a student in 1939.
It's easy to trace the influence of Joyce's great book on Burgess's own creative work. In particular, the invented language in A Clockwork Orange owes a significant debt to 'Wakese', the global Esperanto which Joyce uses to narrate Finnegans Wake, based on the author's careful study of more than 25 world languages. Burgess brings elements of Russian, Malay, Romany, Second World War military slang and Cockney rhyming slang into the vocabulary of Nadsat, the language spoken by Alex and his droogs in the novel.
Later on, in 1982, Burgess was asked to devise another set of invented languages for Jean-Jacques Annaud's film La Guerre du Feu (English title: Quest for Fire), in which competing tribes of neolithic men and women communicate through a series of gestures and basic words. The film's director Annaud said in an interview that Burgess's invented languages were so successful that the international cast and crew became fluent speakers, and used them to have conversations when the cameras were not rolling.
After the publication of A Shorter Finnegans Wake, Burgess made a light-hearted television programme about the book, filmed in a TV studio mocked-up to look like a Dublin pub, complete with bottles of Guinness and a flushing toilet (see below). Lots of Fun at Finnegans Wake was broadcast in the US on educational television in 1973. Burgess often returned to Finnegans Wake in his critical writing, and he wrote an introduction to the Minerva edition of Joyce's collected works in 1991.
A new edition of Anthony Burgess's A Shorter Finnegans Wake, the first to have appeared in more than 40 years, was published by Galileo in February 2023.
Now that the book is back in print, we hope it will benefit a new generation of readers and Joyce scholars.
Pictured above: Excerpts of scanned book covers from the Anthony Burgess archive
---