NEWS AND BLOG POSTS
Anthony Burgess and Sylvia Plath
Burgess Foundation

11th June 2015
On 24 June the auction house Bonhams will sell an uncorrected proof copy of The Bell Jar, Sylvia Plath's only novel, published under the pseudonym Victoria Lucas in 1963. The Bell Jar did not appear under Sylvia Plath's real name until 1966.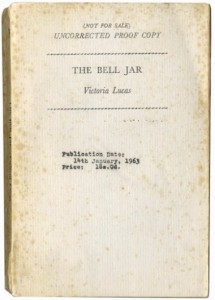 Anthony Burgess reviewed the book in the Observer when it was first published, in a roundup of new fiction headlined 'Transatlantic Englishmen' on 27 January 1963. His assessment was very positive, describing The Bell Jar as 'a very competent first novel … Where there might have been sensationalism there is sensitivity and decorum; also, the characterisation is economical but full, and the style is careful without being laboured or pretentious.'
This was one of Burgess's very first reviews for the Observer. Burgess began his newspaper career in England after his return from Brunei in 1959, at first writing radio talks that were later published in The Listener. Burgess's first agent was Peter Janson-Smith, with whom he began working in 1960, and it seems likely that after this point Burgess was able to secure occasional reviewing work with the TLS and, more significantly, a regular fortnightly column with the Yorkshire Post from January 1961. These Yorkshire Post pieces are group reviews of new novels, and most of Burgess's subjects have long since disappeared from view: however, there are important early statements, some of which Burgess revisited later, on Joseph Heller, Iris Murdoch, Vladimir Nabokov, Doris Lessing and many more.
Burgess parted company with the Yorkshire Post in May 1963 after his infamous review of one of his own novels. By this point he was writing regularly for the Observer and was still writing television reviews for the Listener, as well as having produced six novels in the preceding two years. Soon after the piece including The Bell Jar Burgess began to write weekly reviews in a more prominent slot, and continued to do this for the Observer until his death in 1993.
The Anthony Burgess / Observer Prize for Arts Journalism is now open for this year. Celebrating the best of new writing about the arts, the £2000 prize will go to the best, previously unpublished piece review of a book, film, a concert, a ballet, a stage play, an exhibition or a TV show.
Kathryn Williams will perform her new album Hypoxia on 18 June at the Burgess Foundation, featuring songs inspired by The Bell Jar. Commissioned by New Writing North, the project celebrates the 50th anniversary in 2013 of the first publication of the novel. More about Kathryn Williams is here; ticket and booking information is here.