NEWS AND BLOG POSTS
Anthony Burgess at the Movies: 49th Parallel (dir. Michael Powell, 1941)
Graham Foster

30th October 2021
To mark the 50th anniversary of the first release of Stanley Kubrick's film adaptation of A Clockwork Orange, we present a weekly online series Anthony Burgess at the Movies in which we zoom in on Anthony Burgess's interest in cinema.

What Burgess says: 'This film meant more to us during the war then it can mean now, but it is an admiral tribute to Canada, contains superb acting and has a great score, written by Ralph Vaughan Williams. That opening 'brotherhood of man' theme is surely one of the best film overtures ever penned. And the final sequence, with Raymond Massey, is one of the best things that actor ever did.'
49th Parallel is the third film on which director Michael Powell and screenwriter Emeric Pressburger collaborated, and it predates their formation of their own production company, The Archers. Made in the first years of the Second World War, it is an episodic film following the journey of six Nazi seamen, survivors of a U-boat that has been destroyed off the coast of Canada. As they progress through the Canadian landscape, they meet various citizens including a French-Canadian trapper (played with great zeal by Laurence Olivier), a group of Hutterite settlers, a British academic (Leslie Howard), and a Canadian soldier (Raymond Massey) who is on his way to his tedious posting on the Chippewa Canal.
The Nazi seamen are trying to avoid interment and get to less hostile ground. The first plan is to catch a steamer to Japan from Vancouver, so they make their way west over the Rockies. When this fails, they decide that America (still neutral in 1941) is the best option. Gradually, calamity besets the group and its members are killed or captured.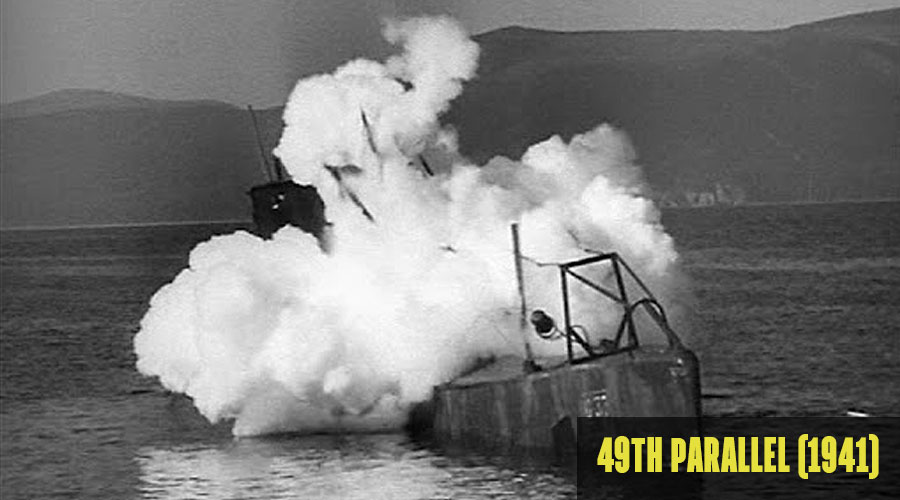 The film was funded by the Ministry of Information, and was clearly intended to be propaganda. The escaping Nazis cannot help but salute openly and extoll the supposed virtues of Hitler and their own perceived racial superiority to anyone they encounter. The arrogance of the group's leader, and his inability to tolerate more liberal opinions, consistently brings the men trouble. The dastardly opinions of the Nazis are counterpointed by rousing speeches on the virtue of collaboration, the beauty of art and literature, and the futility of fascism.
Despite the film's intended use as propaganda, Powell makes his German characters fallible humans rather than just unthinking cogs in the Nazi war machine. One of the Germans is even presented as a sympathetic character, a former baker who bemoans his conscription and his lost vocation. This makes the film much more interesting than mere wartime propaganda, and could help explain why Burgess revered it so much, even forty years after the war ended.
49th Parallel is not the only Powell and Pressburger film in Burgess's selection for the BFI. I Know Where I'm Going!, released in the UK in 1945, tells the story of Joan Webster, who travels from her native Manchester to the Hebrides in order to marry a wealthy industrialist. Burgess particularly liked this film for its inclusion of the Glasgow Orpheus Choir which operated from 1906 to 1951. 49th Parallel had a similar musical interest for Burgess. One of his favourite composers, Ralph Vaughan Williams, provided the score for the film, of which the prelude is romantic and expansive and played over aerial footage of the Canadian landscape. Burgess's interest in Vaughan Williams's work lasted throughout his life. He chose On Wenlock Edge when he appeared on BBC Radio's Desert Island Discs in 1966, and of that composition he wrote in This Man and Music that it 'provides [A.E.] Housman's verses with the passion they lack unset'.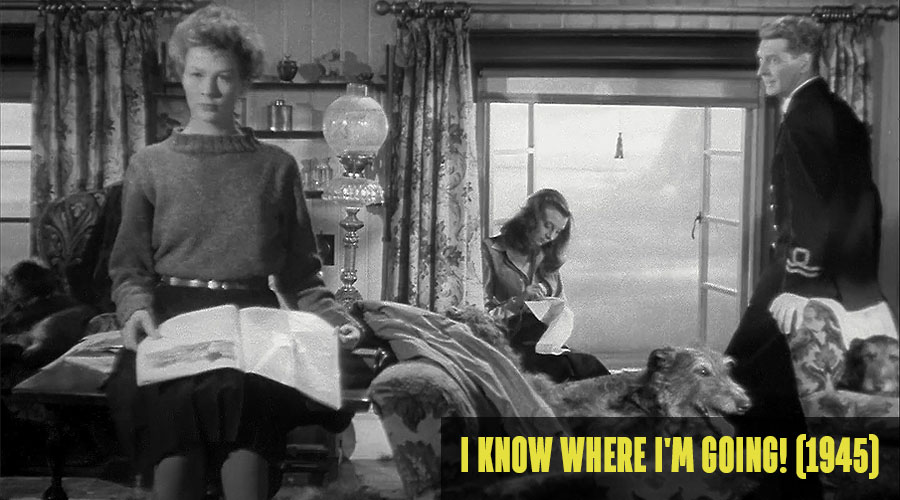 In 1972, Burgess was approached by Michael Powell to collaborate on a film about Edward Lear, prospectively titled The Nonsense Man. Burgess was invited to write the script and provide the music, while Powell intended Ralph Richardson to play Lear. Richardson had previously worked with Powell on the short film The Volunteer (1944), and on the Powell and Pressburger-produced The Silver Fleet (1943). This was the second time Burgess had been asked to write a screenplay about Edward Lear. Three years earlier, he was hired by MGM to script a film titled How Pleasant to Know Mr Lear, which would have starred Peter Ustinov. Both of these films came to nothing, but the archives at the Burgess Foundation contain correspondence between Burgess and Powell. One of the stranger fragments of their relationship that can be found at the Burgess Foundation is a 1965 travel guide to Corfu, inscribed to Burgess by Powell in 1972 and presumably intended to help Burgess research the years Lear spent on the island.
While their working relationship was brief, Burgess's interest in the films of Powell and Pressburger was enduring, as evidenced by their inclusion to his BFI selection. Burgess usually wrote about his cultural influences and icons in measured terms, but in his review of I Know Where I'm Going! he allows himself a rare moment of adulation: 'what an incredible team [Powell and Pressburger] were'.