NEWS AND BLOG POSTS
Anthony Burgess at the Movies: One Night of Love (dir. Victor Schertzinger, 1934)
Will Carr

4th December 2021
To mark the 50th anniversary of the first release of Stanley Kubrick's film adaptation of A Clockwork Orange, we present a weekly online series Anthony Burgess at the Movies in which we zoom in on Anthony Burgess's interest in cinema.

What Burgess says: 'I have not seen this film since it first appeared (I saw it then in Gibraltar when I was a soldier but also film critic for the Gibraltar Chronicle, and remember the attentive silence it received from a normally rowdy service audience). Grace Moore, who had already made her reputation in opera, turned this into an anthology of leading diva roles, but the production numbers seemed to be well welded into a plot about the conflicting charms of love and career. I wonder how well it has worn.'
One Night of Love stars Grace Moore as Mary Barrett, a struggling but talented singer who leaves New York for Milan to seek her fortune in the great opera houses of Italy. Working in a café, she is spotted by a famous vocal teacher Giulio Monteverdi (played by Tullio Carminati), who is mesmerised by her voice but only agrees to take her on if their relationship remains strictly business-like. Giulio demands control over all aspects of Mary's life, insisting that she live in his house and follow his strict routines, and while this seems to be productive at first, she eventually tires of his apparent lack of feeling for her. After encountering a former protégé of Giulio, Lally (Mona Barrie), Mary becomes jealous and quits opera singing – but Giulio's declaration of love persuades her to return to the stage and she triumphs in a performance of Bizet's Carmen. The climax of the film is a subsequent invitation to sing Madame Butterfly at the Metropolitan Opera in New York: but can Mary be sure of Giulio's love for her? Will she overcome her fears and bring the house down?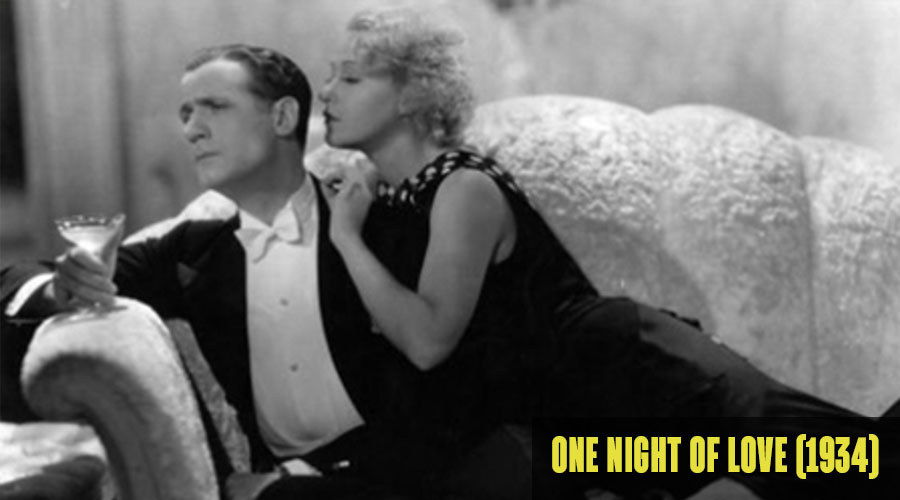 The most enjoyable parts of One Night of Love are the musical numbers. Grace Moore's remarkable voice and engaging enthusiasm for the music give these elements of the film a lightness of touch and appealing energy: an especially uplifting moment is an early scene where her neighbours emerge from their apartments playing a variety of instruments to accompany her in a spirited rendition of Sempre libera from La traviata by Verdi. Milan appears as a city of joyful music-making. The score for the film has a mixture of operatic repertoire, traditional Italian songs and original numbers, and was recognised with the first ever Academy Award for Best Original Score, as well as Best Sound Recording. Moore was nominated for the Best Actress award.
The performances of the supporting actors are also strong, with Carmanati and Barrie doing very well to match Grace Moore's star power with a limited script; the rest of the cast is rather made up of caricatures of elderly Italian women flying into rages and jobbing musicians eating mountains of pasta, though there are some successful comic sequences. However, the plot is unconvincing and predictable, and its sexual politics have dated very poorly. Giulio may only be interested in music and opera and getting the best out of his charges, but his treatment of Mary is quite appalling: he shouts, calls her names, grabs her by the throat, pushes her about, locks her in her room and ultimately sticks her viciously with a hatpin to make her scream by way of a demonstration that she has not lost her voice. Mary is presented as being made no more than mildly upset by most of this and none of it sways her in her devotion to her singing master. Burgess wonders in his recommendation how well the film has worn, and his doubts are not misplaced as contemporary audiences may find much of it absurd, if not offensive.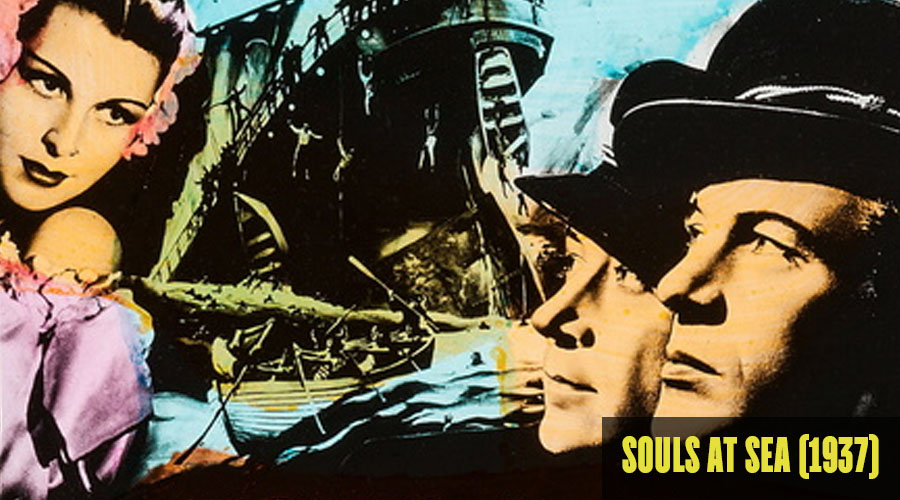 The film was first released in the USA in 1934 and then in Europe in 1935. It was a box office success and Grace Moore went on to become a celebrated actress, appearing in six singing roles for Columbia Pictures. One Night of Love was re-released in 1946, and it was this that Burgess saw in Gibraltar. As he writes above, while serving in the Army Education Corps he was the film critic for the Gibraltar Chronicle and reviewed 29 films for the paper between January and May 1946, though One Night of Love was not among them. He found most of the films that he reviewed appalling and the audience of soldiers raucous and inattentive. However, his literary interests found their way into his pieces: in his review of Souls at Sea (directed by Henry Hathaway, 1937), starring Gary Cooper and George Raft, he quotes Gerard Manley Hopkins' poem The Wreck of the Deutschland, in which the sea is described as 'the rash smart sloggering brine'. He also refers to James Joyce without naming him: 'the writer who said history is a nightmare'. The last of Burgess's reviews were published the day after he left for England by ship on 14 May 1946. He returned to the Rock for a holiday in 1966 and wrote 'I don't know whether I like Gibraltar or not, but it became an aspect of my private mythology, and I can claim a minor part in its history.'