NEWS AND BLOG POSTS
Anthony Burgess's Chatsky: a new podcast
Andrew Biswell

14th June 2023
The latest publication to emerge from the Burgess Foundation's archive of manuscripts is Chatsky and Miser, Miser! In these two stage plays, published for the first time by Salamander Street, Burgess adapts and revives major monuments of French and Russian theatre: The Miser by Molière and the Russian comedy Chatsky by Alexander Griboyedov.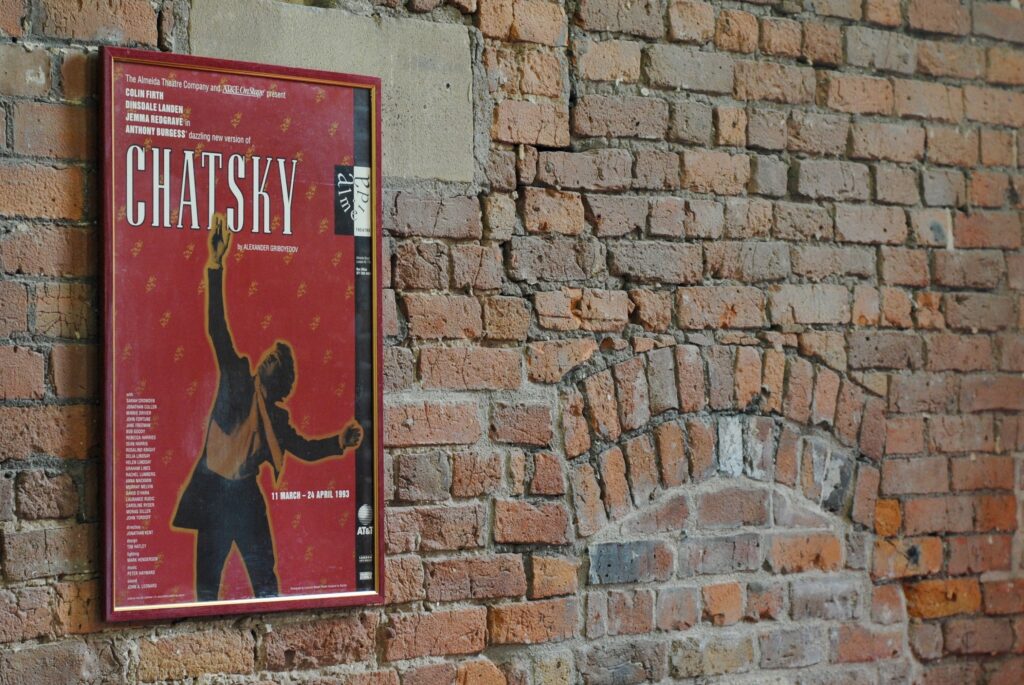 Chatsky, to which Burgess adds the sub-title 'The Importance of Being Stupid', is a nineteenth-century verse comedy. His version has been described by the London Review of Books as a 'punning, jazzy translation.' In Chatsky, Burgess remakes Griboyedov's classic play in the spirit of Oscar Wilde. It is a great feast of language and invective.
Chatsky was first performed at the Almeida Theatre in London in 1993, featuring Colin Firth, Minnie Driver and Jemma Redgrave, in a production directed by Jonathan Kent. The play was highly praised by the critics for the quality of Burgess's adaptation. Jack Tinker, theatre critic of the Daily Mail, wrote: 'Thanks to Anthony Burgess's volatile and muscular verse translation, we have an old master miraculously brought to new life.'
In the latest episode of the Burgess Foundation's podcast, we examine the background to Chatsky and place it in the wider context of Burgess's writing about Russian language and culture. The writer and translator Anna Aslanyan makes new connections between this late work for the stage and Burgess's earlier visit to Leningrad in 1961, which resulted in the creation of Nadsat, the invented slang in A Clockwork Orange. She also comments on the quality of Burgess's translation, and explains how it departs from the original play to make it meaningful for English-speaking audiences.
The actor Jonathan Cullen, who played the villain Molchalin in the 1993 production, provides a theatrical perspective, taking us behind the scenes and into the rehearsal room where the Almeida production took shape thirty years ago. Jonathan shares his vivid memories of working with Colin Firth and other members of the cast during a six-week tour which took them from London to Newcastle, Oxford, Malvern, Brighton and Bath. He also gives his memories of meeting Burgess, who was approaching the end of his life when he saw the play and met the cast.
The podcast includes extracts from Chatsky, performed by Paul Barnhill, and an archive audio recording of Anthony and Liana Burgess performing the play at home.
You can download the Anthony Burgess Foundation podcast from any of the usual providers, or via the links below.
The book is available to order now from our partners at Blackwell's.
---