NEWS AND BLOG POSTS
Anthony Burgess's Hornpipe
We look at the shorter pieces for piano written by Anthony Burgess, including the rather lively 'Hornpipe'

---
Anthony Burgess's 'Hornpipe' is an undated short piece for solo piano. Possibly part of an untitled set of six keyboard works, including three fugues, an air, and a passacaglia, its lively and simple melody is based on a musical idea Burgess also used in his ballet suite for orchestra, titled Mr W.S.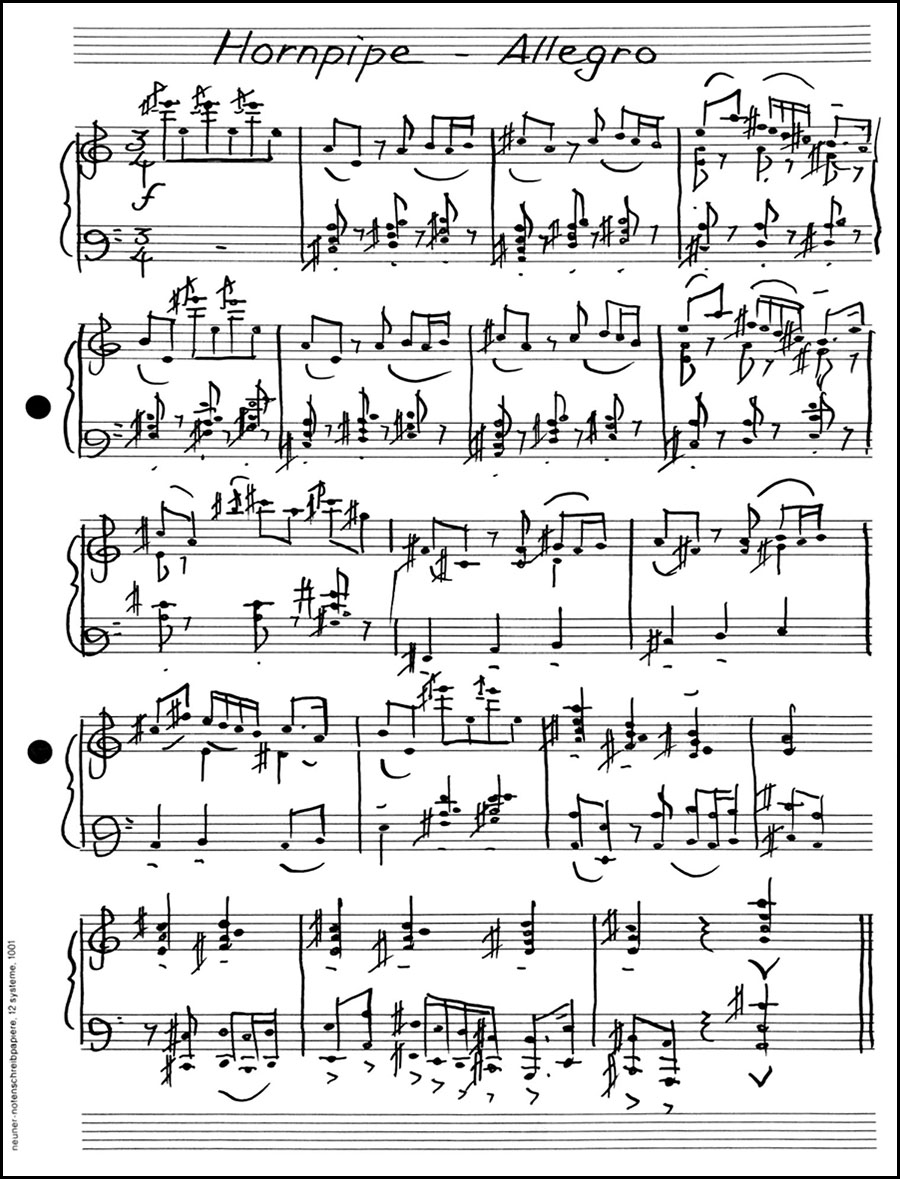 Burgess's writing for solo piano is extensive and he completed dozens of works in many styles. This 'Hornpipe' takes its place as one of a number of shorter works that Burgess sketched out, probably in the late 1970s and early 1980s, culminating in 1985 with his most ambitious piece for the instrument, a complete cycle of '24 Preludes and Fugues', recently recorded by Stéphane Ginsburgh and available on the Naxos Grand Piano label.
The repurposing of musical themes for different compositions is found throughout Burgess's writing, and there are many examples in his oeuvre. His solo piano Preludes from 1964 provide the foundations for his Concerto for Pianoforte and Orchestra in E Flat, completed in 1976, with the first three preludes providing much of the principal material for the first movement. His Sonata for Violincello and Piano in G Minor from 1945, lost after his departure for Malaya in 1954 and rediscovered after his death, gives its main themes to the Concerto for Violin and Orchestra in E Minor, written for Yehudi Menuhin in 1979.
The martial theme in A Manchester Overture also appears in Mr WS and Petite Symphonie Pour Strasbourg, not to mention his Meditations and Fugues for Brass Band.
Self-borrowing of this kind seems to have taken place for a number of reasons. Some of these may have been practical: Burgess's music scores tended to get left behind has he moved from one place to another, and lost works found themselves worked out again in new ways. There is also a sense that Burgess was unwilling to let completed work go to waste. Coupled with the fact that he rarely heard his own music performed, there may have been an impulse to present his musical ideas in as many forms as he could.
Otherwise, the primary reason was likely to have been an artistic one: Burgess sketched out musical ideas multiple times as a means of working through them, returning to particular musical preoccupations over many years.
A recording of the 'Hornpipe' is available via streaming services or on the CD performed by Richard Casey, titled The Piano Music of Anthony Burgess.
---
Listen to the 'Hornpipe'
Listen to the 'Prelude' from Mr WS for an appearance of a version of Burgess's 'Hornpipe' around 2 minutes and 45 seconds.