NEWS AND BLOG POSTS
Anthony Burgess's Roman Circle
Our new exhibition, Anthony Burgess in Rome 1970-1975, explores the vibrant intellectual landscape of the city, which inspired Anthony Burgess to create some of his most ambitious fiction and music.
Liana Burgess, née Macellari, had spent time in Rome during the 1950s and had already met some of the artists and writers who were to dominate the cultural scene in the coming years. One of these was Milton Hebald, an American sculptor, known for large-scale figurative works in bronze. The Burgesses purchased Hebald's house in the Piazza Padella in Bracciano, and they became friends. In the summer of 1970 Hebald created a bust of Anthony Burgess in terracotta, which is now at the Burgess Foundation. Hebald's pieces are held in major collections all over the world, and they include a memorial for James Joyce's grave in Zurich, Switzerland, made in 1966. The statue shows Joyce seated with a book, overlooking the gravestone. It is this work that made Burgess comment: 'If literary men, generally speaking, are devoted to Hebald more than any other living sculptor, it is because he has mediated wonderfully between the world of stone and metal and that of words.'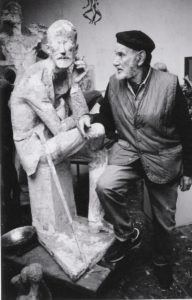 Another figure to whom Burgess became close was Mario Maranzana. Maranzana was a stage, film and television actor, who was well known for playing character roles. Burgess's work in Italian television — most notably with his screenplay for Franco Zeffirelli's Jesus of Nazareth — brought them together, and in 1976 Maranzana and Burgess presented readings of the Roman poet Giuseppe Belli and Burgess's translations of his work to the American Academy in Rome. Burgess's fascination with Belli culminated in his novel ABBA ABBA (1977), which includes translations of more than seventy of Belli's blasphemous sonnets into Burgess's own Lancashire dialect.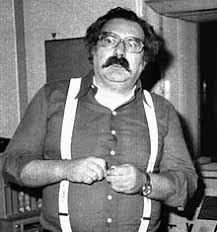 Muriel Spark lived in Rome and Tuscany from 1965 until her death. Her many books include The Prime of Miss Jean Brodie, The Girls of Slender Means and The Mandelbaum Gate, her longest novel, which was reviewed by Burgess for the Times Literary Supplement. He later included Spark's novels among his favourite post-war books in his survey Ninety-Nine Novels (1984). Their correspondence indicates that they encountered each other from time to time at social events in the city. Like Burgess, Spark found Rome a congenial place to write:
'Wherever I live I am in the writer's condition: Work is pleasure and pleasure is work. I find Rome a good place to work. The ordinary Roman is nearly always a "character," which is to say there are no ordinary Romans and therefore life among them, although it may be exasperating at times, is never boring. The extraordinary, Byzantine bureaucracy of Italian living and the usual bothers of life are always present, but if I can get, say, a glimpse of the Pantheon – even in a taxi – I find the journey worthwhile. At night, if I go to dine near the Pantheon, I love to walk around with friends in the great, solid portico for a while. It is sheer harmony; the bulk is practically airborne.'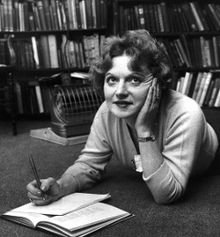 Anthony Burgess in Rome 1970-1975 is free and open every weekday from 10am until 3pm, and in the evenings during events. Find out more about Burgess and Rome here.
ABBA ABBA is published as part of the Irwell Edition of the Works of Anthony Burgess. Edited with an introduction and notes by Paul Howard, the book can be purchased from Manchester University Press here. Enter the code IRWELL50 to receive a 50% discount on this and the other books in the series (offer ends 8 March 2019).