NEWS AND BLOG POSTS
Anthony's Burgess's newly reissued biographies of D.H. Lawrence and James Joyce
Burgess Foundation

12th June 2019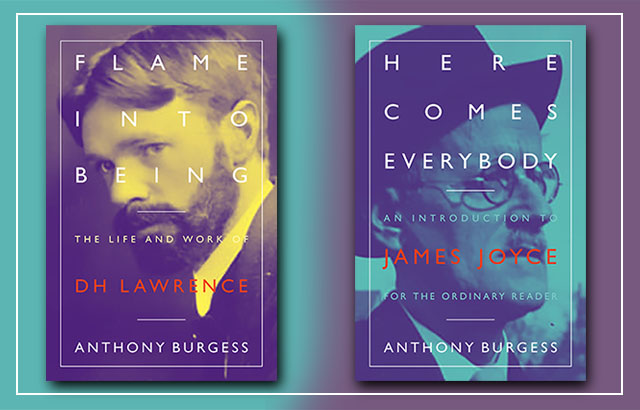 "My book does not pretend to scholarship, only to a desire to help the average reader who sees all his works available in paperback and is scared more of their content then their price." Anthony Burgess on Here Comes Everybody
Two newly reissued biographies by Anthony Burgess cast light on two of the most influential writers of the 20th century: James Joyce and D.H. Lawrence.
Throughout his career Anthony Burgess strove to understand the work of other novelists. Not only did he review their books frequently in the press, he also wrote book-length studies of their lives and their fictions.

Flame into Being, first published in 1985 and now available in a new paperback by Galileo Books, sees Burgess examining the life of D.H. Lawrence. Following him from working-class Nottingham to his adventures in the Mediterranean and the United States, Burgess draws parallels between Lawrence's experiences and his own. Flame into Being is a beautifully-written, entertaining and thoroughly accessible gateway to D.H. Lawrence and his work, and was described by the Spectator as "stimulating , entertaining and readable … shrewd, sensible and witty."
Here Comes Everybody is Burgess's attempt to decipher the complex novels and short stories of James Joyce for a general reader. This introduction attempts to recast Joyce's works as sources of pleasure for everyone, not merely an academic readership. Burgess claimed that Here Comes Everybody shows Joyce's work as "one of the largest affirmations of man's worth that this century has given us". The Observer's Phillip Toynbee said: "Mr Burgess has written a brilliant and humane study of the most brilliant and humane of twentieth century novelists."
Both books are available from Galileo Press – Flame into Being here and Here Comes Everybody here – and are due for publication on June 16th 2019.
The first copies of Here Comes Everybody and Flame Into Being have arrived. Anthony Burgess's biographies of James Joyce and D.H. Lawrence will be reprinted by @Galileobooks in June 2019.#anthonyburgess #dhlawrence #jamesjoyce pic.twitter.com/Ite7zDdd6p

— Burgess Foundation (@anthonyburgess) May 31, 2019