NEWS AND BLOG POSTS
The death and afterlife of James Joyce
Andrew Biswell

13th January 2021
When James Joyce died in Zurich on 13 January 1941, Anthony Burgess was a soldier with 189 Field Ambulance in the Royal Army Medical Corps, living in a barracks near Morpeth in Northumberland. News was slow to travel from Switzerland to Britain, and it took more than a week for Burgess to find out that his literary hero had died. Remembering the death of Joyce in Here Comes Everybody, the first of his non-fiction books about Joyce's work, Burgess wrote:
I myself, a private soldier in snow-bound Northumberland, learned the news when I was polishing the windows of the Sergeants' Mess with a week-old copy of the Daily Mail. There it was, on the front page, rightly dwarfed by the bombing of Plymouth.

'Good God. James Joyce is dead.'

Who the hell's he?' asked a sergeant.

'A writer. Irish. The author of Ulysses.'

'Aaaaah, a dirty book that is. Get on with the job.'
Joyce's writing had fascinated Burgess since he was a schoolboy at Xaverian College in Manchester. He writes in Little Wilson and Big God that a first edition of Finnegans Wake (published in 1939) was one of the few possessions he took with him when he joined the Army. It was widely assumed among his fellow soldiers that the author was William Joyce, an Irish-American fascist known as Lord Haw-Haw, who broadcast German propaganda on the radio during the Second World War.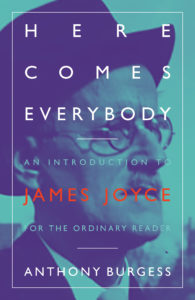 Burgess wrote two substantial commentaries on Joyce's work. Here Comes Everybody is a useful guide for beginners, which takes in the full sweep of Joyce's career, from the early poems and short stories to the bigger achievements of Ulysses and Finnegans Wake. The second of Burgess's critical works is Joysprick: An Introduction to the Language of James Joyce, dedicated to the lexicographer Eric Partridge and published in 1973 in the 'Language Library' series, edited by Partridge and Simeon Potter. The book includes chapters on dialect, interior monologue, the Joycean sentence and slang ('The Language of the People'). Both of these books demonstrate the extent of his enthusiasm for Joyce and his world of words.
Burgess's fascination with Joyce led him to edit A Shorter Finnegans Wake (1966), mocked and derided by the anti-modernist poet Philip Larkin in his letters, and, later on, to adapt Ulysses as a play with music. Blooms of Dublin was broadcast on BBC Radio 3 and RTE on 2 February 1982, the centenary of Joyce's birth. On 16 June 1982 Burgess attended the Bloomsday celebrations in Dublin, documented by his friend Angela Carter in an essay published in New Society and later reprinted in Shaking a Leg, a collection of her journalism. Carter records that Burgess walked around Dublin dressed as Blazes Boylan, a rakish character from Ulysses. Among the other writers who were seen in Dublin on Bloomsday were Chinua Achebe, Jorge Luis Borges, Dennis Potter and William Empson.
In the 1980s Burgess and Liana often attended events at the James Joyce Foundation in Zurich, where they got to know Fritz Senn, the director, who is still in post today. Senn has happy memories of Burgess taking part in the famous Zurich seminars, which are documented in the Joyce Foundation's archive.
Visiting Joyce's grave at the Fluntern Cemetery in Zurich, Burgess saw the statue of Joyce created by the American-born sculptor Milton Hebald. When he moved to Bracciano in 1970, Burgess agreed to model for a clay bust by Hebald, which is now part of the Foundation's collection in Manchester. Hebald's artworks also feature in the novel Puma, published in 2018 as part of the Irwell Edition.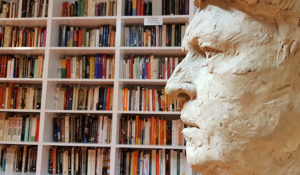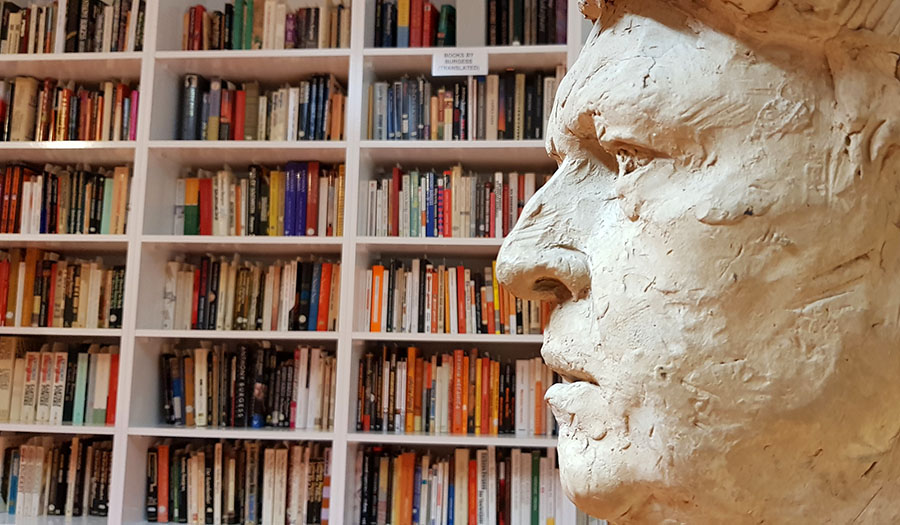 Burgess provided a little-known commentary on Joyce in Bruce Arnold's documentary The Scandal of Ulysses, made for Irish television and broadcast in 1990. Speaking about the new text of Ulysses edited by Hans Walter Gabler, which had been the subject of heated debate, Burgess said: 'I think it's time to leave it alone, even with all the errors in it. Leave it alone. There are many texts of equally regarded twentieth-century writers which are terrible. I think you have to accept that this is the nature of publishing. I myself, as a published author, know that it's impossible, however carefully I correct proofs, or however carefully the printers oversee them, to get a text which is immaculate.'
Here Comes Everybody is available in a new edition from Galileo. Click here to buy a copy.