NEWS AND BLOG POSTS
Burgess on James Joyce
Andrew Biswell

1st February 2020
James Joyce was born on 2 February 1882 and died on 13 January 1941. These dates were important to Anthony Burgess, who began writing Here Comes Everybody, the first of his critical books about Joyce, on 13 January 1964. Following the plan he had drawn up in advance, Burgess typed the final page of Here Comes Everybody on 16 June, the date known to Joyce fans and scholars as 'Bloomsday', when Joyce had met Nora Barnacle, the woman who later became his wife, and the date on which his novel Ulysses takes place.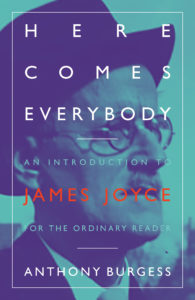 Reviewing Burgess's book in the Observer, the novelist and critic Philip Toynbee wrote: 'This is the best study of Joyce that I have ever read — good-humoured and modest, learned but full of a considered enthusiasm which will make many of us turn back to Ulysses and some of us, perhaps, try again to penetrate the tough nutshell of Finnegans Wake.'
The publication of Here Comes Everybody in 1965 was accompanied by a film for BBC television, Silence, Exile and Cunning, written and presented by Burgess. He travelled to Dublin (his first visit to the city) with the director Christopher Burstall and the production crew. When they arrived at number 7 Eccles Street, the home of the fictional characters Leopold and Molly Bloom in Ulysses, they found that demolition works were well advanced. Burstall bribed the workmen to allow them to film inside the house, and there is a memorable sequence in which Burgess delivers a piece to camera while standing in the ruins of the half-demolished bedroom.
In 1966 Faber published A Shorter Finnegans Wake, edited with an introduction by Burgess. This volume reduces Joyce's text to around half its original length. The editor's commentary explains some of the difficulties and provides islands of sanity in Joyce's most demanding novel, which is written in an invented language based on a system of multi-lingual puns. In the same year Burgess identified Finnegans Wake as his favourite book when he was interviewed by Roy Plomley for the radio programme Desert Island Discs.
A second critical commentary on Joyce followed in 1973, under the title Joysprick. This book, which examines Joyce's language, was again welcomed by Philip Toynbee, the chief book reviewer of the Observer, who wrote: 'This is, in fact, a very fine book; and one which contributes still further both to our understanding and to our love of Joyce. Among living novelists and critics Mr Burgess has done at least as much as any other to illuminate a writer who still remains obscure for most readers.'
Apart from these critical works and editions, Burgess also adapted Ulysses as a radio play with music, Blooms of Dublin, jointly broadcast by BBC Radio 3 and Raidió Teilifís Éireann to celebrate the Joyce centenary in February 1982. He later went on to translate this work into Italian, working in collaboration with his wife, Liana. Speaking to Anna Haycraft in 1987, Burgess said: 'I wrote a musical based on Joyce's Ulysses, called Blooms of Dublin, which was done on the radio in 1982, and they wanted to put it on in Florence and it naturally has to be translated into Italian. The difficulty of translating it into Italian is immense, purely because Italian has so few monosyllables, very, very few. English has got a lovely selection of all kinds of sounds. I used to think English was the hardest language to rhyme in the world, but Italian's far harder.'
Burgess continued to write articles about Joyce until the end of his life. Among other publications, he reviewed new editions of Dubliners, Ulysses and Finnegans Wake, biographies of James and Nora Joyce, and general books about Irish literature. In June 1993, Oxford University Press published Jeri Johnson's annotated edition of the 1922 first edition of Ulysses. Reviewing this book in the Observer, Burgess wrote: 'Behind Ulysses lies Tristram Shandy, which, with the Rabelais that lies behind both, undermined the novel long before the critical terms were available for diagnosis. Ulysses innovated for itself and itself only. It is inimitable. It is also possibly mad.'
There is still more to be discovered about Burgess and Joyce. Apart from the formal critical commentaries about Joyce, Burgess's novels and non-fiction books often turn out to contain unexpected echoes from Joyce's works. In Nothing Like the Sun (1964), Tremor of Intent (1966), Little Wilson and Big God (1987) and You've Had Your Time (1990), for example, we find quotations from Ulysses and other allusions to Joyce buried in the text.
Beyond this, the Burgess Foundation has recently acquired a copy of Lots of Fun at Finnegans Wake, a 1973 American television programme about Joyce, written and presented by Burgess; and the script of Making It New, a documentary about Joyce and Igor Stravinsky, directed by Eric Nilsson for Swedish television in 1982 and filmed on location at Burgess's house in Bracciano. It seems very unlikely that we have heard the last of Burgess on Joyce.
For readers who want to find out more, a new edition of Here Comes Everybody is available from Galileo Publishing.