NEWS AND BLOG POSTS
Burgess's fictional afterlives – part two, Burgess in France
Burgess Foundation

25th October 2011
The first fictional Anthony Burgess appeared in 1983 and was Francophone. Burgess by this point was a Monaco resident, made regular appearances in the French media and was highly regarded in French literary circles. Both France and Monaco made him a Commander, of Arts and Letters and of 'Cultural Merit'  respectively.
The author of this fictional Burgess was Philippe Sollers, an experimental novelist, post-structuralist cultural critic and literary editor. His 1983 novel Femmes is a roman à clef about the contemporary Parisian literary scene as experienced and witnessed by the protagonist, an oversexed and somewhat mysogynistic American expatriate journalist called Will.
Will, who seems to know everyone who is anyone in literary Paris of the early 1980s, inevitably encounters Burgess at the French launch of his novel Earthly Powers and they become embroiled in a discussion about James Joyce and Roman Catholicism, favourite topics of both writers. Sollers and Burgess had similar interests beyond the practice of experimental fiction and it is not difficult to see what might have attracted the Frenchman to incorporate Burgess into his insider fiction about Parisian intellectual life. Both wrote on Mozart and were strongly influenced by James Joyce, especially Finnegans Wake. Burgess had edited A Shorter Finnegans Wake for Faber and Faber, and Sollers co-translated a section of Book IV of Finnegans
Wake into French in 1973 in the literary journal he edited, Tel Quel. Burgess also attempted to translate Finngeans Wake into Italian two years later.
In Femmes, Will engages Burgess in a conversation about what he sees as the subject of Earthly Powers, 'the fall of the Papacy'. However, a yelling American woman called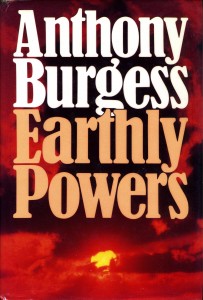 Kate keeps interrupting, challenging Burgess's natural quasi-Catholic conservatism. Soller's Burgess has 'had enough trouble already, being accepted despite being a Catholic. He apologizes for it. Spends all his time doing so. It's fashionable now to be nostalgic for the splendid Latin liturgies from before the Council …' Will tries to provoke Burgess, but he becomes fed up when Kate yells at him, and moves away to drink his cocktail in peace.
'You're not against priests marrying, are you'" Kate bawls at Burgess. 'And you don't agree with the Church's attitude to contraception, I hope? Or on abortion? Or homosexuality?'
Will leaves the party and adjoins to the bar of the Port-Royal, where he encounters Gabriel Garcia Marquez, looking like a retired cowboy from the Pampas, and William Styron, dressed in a lumber shirt and entertaining an admiring redhead.
'Burgess's success is based on Rome,' he muses, whereas 'Garcia Marquez's is based on the third world – Latin America and Cuba … Styron's on the South, and more recently on Auschwitz ..'" In contrast to these relaxed writers, Burgess at his own book launch 'looks strange … Hunched up … Doesn't look people in the eye … Absent …' Sollers writes an ill-at-ease Burgess, uncomfortable with his own publicity machine and challenged by a liberal agenda.