NEWS AND BLOG POSTS
New exhibition: Anthony Burgess's Typewriters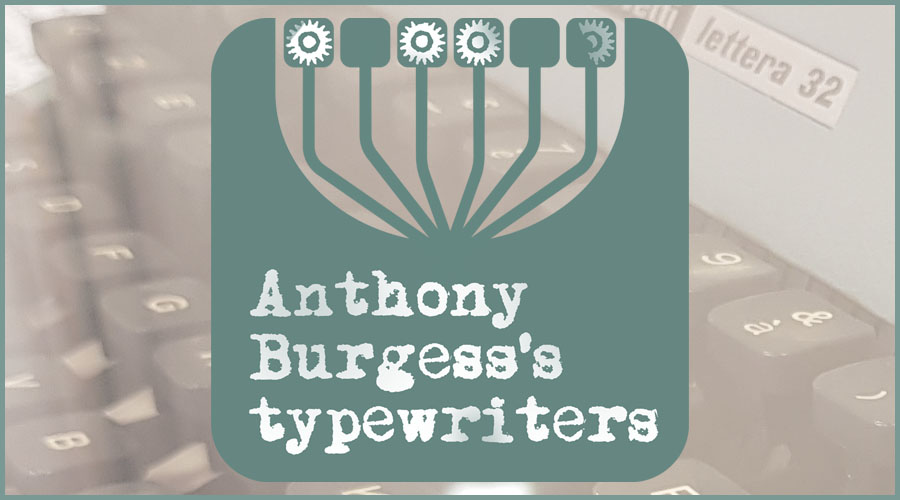 Anthony Burgess used typewriters all his life in his spectacular production of more than sixty books and thousands of articles, reviews and essays. Our new exhibition, 'Anthony Burgess's Typewriters', displays a selection of the many vintage typewriters that he used, and explores some of his writing about the machine that was always present in his creative life.
'The ritual of beginning the day's work at the portable Olivetti is human and solitary — the rolling in of the paper, the first lighting up of many panatellas, the false start, the crumpling of the sheet, the groans of desperation' — Anthony Burgess, 'Myself as a Chunk of Software', 1985.
Burgess's working day was long and arduous. Fuelled by tobacco, strong tea and sometimes gin, he would usually write for up to eight hours a day, weekends included. 'I have a lot of energy,' he said in a 1968 interview.
I'm fairly strong. I can stay at the table for a long stretch. Get a fair amount done that way. I get a thousand words a day down, you see, in good conditions. Which is all right. Ideally you get an 80,000-word book done in eighty days. I have written a novel in four weeks.
Anthony Burgess had a strong belief in the authentic labour inherent in writing, which was expressed in the physical effort of operating the typewriter. Book-writing, he wrote in Urgent Copy, is 'hard on the brain and excruciating to the body.' In an interview with Patricia Brent recalling the experience of writing his early novels in the heat of Malaya, he described sweat dripping down his face and landing on the page. Writing was a strenuous, honest activity, which he compared to the work of a carpenter or a blacksmith.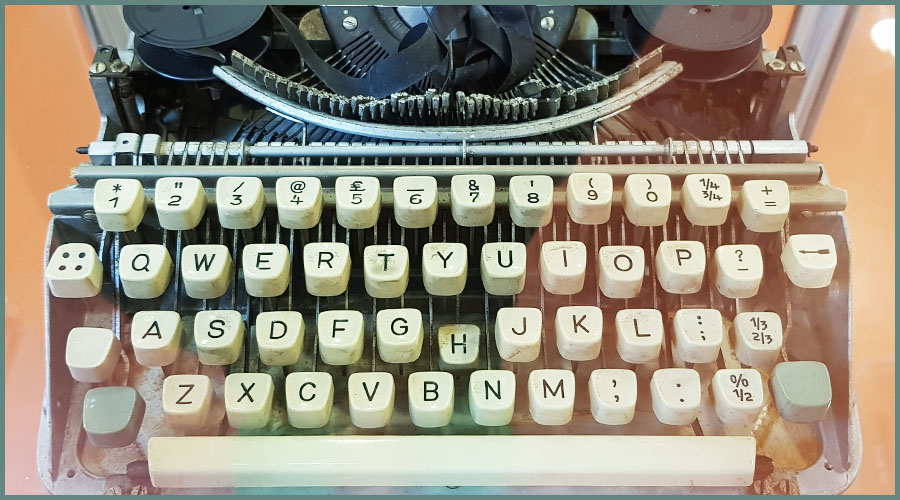 Burgess also believed that using a typewriter promoted greater attention by the writer: compared to the word processor, corrections are difficult and time-consuming to make, and it is better to formulate sentences carefully before committing them to paper. In an interview recorded in 1987, Burgess spoke about his word processor:
This is a dangerous apparatus, because you tend to be very careless. You tend to write something, because you know anything will do, because you can correct it. But if you are writing on the typewriter, you tend to get the sentence in your head first as a piece of music. Does it sound all right? Is it good?
The exhibition includes a previously unpublished article by Burgess, 'Myself as a Chunk of Software', in which he grapples with the challenges of the new technology of word processors.
In the exhibition there are multiple Olivettis, Olympias and Hermes typewriters on display, some used to destruction by Burgess in the creation of his novels and articles. There is his enormous Lexikon 80, which was on the desk at his flat in Monaco; and his Olivetti Valentine, a design classic. And there is also the opportunity to experience typing like Burgess on an Olivetti Lettera 25 from 1977: could you type a novel in four weeks?
The exhibition, at the Burgess Foundation in Manchester, is open from Monday 21st March to Friday 25th March 2022, 12pm-4pm, and again from Monday 25th April to Friday 29th April 2022, 12pm-4pm. Entry is free.