NEWS AND BLOG POSTS
Fifty Years of A Clockwork Orange: full programme!
Burgess Foundation

1st June 2012
Here is the programme for the Fifty Years Of A Clockwork Orange conference to take place 28 to 30 June: join us for three horrorshow days of talks, lectures, debates, music and films.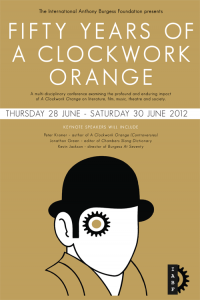 Full conference tickets are £70 from here. Concessions are £40 and day tickets are £25: please contact us directly on info@anthonyburgess.org or 0161 235 0776 to purchase these, or ask us anything about the arrangements.
————————————
Wednesday 27 June
4pm to 6:30pm: Welcome event and pre-registration at the International Anthony Burgess Foundation
6:30pm – Screening of the documentary Once Upon a Time… A Clockwork Orange (Antoine de Gaudemar, 2011) at Cornerhouse, Oxford Road.
————————————
Thursday 28 June 
Andrew Biswell: A Clockwork Orange: The Restored Text
Graham Woodroffe: A Clockwork Orange 1960-61: Genesis and Jeezny
Rob Spence: The Demise of the Droog: Questioning the Status of A Clockwork Orange
Jean-Michel Yvard: On the Substantiality of Good and Evil: Free Will and Predestination in A Clockwork Orange
LUNCH
Anthony Macris: The Immobilized Body
Christopher Thurley: Alex as the Product, Producer and Consumer of Art
Katherine Adamson: Divine Slovos: Biblical Allusions in A Clockwork Orange
Nuria Belastegui: Sounds of the Sirens: Joycean echoes in the language of A Clockwork Orange
Keynote address by Kevin Jackson, director of Burgess at Seventy
6pm to 8pm – Wine reception and concert at the Burgess Foundation. The concert programme includes music for A Clockwork Orange by Anthony Burgess (1986) and A Clockwork Operetta (2011) by Kevin Malone.
—————————————-
Friday 29 June
Matthew Whittle: 'Youth Has Power': Anthony Burgess, Colin MacInnes and the post-war cult of youth
Joseph Darlington: A Clockwork Orange: The Art of Moral Panic?
Yves Buelens: Collecting A Clockwork Orange
Valentina Bertola: Nadsat: Problems of Translation
Jean-Richard Ringelé:  The Role of the Police in A Clockwork Orange
LUNCH
Marc Jeannin: Encrypted Dimensions: language, music and visuals in Burgess and Kubrick
Leslie Gardner: Unreliable narrators: Alex DeLarge and Anthony Burgess
Nuria Camprecios and Joao Serejo: X-Banned presentation

Jim Clarke: From Nadsat to Txtspk
Jonathan Mann: Intertextual Sin Thesis: the structural poetics of The Clockwork Testament
Keynote address by Jonathon Green on Anthony Burgess and slang
6:30pm – Screening of Stanley Kubrick's A Clockwork Orange (1971) at Cornerhouse, Oxford Road.
——————————–
Saturday 30 June
Guy Cohen: Alex and Beethoven: music to watch violence go by?
Alan Shockley: Violence (and Ultra-Violence) in Beethoven's Ninth
Paul Davies: A Clockwork Orange: violence and theatre
Carly Rowley: Burgess and Beethoven in A Clockwork Orange: A Play with Music
LUNCH
Benjamin Halligan: Factory as Laboratory: Andy Warhol's A Clockwork Orange
Gary Needham: Sixty-Six Minutes of Torture, or Andy Warhol's Vinyl
Christine Gengaro: Burgess vs. Kubrick: Ownership of A Clockwork Orange
Daniel MacCannell: Horror Show: Anthony Burgess's Unproduced Script
Richard Daniels: the Stanley Kubrick Archive
Keynote lecture: Peter Krämer: 'Is it some devil that crawls inside of you?' Burgess, Kubrick and the Problem of Male Youth
6:20pm – 16mm screening of Andy Warhol's Vinyl (1965) at Cornerhouse.
Please note that the programme is subject to change and timings are to be confirmed.
For conference delegates planning to stay in Manchester, please note that there is limited accommodation in the city that weekend. Please contact us for help in finding somewhere suitable.