NEWS AND BLOG POSTS
#FutureFictions: Q&A with No Dice Collective about their apocalyptic concert Last Christmas
Burgess Foundation

25th November 2018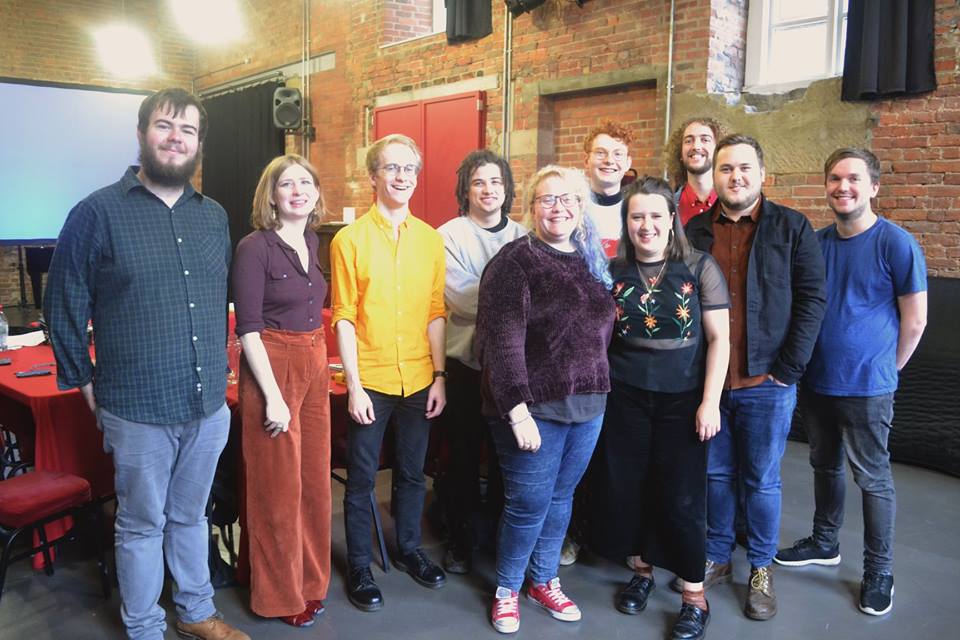 On December 7th, we welcome Manchester's No Dice Collective as they team up with The Writing Squad for an end-of-the-world themed concert called Last Christmas especially commissioned by the International Anthony Burgess Foundation.
Taking inspiration from the Burgess Foundation's #FutureFictions season about all things apocalyptic, Last Christmas features music and spoken word by some of the north's best new composers and writers. Find more about the event here. Tickets are available here.
The classical collective (pictured) have been working in residence at the Burgess Foundation to produce this concert. We asked No Dice's composer and founder Joe Chesterman-March more about the project.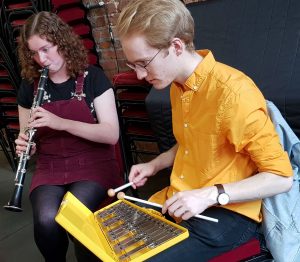 What is No Dice Collective, and how did you get your name?
I set up the Collective at university to get a bit more new music happening and it's grown to form its own identity from there. The name is derived from the phrase 'no dice', which is used as a rejection of something. I wanted the name to reflect a rejection of the way I saw new music being done, specifically that feeling that you can get at a new music concert where it feels like everyone else must understand what's happening but you haven't a clue what the piece is trying to get at. I really want people to be able to have a way of getting into the music, or at least understanding what the music is trying to do.
You've chosen to collaborate with the Writing Squad. Tell us a bit about your history with them and how they're contributing to this project.
For our spoken word concert last year, we had a call out for composers and writers. Georgia, No Dice's manager, is a member of The Writing Squad and so we had quite a few submissions from them. I loved the work that they did, and Steve, the director of Writing Squad, really liked our concert, so it just made sense to do a full on collaboration this year and get them officially involved.
Anthony Burgess had a particular interest in dystopias and apocalypse, and indeed you're including a work by him. How have you found inspiration in Burgess?
We were fortunate enough last year to play some music by Burgess at his centenary conference. This was my first real interaction with him at any level, but certainly his music. As someone with interests in multiple art forms myself, I found it quite inspiring to perform the eccentric music that he wrote, all while becoming a world-famous author.
This concert is part of our #FutureFictions end of the world season. How are those themes showing themselves as Last Christmas comes together?
There is certainly a shared sense of science fiction and imaginative visions of the future. One of the pieces has a really evocative depiction of a climate change so great that it obscures the second coming, becoming visually inseparable from its effects. We also have this great piece centering on an argument between leaving for the bomb shelter or staying in and watching Doctor Who on Christmas Day as family tradition dictates.
You're using us as a rehearsal and workshopping space. Tell us about any challenges during rehearsals or composition, and how you overcame them.
Having the engine room as a base and rehearsal space has been such a blessing for this project. It's meant we can have the space all day and just block out the rehearsal piece by piece instead of having to move around rooms and days. It does however mean that we had to carry some very heavy oven trays from home to feed our hungry players at lunch! Another aspect of the space, as with any space, is making good use of the acoustics. I found this particularly interesting on my own composition which mixes the acoustic and electronic because they both exist in the same room, but there is a certain immediacy to the speakers that I chose to counteract by adding a reverb to the electronics in addition to the room.
Last Christmas takes place on December 7th, during peak shopping season. What do you want for Christmas?
A new hard drive before my computer melts and causes the apocalypse all by itself!
Last Christmas, Fri 7 Dec 2018, 7.30pm. Tickets £10 – concessions and special mulled wine freebie also available.