NEWS AND BLOG POSTS
Girt Shyning Weals: Riddley Walker and Anthony Burgess
Burgess Foundation

26th February 2018
A new exhibition at the International Anthony Burgess Foundation explores the connections between Anthony Burgess and Riddley Walker with artworks by Sam Meech.
On its first publication in 1980, Anthony Burgess said of Russell Hoban's novel Riddley Walker that 'this is what literature is meant to be'.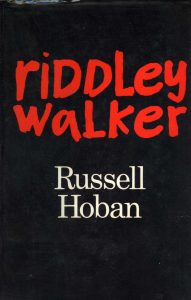 Set in a post-apocalyptic future two thousand years after a nuclear disaster, twelve-year-old Riddley wanders the mysterious wilderness of 'Inland', encountering savage dogs, mutants, dead bodies and the relics of the destroyed civilisation. The novel is written in Riddley's voice: a dangerous and difficult version of English that has suffered its own catastrophe. Sometimes compared to the Nadsat spoken by Alex and the droogs in A Clockwork Orange, Riddley's sparse and angular speech might alienate readers at first, but quickly draws them in to his strange and destabilising world. And like in A Clockwork Orange, the bleakness and violence of Riddley's dystopia is balanced by black humour, with his misunderstandings of the vanished civilisation providing an ironic commentary on our own world.
Burgess's championing of Riddley Walker helped make it a modern classic. Major writers and filmmakers built on Hoban's extraordinary vision: the desert children in George Miller's Mad Max: Beyond Thunderdome (1985) speak a version of Riddley's language; Feersum Endjinn (1994) by Iain M. Banks draws on Hoban's techniques in its daring use of phonetics and text-speak; and Cloud Atlas (2004) by David Mitchell and The Book Of Dave (2006) by Will Self both have long sections and settings directly inspired by the novel.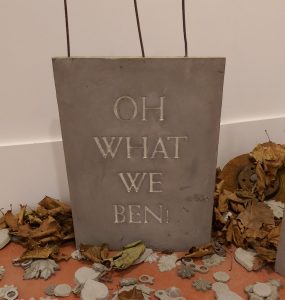 Combining works originally commissioned by Signal Film and Media with new pieces, artist Sam Meech uses video, concrete and a giant fidget spinner to explore ideas of past technologies and societies. The show is an absurd imaginary leap into a future world, in which the technology of today, both digital and mechanical, leaves unusual traces that require our own interpretation to understand 'what we ben'.
'Girt Shyning Weals: Anthony Burgess and Riddley Walker' is open Monday to Friday, 10am to 3pm, and in the evenings and at weekends during events.