NEWS AND BLOG POSTS
In conversation with Alexandra Harris: The Observer / Anthony Burgess Prize for Arts Journalism
Anna Edwards

26th October 2015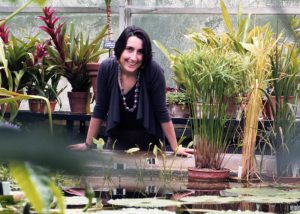 Now in its fourth year, the Observer / Anthony Burgess Prize for Arts Journalism was established to provide an opportunity for emerging writers to take the next step in their career, and to champion the very best of new writing in the arts.
The winning entry, as chosen by a panel of arts and journalism experts, will receive a £2,000 prize fund, have their work published in the Observer, and be invited to an awards gala at the Guardian/Observer offices in London.
One of the judges for the 2015 prize is Dr. Alexandra Harris. Harris is a writer, journalist and senior lecturer in English Literature at the University of Liverpool. Her work focusses on modern British painting and literature, and she has a particular interest in the work of Virginia Woolf. Her latest book, Weatherland: Writers and Artists under English Skies, published by Thames & Hudson, is an exploration of imaginative responses to the weather in England across the centuries.
We spoke with Alexandra ahead of her talk at the International Anthony Burgess Foundation, as part of Manchester Literature Festival. Here, she gives us her thoughts on the prize and what good arts journalism means today, and insights into the influences behind her own writing.
What are you working on at the moment?
I've just finished a big book, A cultural history of English weather, so for the last 5 years, for 15 hours a day, I've been looking through a millennium of English literature searching for clouds and rain. I'm so stunned to have finished it that I have 10 new projects brewing – and I'm not sure which one of them to go with!
Tell us a bit about the influences on your writing. Which writers do you look to?
The central one, predictably, is Virginia Woolf. Each of my books has been a response to her in terms of how I've shaped and toned the arguments. Romantic Moderns, my first book about the 1930s and 40s, was a response to Between the Acts. Not only in the sense that it was partly about it, but I tried to learn from her collaging style – my book about the weather tries to be an historic pageant of the sort that she did so brilliantly in Orlando. What I am really interested in is thinking about how non-fiction writers and critics can learn from novelists and other forms of art – I like to consider non-fiction itself as an art.
What are you hoping for from the entries to the 2015 Observer/Burgess Prize?
I think good journalism is a supreme skill that is not easy to come by. The best is a fine combination of the ephemeral and the permanent. You have to react to the moment, to be the first person there to give your opinion. It must feel punchy and contemporary, and as it is in a newspaper, it has to go alongside headlines. And yet as you want it to be reprinted in 50 years time, it has to hold a form that will last. People don't think about the form of critical writing – it needs a beginning and an end – it has to go somewhere. It has to form a shape in the mind.
The reader has to feel they have inhabited the theatre, exhibition or novel as well as being told someone's opinion of it. You need to be taken into the midst of it and shown, for example, just how the work you are reviewing is different from any other. The catching of tone and texture and pace, those unique adjectives that open up the feeling of being there, are generous things to do in journalism. It is not just argument, it is evocation.
What are the indicators of good arts journalism?
Every commission has a different challenge. When reading through the entries, I'm going to be aware of the subject being reviewed in a way that the entrant has responded. For example, take novels where you can't give away the ending – it is a great technical challenge to be able to do a piece on a novel whose unity depends on an ending that you can't reveal. Another challenge is to do a steady and fair review of something you've absolutely loathed. I don't always think that the outright slating of it is the most challenging thing to do; quite often you have to think your way through what other people feel about it, as well as making it clear what your opinions are.
Alexandra Harris was speaking to Simon Webbon, 20th October 2015. Listen to her 2015 Manchester Literature Festival talk below.