NEWS AND BLOG POSTS
Inside the archive: Anthony Burgess's journalism collection
Breaking news: As part of our ongoing 'Inside the Archive' series, we dig into Anthony Burgess's journalistic career — and his attitude towards it.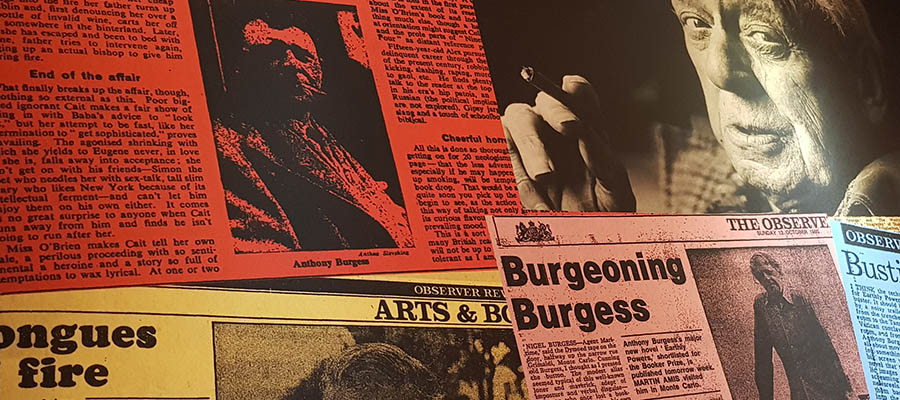 The journalism collection at the Burgess Foundation contains more than three thousand reviews and essays.
There are pieces by Anthony Burgess from the very beginnings of his writing career to the end of his life; and reviews and articles about him and his work. Hugely prolific, Burgess wrote for hundreds of periodicals, all around the world — alongside the books, plays, classical music, poetry, film scripts and everything else — and his journalistic writing is an important part of his oeuvre that has been obscured in recent times.
One of the most enjoyable aspects of working on Anthony Burgess's writing is finding new things. Even though Burgess died more than twenty-five years ago, the collections at the Burgess Foundation in Manchester — and other collections such as those at the Harry Ransom Center in Austin, Texas and the Institut Mémoires de l'Édition Contemporaine in Caen, Normandy — continue to give up original articles by Burgess that have been overlooked or somehow lost, such as our recent discovery of Burgess's predictions about life in 2020.
Burgess would sometimes claim not to value his journalism, presenting it as a subliterary activity and a distraction from the real business of writing novels, but it is not clear how seriously to take everything he says, given how many articles there are.
By the time of the publication of Homage to QWERT YUIOP in 1986 — which contains three hundred essays, and this only a fraction of Burgess's output in the preceding years — Burgess admitted:
'I do not mind doing this work; indeed, I enjoy it. It is a means of keeping in touch with a public that does not necessarily read my or anybody else's fiction. The reading and reviewing of books keeps my mind open to fresh ideas in both literary creation and criticism. And the need to keep within the limit of a thousand words or so is, as with the composing of a sonnet, an admirable formal discipline.'
Burgess's discipline was highly valued by editors: he could be relied on time and again to produce lively copy, to length and to deadline.
Burgess's original typescripts tend to be largely free of corrections, with only occasional marks in his hand; there are very few notes and drafts in the collection. It seems likely that Burgess wrote articles fluently and at speed, with little need for adjustment once words had been put on the page.
Sometimes, however, libels and other excesses would need to be removed, and so the collection of typescripts at the Burgess Foundation allows readers to rediscover the original texts. Published articles exist within the collection as electronic documents, and we are adding to the collection all the time, as new material emerges.
Preliminary cataloguing work has been done on our journalism collection, with finding lists available in our reading room; there is a description of the collection at the Archives Hub. We are working to create a full catalogue of this important material to make it fully accessible to researchers.
For readers interested to find out more, a recent book to emerge from the collection is The Ink Trade, a selection of literary journalism published by Carcanet in 2018. And for Burgess's own reflections on his journalistic writing why not read his article 'Confessions of the Hack Trade', first published in the Observer in 1992.
Five facts about Anthony Burgess's journalism career
When conscripted into the armed forces in 1940, Anthony Burgess wrote film reviews for the Gibraltar Chronicle.
Anthony Burgess met Margaret Thatcher (pictured) to collect a Critic of the Year plaque along with a cheque for £200.
The Yorkshire Post sacked Burgess for reviewing one of his own novels, Inside Mr Enderby, which he had published under the pseudonym Joseph Kell.
Gonzo journalist Hunter S. Thompson famously eviscerated Burgess over a piece of journalism, declaring: 'Do you take us for a gang of brainless lizards? Rich hoodlums? Dilettante thugs? You lazy cocksucker … Get your worthless ass out of the piazza and back to the typewriter.'
Burgess wrote for the Italian newspaper Corriere della Sera – most of these pieces are yet to appear in English – and a regular Monaco diary for the Saturday Review, called 'Notes From the Blue Coast'.