NEWS AND BLOG POSTS
Notes on Burgess and Joyce, part 1
Andrew Biswell

2nd February 2022

Notes on Anthony Burgess and James Joyce for the Ulysses centenary.
Here Comes Everybody
Burgess's introductory guide to James Joyce, described by the author as 'a sort of pilot commentary,' was published by Faber in 1965. Burgess guides the reader through each of Joyce's works, including lesser-known books such as Pomes Pennyeach and Stephen Hero.
His working title was 'Joyce and the Common Man'. In the foreword, Burgess writes: 'I hope it will not be long before everybody comes to Joyce, seeing in him not tortuous puzzles, dirt and jesuitry gone mad, but great comedy, large humanity, and that affirmation of man's worth that more popular writers stamp on in order to make money.'
A Portrait of the Artist
Burgess read A Portrait of the Artist as a Young Man as a fifteen-year-old schoolboy studying at Xaverian College in Manchester. He had been having doubts about his Catholic faith, and he found the hellfire sermon in A Portrait so terrifying that it scared him back into the church for about a year. He went on to imitate Joyce's fictional sermon in two of his own novels: A Clockwork Orange and Tremor of Intent.
Smuggling Ulysses
Ulysses was banned in Britain from 1922 until 1936. Burgess claims in Here Comes Everybody that he travelled to Germany in the 1930s and bought a copy of the two-volume Odyssey Press edition, which he smuggled back into England 'cut up into sections and distributed all over my body.' The story is doubtful, not least because there is no record of Burgess travelling outside the United Kingdom before 1939, by which time the British ban on Joyce's book had long been lifted. Later on, he told a more prosaic (and more plausible) version of the story, in which he borrowed a copy of Ulysses from his history teacher. What is beyond doubt is that he never recovered from his first encounter with Joyce's novel.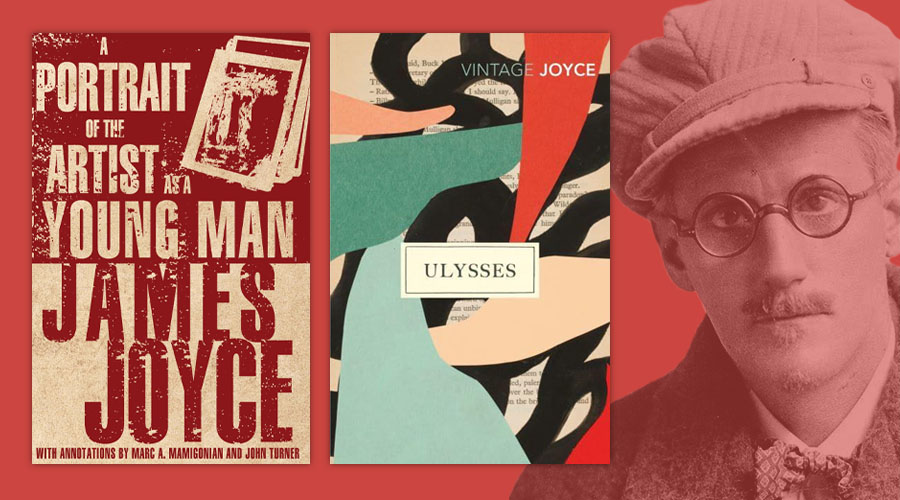 Silence, Exile and Cunning
Working with the director Christopher Burstall, Burgess wrote and presented a BBC television documentary about Joyce in 1965. This film was shot on location in Dublin and broadcast under the title Silence, Exile and Cunning. Burgess prepared several versions of the script before he travelled to Ireland, including an ambitious draft screenplay in which a nuclear bomb is detonated and a song-and-dance number is performed by a large chorus of Dublin prostitutes. The film he made was rather more sedate and low-budget, with Burgess delivering pieces to camera while standing outside locations mentioned in Joyce's writing.
Blooms of Dublin
In 1982 Burgess was commissioned to write a musical version of Ulysses to celebrate the 100th anniversary of Joyce's birth on 2 February. The programme, produced by John Tydeman and Michael Heffernan, was broadcast simultaneously by BBC Radio 3 and Raidió Teilifís Éireann, under the title Blooms of Dublin. Burgess travelled to Dublin to attend the recording of his words and music. According to the account he gives in You've Had Your Time, 'The musicians, and especially the female members of the chorus, refused to be involved in filth. The musicians' union informed the orchestra players that they could not refuse to perform on moral grounds, so the recording went ahead under heavy protest. A second violinist declared: "I'll play, but I won't play well." This threat was fulfilled. But, in general, professional integrity prevailed over moral doubts. When a dirty word appeared in the sung text it was, naturally, only to be sung by the males, so the ladies were sent out of the studio.'
A Blooming shame
Blooms of Dublin was reviewed in the Listener by the music critic Hans Keller. This was one of the worst reviews Burgess ever received. Keller — a distinguished musicologist who did not normally trouble himself with works of musical theatre — wrote: 'There's a case for imaginative amateurishness and, sometimes, there is no escape from unimaginative professionalism — but Radio 3's musicians must be enabled to identify unimaginative amateurishness posing as popular art before plenty of talent, time and tin has gone down the drain.' Burgess replied to this attack in the letters pages of the Listener a fortnight later, ignoring most of Keller's criticisms and pointing out a few technical inaccuracies in his review.
A few days later, Burgess began a new composition, titled 'Homage to Hans Keller', for four tubas. The piece consists entirely of lavatorial farting noises.
Here Comes Everybody is published by Galileo in the UK and (as Re Joyce) by W.W. Norton in the United States.
---