NEWS AND BLOG POSTS
Review — In concert: No Dice Collective perform Anthony Burgess
Paul Phillips

6th January 2022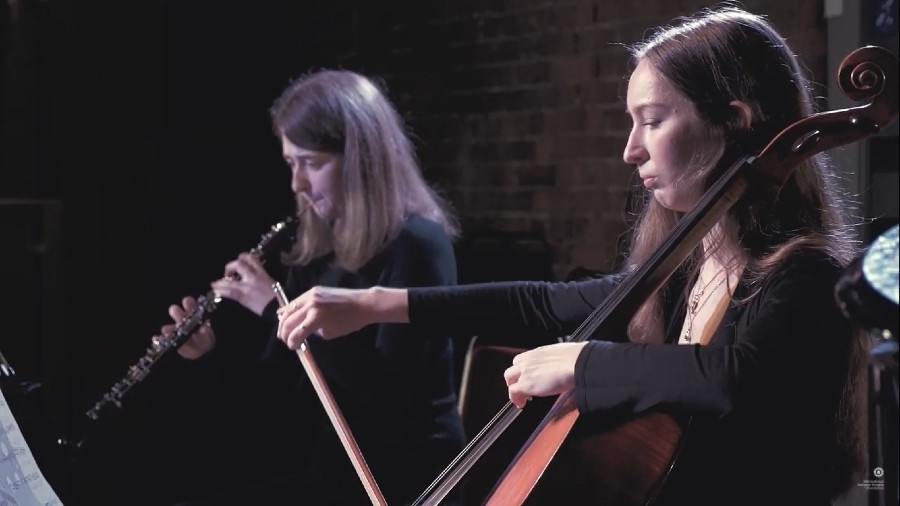 In 2021, the youthful Manchester-based chamber ensemble No Dice Collective recorded a pair of seldom played compositions by Anthony Burgess, his Concerto for Flute, Strings and Piano in D Minor and Quartet for Flute, Oboe, 'Cello and Piano. Composed nearly forty years apart, these two works highlight complementary aspects of Burgess's musical style. The concerto is an example of the angular, quartal style reminiscent of the music of Paul Hindemith, while the quartet infuses this quartal style with jazz inflections in an effective way that results in one of Burgess's liveliest and most attractive compositions.
While residing in Adderbury and teaching at Banbury Grammar School during the years 1950-54, Burgess devoted much of his activity to music and theatre. He produced and directed plays at the school and for the Adderbury Drama Group, a community theatre company that he founded, and composed approximately 16 compositions as well as incidental music for The Adding Machine and A Midsummer Night's Dream. For years, the only extant Burgess scores from this period were two short piano pieces, Wiegenlied and Sonatina in G Major, written in 1952, so when the International Anthony Burgess Foundation obtained the manuscript of Concerto for Flute, Strings and Piano in D Minor at auction in 2011, there was cause to celebrate. Purchased from the family of Colonel Bill Vickers, a self-taught jazz guitarist presumed to have acquired the score from Burgess, the Flute Concerto reveals the kind of music that Burgess was writing during the period in his life when his aspiration to become a professional composer was at its peak. Thanks to No Dice Collective, we are now able to listen to this concerto, one of Burgess's seminal compositions, along with one of his late chamber pieces and solo works by Claude Debussy, Oliver Knussen, and Robert Muczynski.
From Little Wilson and Big God and This Man and Music we know that musical talent abounded at Banbury Grammar School and that Burgess composed a series of works for friends and colleagues there. The headmaster, A. D. Rose, 'led a family of violinists and had founded a string orchestra' that performed Burgess's Partita for Strings in Banbury Town Hall. The chemistry master, Maurice Draper, played the flute, as did Kenneth Cardus, who headed the English department. Burgess writes that 'the French mistress was a superb pianist' and Valerie Tryon, the daughter of Kenneth Tryon (who taught German and French), was a 'notable' one. Concerto for Flute, Strings and Piano in D Minor, composed by Burgess in Adderbury in July 1951, was evidently conceived with some of these particular musicians in mind.
The concerto is about 20 minutes long and structured in three movements: I. Molto Moderato-Allegro, II. Andantino, and III. Allegro Giocoso. The opening bars of the first movement reveal the most notable aspect of the work — its marked similarity to Burgess's Symphony in C, composed 23 years later. Because most other early Burgess compositions remain lost, there is no way to determine whether the flute concerto is the original source of these shared themes. Perhaps they go back even further, to Burgess's unfinished Symphony in A minor (1943) or his Sonata for Piano in E minor (1945), or possibly such lost major-key works as his Symphony No. 1 (1935) or String Quartet in G major (1936), but in the absence of those manuscripts, the flute concerto remains the earliest known source of the thematic material shared with the compositions cited above. For this reason, it is a composition of particular importance within the Burgess canon.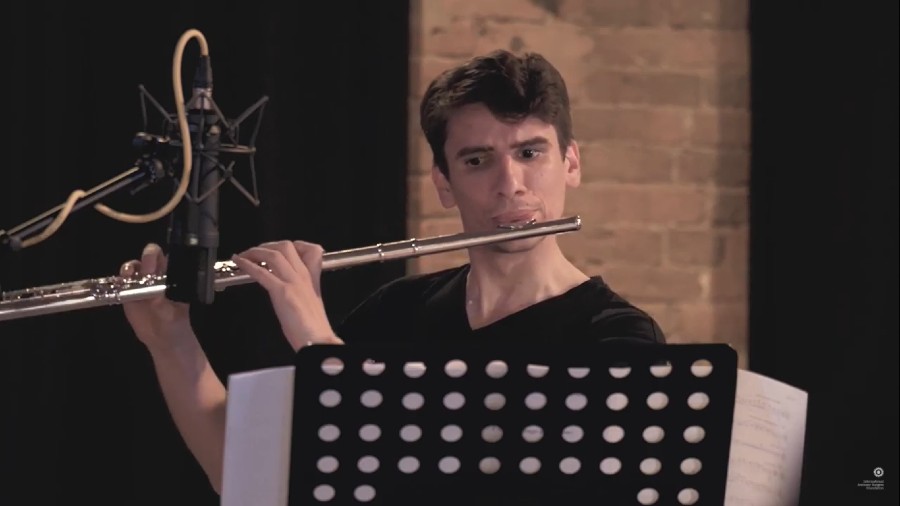 The first movement opens with the melody that later became the principal theme of the first movement of the Symphony in C. Burgess's predilection for quartal melodies is apparent from the very start of the concerto in the flute solo that opens the work; in the symphony, the same theme is also introduced by flute, albeit a pair of them doubled by harp in harmonics, and played a major second lower, in C minor instead of D minor. In the concerto, the piano responds with a skipping phrase in triplets; in the symphony, the same tune is played by English horn. A few bars later, the squarish rhythm of the opening melody is rounded into triplets, just as it is in the symphony. There are many more correspondences between the two works, but suffice it to say that the ties between the symphony and flute concerto remain strong throughout the movement.
The main theme of the second movement of the concerto was one that Burgess's employed at least twice more: in the finale of the Concerto for Pianoforte and Orchestra in E flat (1976) and the second movement (Andante Lugubre) of Sonata No. 2 for G.B.R. (Great Bass Recorder). A later theme in this movement recurs as 'Nero's Song' from Burgess's music for the television series A.D. (broadcast in 1985) and as the main theme of the third movement ('Gigue') of his Three Little Pieces for Wind Quintet. The finale calls to mind Prokofiev's 'Classical' Symphony, whose outer movements share the same brisk cheerful character and are similarly in D major. The main theme of the concerto's finale is a variant of the first movement's opening theme; similarly, a variant of 'Nero's Song' turns up later in the movement. Once these themes have been presented in a variety of guises in different tempi, the movement concludes with a reprise of the opening tempo and thematic material, ending with a brilliant flourish guaranteed to elicit a burst of applause.
Unlike the Concerto for Flute, Strings and Piano in D Minor and the group of thematically related works mentioned above, Quartet for Flute, Oboe, 'Cello and Piano consists entirely of original material not found in other Burgess compositions. Completed on Ash Wednesday  (28 February) 1990, this 14-minute composition is a postmodern blend of serious and popular styles. The musical material is fresh and jazzy, with a degree of ebullience rarely achieved in Burgess's other works.
The programme recorded by No Dice Collective comprises five works, with three solo works — Claude Debussy's Syrinx, Oliver Knussen's Prayer Bell Sketch, and Robert Muczynski's Three Preludes for Unaccompanied Flute, Opus 18 — bracketed by Burgess's Concerto for Flute, Strings and Piano in D Minor and Quartet for Flute, Oboe, 'Cello and Piano. Exuberantly conducted by Joe Chesterman-March, generally excellent playing results in an enjoyable listening experience of all the works on the program. Jeremy Salter brings a warm tone and palpable commitment to his playing of the Burgess concerto and the two works for unaccompanied flute, Syrinx and the Muczynski Preludes. Holly Calder, featured in Knussen's solo piano work and both Burgess compositions, ably handles the challenging piano parts of Prayer Bell Sketch and the quartet.
There is much to enjoy in these performances and reason to be grateful to the International Anthony Burgess Foundation for producing this video and to No Dice Collective for bringing these rarely performed Burgess works to the public's attention.
---
Images taken from In Concert: No Dice Collective Perform Anthony Burgess (videographer: Riley Bramley-Dymond)
---
Paul Phillips is the Gretchen B. Kimball Director of Orchestral Studies and Associate Professor of Music at Stanford University, where he conducts the Stanford Symphony Orchestra and Stanford Philharmonia. He has conducted more than 75 orchestras, opera companies, choirs, and ballet troupes worldwide. He is a music advisor and honorary patron of the International Anthony Burgess Foundation.