NEWS AND BLOG POSTS
Say it, Cecil! : the musicals of Earthly Powers

We've been so busy exploring the works of the writer Anthony Burgess that we feel we've ignored the works of another great writer: Kenneth Toomey, the playwright protagonist of Burgess's Earthly Powers.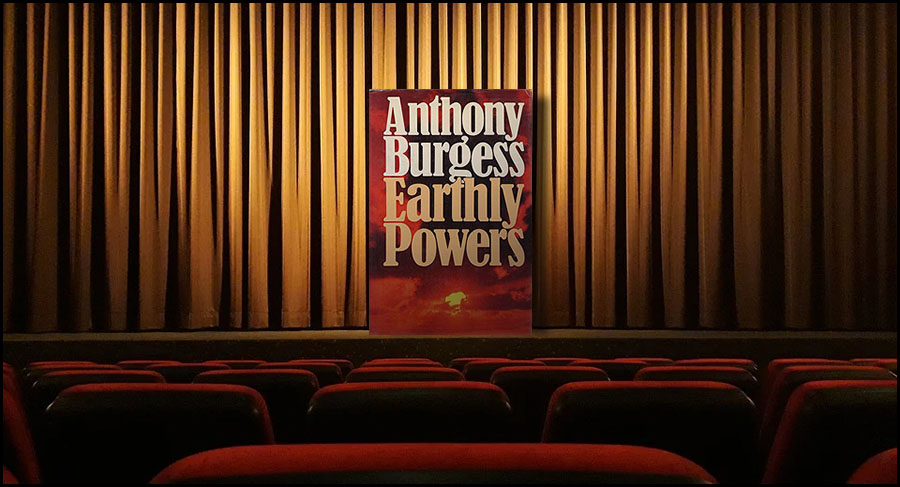 One of Burgess's themes in Earthly Powers is the distance between artistic integrity and commercial success. His protagonist Kenneth Toomey harbours ambitions to be a serious artist, but is only recognised for insubstantial works for the stage that cater to popular enthusiasms for sentimental love stories and low comedy.
The first is Parleyvoo (originally titled Jig a Jig Tray Bon), 'a kind of French farce' in homage to his French mother that is full of coincidences and double entendres, set during the First World War.
[The] wife is huge and domineering but becomes gentle and amorous if you can find a particular triggerpoint on her ample bottom and press it firmly. The sinning husband faints if he sees eggs, having been pecked by hens as a child.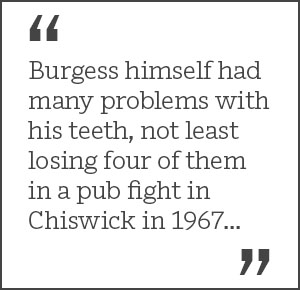 This material is presented as having great appeal to wartime audiences and Toomey is able to purchase his first silk dressing gown in which to serve cocktails in his commodious apartment, 'like Mr Ivor Novello'.
The next play Toomey writes is a free adaptation of Le Médecin Malgré Lui (The Doctor in Spite of Himself) by Molière, again described as successful. Toomey sets the play in a waiting room and uses his father's profession of dentist as the source of the comedy. The main function of this piece seems to be to provide the joke of Toomey's title: A Tooth for a Tooth. Burgess himself had many problems with his teeth, not least losing four of them in a pub fight in Chiswick in 1967, and the subject was a sore one for him.
Toomey's most successful work for the stage is Say It, Cecil! which begins life as a comedy in the manner of Somerset Maugham and is later turned into a musical. 'Based on a very silly idea', as Toomey puts it, the plot concerns a young man called Cecil who loves a girl called Cecilia, but cannot bring himself to say 'I love you' to her due to fear of bad luck.
In France he says 'je t'aime' and a nearby village is destroyed; he tries 'ya vas lublu' and the Russian revolution begins; and 'Ich liebe dich' causes the collapse of Germany.  Yet through a trick involving the names of various islands ('Isle of Wight', 'Isle of Man', 'Isle of You') the words are finally said.
Toomey is doleful: 'Is it possible for the reader to imagine anything stupider?'
Stupid or not, songs from Say it, Cecil! haunt Toomey throughout the novel. He finds himself performing numbers from it himself on the deck of his ship to Malaya; Hortense and Toomey attend a revue at the London Palladium, including a performance of the songs by his brother Tommy. An LP of the long-dead Tommy Toomey singing the musical is played during the closing sequence of the novel, bringing back bitter-sweet memories for his brother and sister. The lyrics are written out in their full, unliterary glory several times, though Toomey says that he despises them. It is not possible for Toomey to escape his popular success, and he rather likes it, even if it is also a source of embarrassment.
It is clear that Earthly Powers has a complex relationship with popular culture. Burgess is alive to the excesses of musical theatre and to its power to move and entertain. Popular songs are also important aspect of memory in the novel. Toomey remembers (and writes out) song lyrics from a popular film, Breakaway, but he breaks off with: 'What is the human memory playing at, that it can hold such inanities and forget great lines by Goethe?'
Burgess's first memoir, Little Wilson and Big God — similar to Earthly Powers in that it contains the lyrics to popular songs — has a variation of the same line, describing the gramophone records in the drawing room at his childhood home:
There was 'Me and Jane in a Plane', played by Jack Hylton's Orchestra, and, on the other side, 'I'm Going Back to Imazaz (Imazaz the pub next door)'. Why does one remember these vapidities so well?
These 'vapidities', snatches of music and fragments of lyrics that survive over decades, are the stuff of Toomey's creative life — and perhaps Burgess's too.