NEWS AND BLOG POSTS
The bard on tape: Delving into Anthony Burgess's Shakespeare lectures
The Foundation supports academic study into Anthony Burgess. In this guest blog post, PhD student Sam Jermy writes about his work on Burgess and Shakespeare, and his new research project with the Foundation.
---
Anthony Burgess was continually interested and engaged with the writing, world and life of William Shakespeare.
This creative engagement was sustained throughout his life, and it includes a major novel, a speculative biography, short stories, an unproduced TV series, a Hollywood musical and a variety of journalism, as well as a full ballet suite for orchestra.
Burgess also engaged with Shakespeare as a teacher and educator. He wrote at length about Shakespeare in his non-fiction literary histories, English Literature: A Survey for Students (1958, revised 1974) and They Wrote in English (1979). Before he became a full-time writer, Burgess had worked as a schoolmaster in Bamber Bridge, Banbury and Malaya, and in later years he gave guest lectures at the University of North Carolina at Chapel Hill and Princeton University, among other places.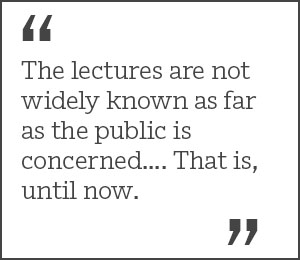 While working as a visiting professor in 1973 at City College New York, Burgess gave a series of seventeen lectures about Shakespeare to a diverse student body. Recordings of this lecture series, originally reel-to-reel tapes and now digitised, are part of the extensive material on Burgess and Shakespeare held within the Burgess Foundation's archive. However, the lectures are not widely known as far as the public is concerned.
---
Our Shakespeare resource examines some of the ways in which Anthony Burgess thought about and wrote about one of his greatest inspirations.
---
That is, until now. This month I have started a research and cataloguing project with the Anthony Burgess Foundation, which takes the 1973 Shakespeare lectures as its focus. This research will involve cataloguing the collection to make the collection fully accessible to researchers for the first time, as well as creating new web pages, podcasts, and other materials to bring these lecture recordings to new audiences.
Outside of this project, I am currently completing my doctoral research at the University of Leeds on one of Shakespeare's contemporaries and collaborators, Thomas Middleton. Interestingly, Burgess borrows the name Beatrice-Joanna from Middleton's darkly-sexual tragedy The Changeling (1622) for the protagonist of his 1962 novel The Wanting Seed.
My project is all about Burgess's wide-ranging and fascinating engagement with Shakespeare and the Renaissance world in which he wrote. I am excited to see how this new material can illuminate how we think about the relationship between these two writers and dramatists.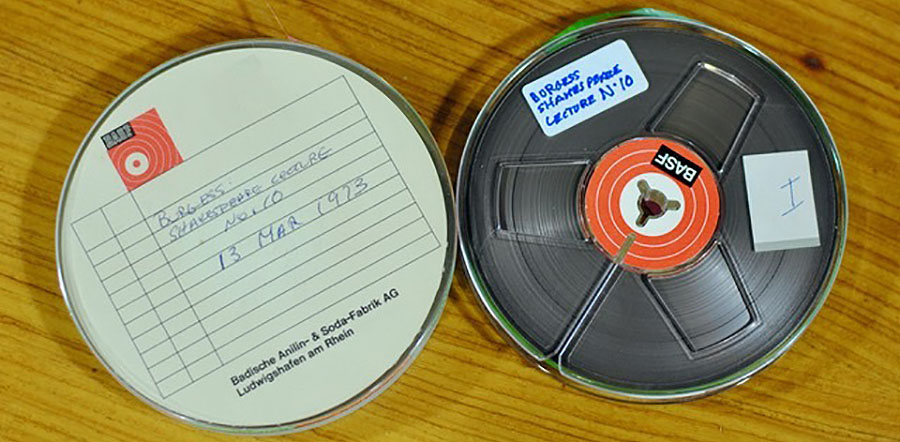 By listening to and cataloguing these lectures as a series for the first time since they were delivered in 1973, this project will allow Burgess's teaching of Shakespeare at City College to be understood in the wider context of his life and work. Understanding these lecture recordings will make the collection more accessible to future researchers. The catalogue will describe the contents of these lectures at individual item level, as well as providing a narrative of the overall series.
The project will situate this material alongside the extensive holdings in the Burgess Foundation's archive relating to Shakespeare, including literary manuscripts, music scores, journalism, books in Burgess's private library and his published work on Shakespeare, Marlowe and the Elizabethan period. Delving into the lecture series will emphasise Burgess as a teacher of Shakespeare alongside his prolific creative output and will perhaps lead us to reconsider the role Shakespeare played in Burgess's own life and work.

While the Covid-19 lockdown in England does mean that some of the work we had planned to do within the Burgess archive is temporarily on hold, I'm looking forward to the extended time I will spend listening to Burgess on Shakespeare over the coming months of the project. His deep love and creative spark for Shakespeare is readily apparent, and I fully expect that his extensive knowledge of Elizabethan London will be matched by his desire to speculate on what Shakespeare's life would have been like.
Burgess is known to identify and model himself partly on Shakespeare. At the time of these lectures, Burgess would have also been a literary dramatist, completing a new adaptation of Edmund Rostand's Cyrano de Bergerac as a Broadway musical. Even in the format of a lecture series delivered for students at university, it is hard not to imagine the kinds of overlaps and parallels that will be drawn by Burgess between himself and Shakespeare. As Burgess says in the opening lecture, 'I can only present myself to you as a man that has read Shakespeare, idolised Shakespeare, and tried to be influenced by him in my own craft of writing.'
An example of Burgess's engaging and entertaining lecturing style can be found in the current exhibition 'Anthony Burgess on Tape', which is well worth listening to.
---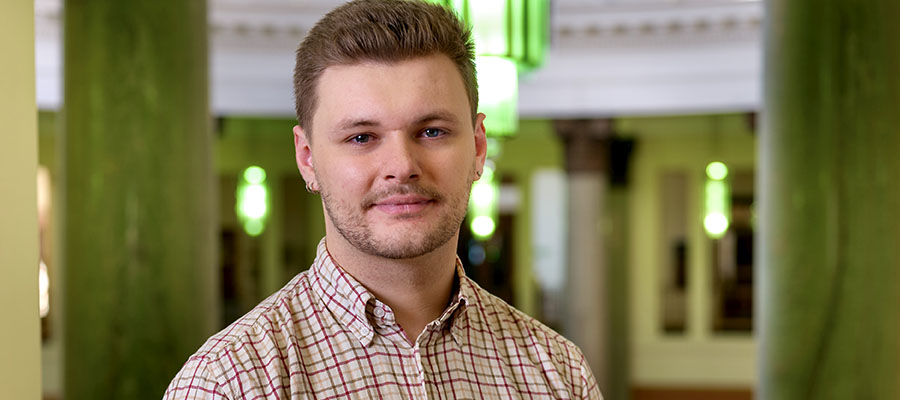 Sam Jermy is a PhD Student at the University of Leeds. His research is funded by the Arts and Humanities Research Council through the White Rose College of the Arts and Humanities.
---