NEWS AND BLOG POSTS
The Clockwork Collection: Anthony Burgess's musical version of A Clockwork Orange
Will Carr

8th October 2021
2021 marks the 50th anniversary of the first release of Stanley Kubrick's film adaptation of A Clockwork Orange, and 60 years since Anthony Burgess completed his most famous novel.
To celebrate the anniversary, we are presenting an online series called The Clockwork Collection, with a focus on A Clockwork Orange.
Each month we'll be sharing a highlight from the Burgess Foundation's archive. Expect literary manuscripts, vinyl, books, audio, journalism, music scores, photographs and more. For more information on the items discussed in the series, please contact our archivist.

---
The Clockwork Collection: Anthony Burgess's musical version of A Clockwork Orange
Anthony Burgess's stage adaptation of his novel, A Clockwork Orange: A Play With Music, published in 1987, is dominated by music of his own arrangement and composition. The play begins and ends with song, and there are sixteen separate musical numbers and thirty-two musical cues: melodies from Beethoven and opera, and elements of music hall, pop and swing punctuate the action. Like the original novel, the play mixes violence with black comedy, and Burgess's unexpected juxtapositions of comic and classical music with the unfolding drama have a startling, destabilising effect.
The Burgess Foundation's collections contain a number of manuscript fragments of Burgess's musical scores for his play. He describes his project as an 'opera' (elsewhere in correspondence it is referred to as 'an operetta'), and his original ambitions for the adaptation may have been more extensive than the 'play with music' that ultimately emerged.
Burgess had already completed an operatic adaptation of Ulysses, broadcast in 1982 by BBC radio and RTÉ as Blooms of Dublin. He had also written a new libretto for Oberon by Carl Maria von Weber in 1985 and a translation of Bizet's Carmen in 1986. His drafts for A Clockwork Orange: A Play With Music show a sketch of what may be an opening theme on the piano, and an early melody for the opening song 'What's It Going to Be Then, Eh?', sung by Alex and the droogs. The opening theme is in 4/4 time, and was discarded in favour of a discordant 3/4 'Prelude' in the final version. 'What's It Going to Be Then, Eh?' is eventually given a melody reminiscent of the theme from the detective drama Dragnet, which in turn becomes the main theme of the scherzo of Beethoven's Ninth Symphony.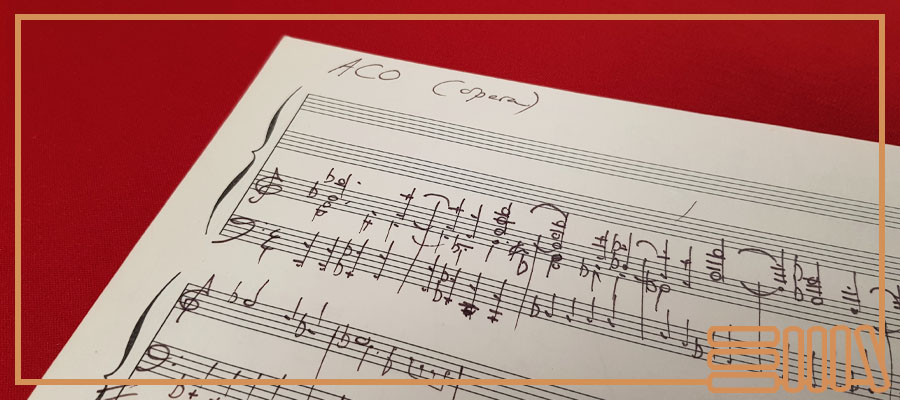 Other songs in A Play With Music include 'Alex's Song', an original composition in a swing style, and 'You Blister My Paint', a pastiche of 1950s-style pop music. Burgess extensively uses melodies from Beethoven to comic and dramatic effect. The 'Droogs' Chorus'  — with the refrain 'In and out / We love the old in-out' — draws on the adagio cantabile of piano sonata number 8 ('Pathétique'). 'She Was All Things to Me', in which F. Alexander mourns the loss of his wife, uses the adagio of the Ninth Symphony. And the final number — 'Being Young's a Sort of Sickness' — uses the 'Ode to Joy' from the fourth movement of the same work. Throughout the play, Alex's love for 'Ludwig van' is conveyed through the musical world that Burgess creates.
The finished version of A Clockwork Orange: A Play With Music is designed to be small in scale and draws on Burgess's early experiences in student and amateur drama. As he stresses in the published introduction, 'this is not grand opera. It is a little play which any group may perform.' He did not insist that his music was used — 'there are three numbers which call for music of my own, or somebody else's, but the Beethoven spirit must be there' — and nor did he stipulate that the players should be at all musically proficient: 'Beethoven is long out of copyright and may be freely banged around on a piano with whatever percussion suggests itself'. It remains clear, none the less, that the music is essential to a complete rendition of his play.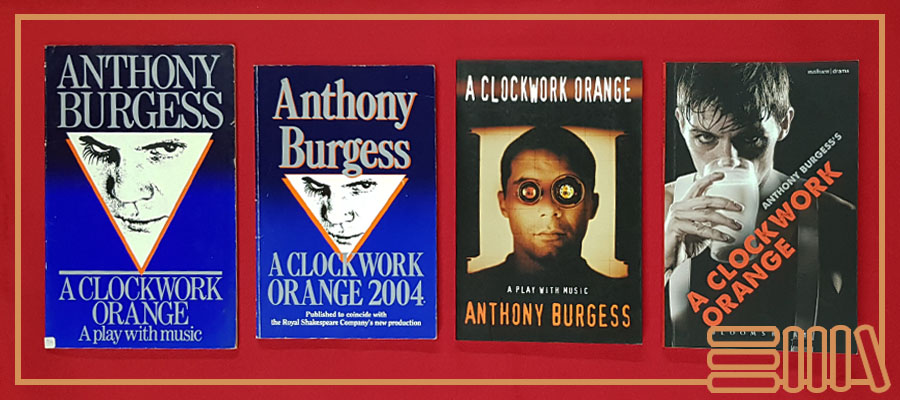 The first documented performance of A Clockwork Orange: A Play With Music took place in West Germany in 1988, at the Schauspeilhaus in Bonn. The acclaimed punk band Die Toten Hosen composed original music for this production and appeared in person, emerging from the orchestra pit to play songs including their hit 'Hier Kommt Alex'. The reviewer from Die Zeit was particularly struck by the strength of their performance and described their contribution as 'a riot, brutal, mean and by no means always beautiful […] their music is so striking that it is a joy.'
Die Toten Hosen's album Ein kleines bisschen Horrorschau ('A little bit of horrorshow'), containing six songs from the show interspersed with Beethoven, peaked at number seven in the German and Swiss charts on release. Reissued in 2018, it made number three.
An expanded version of A Play With Music, under the new title A Clockwork Orange 2004, was premiered by the Royal Shakespeare Company in 1990 (pictured below). Some of the lyrics from Burgess's musical numbers remained as spoken verse, and a new soundtrack was composed for the production by Bono and The Edge from the band U2. In an interview with The Times before the production opened, Burgess said:
I'm a bit scared of [hearing the music] because my original intention was to use the music of Beethoven. It was appropriate because that was the music the hero Alex likes. He rather despises the other stuff.
The 'other stuff' is rock and pop music, and Burgess goes on to say that he does not find 'a great deal' in it. Later he was quoted in the London Evening Standard as saying: 'I do not have a great deal of time for rock groups — they've got tremendous technology to help them but they produce a poverty-stricken music. To my mind it's not like music at all, it's like neo-wallpaper.'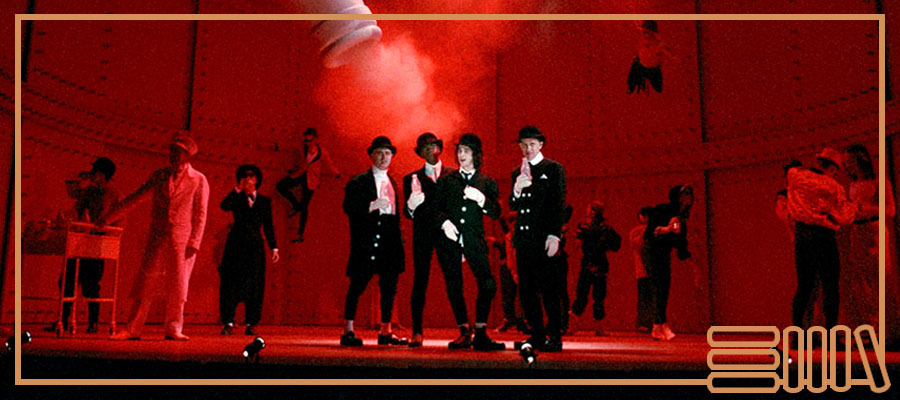 Productions have rarely used Burgess's original music, preferring instead to commission new scores, or to use classical repertoire alongside pop and rock music. A good example of this is the successful Action To the Word production, directed by Alexandrea Spencer-Jones, which toured internationally between 2009 and 2017. In an energetic all-male show, the soundtrack intersperses Beethoven with music by Gossip, Scissor Sisters, Placebo and others, locating the piece firmly in a contemporary musical context.
A Clockwork Orange: A Play with Music was first presented with Burgess's own songs in a 2000 production by Fabulous and Ridiculous Theatre in Austin, Texas, directed by Anna Catherine Rutledge. His songs did not receive their European premiere until a concert performance in Manchester in 2012.
Since then there have been serious and successful attempts to bring Burgess's music into view, the most recent being a major production at Liverpool Everyman in 2018 (below), directed by Nick Bagnall. Burgess's music was used in full, arranged by James Fortune and Peter Mitchell.