NEWS AND BLOG POSTS
The James Joyce pack of cards
Burgess Foundation

14th July 2014
'When we have read [Joyce] and absorbed even an iota of his substance, neither literature nor life can ever be quite the same again.'
So writes Burgess in his 1965 guide to James Joyce, Here Comes Everybody: An Introduction to James Joyce for the Ordinary Reader (published in America as Re Joyce).
Burgess's love of Joyce began at an early age, while he was a student at the Xaverian College in Manchester, and continued to be a life-long passion. The Burgess Foundation's library contains sixty copies of editions of works by Joyce as well as numerous critical studies of his work, which had been collected by Burgess throughout his life. Burgess's collection of Joyce's fiction dates from the 1923 edition of Joyce's Chamber Music (inscribed 'John Burgess Wilson / Manchester 1934' and 'To Lynne from John, 1939') to the early 1990s, and includes eighteen copies of Ulysses and ten of A Portrait of the Artist as a Young Man.
Joyce was, for Burgess, an author whom he measured himself 'hopelessly against each time I sit down to write fiction' and was a source of great inspiration for his literature, music and poetry. Burgess wrote extensively on Joyce, producing two critical studies, Here Comes Everybody (1965) and Joysprick (1973); an edition of A Shorter Finnegans Wake (1966); a documentary for BBC television, Silence, Exile and Cunning (1965); an operetta, Blooms of Dublin (broadcast in 1982) based on Joyce's Ulysses; introductions to reprints of Dubliners, A Portrait, Ulysses and Finnegans Wake; and numerous articles and reviews.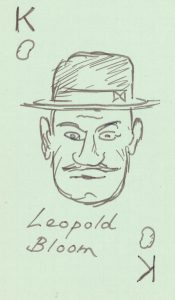 Among the scholarly editions is a pack of 52 playing cards, created by Burgess 'in homage to Joyce' in 1985. Burgess produced detailed notes on his choice of suits, symbols for the numbered cards, and characters on the court cards, which are mainly taken from Ulysses and Finnegans Wake.
The suits are pork kidneys, corresponding to the traditional hearts; ashplants, corresponding to spades; shamrocks to clubs; and 'flowers of the mountain' to diamonds. The court cards relate to characters in Ulysses and there is a pattern of family or mythical relationship in each set. For example, Leopold Bloom is the King of Kidneys, since he begins the day by frying a pork kidney for his breakfast. The Knave of his suit is his dead son Rudy, and the Ace is the kidney, 'symbol of economy, common sense, and prudent sobriety.' The Joker is James Joyce himself.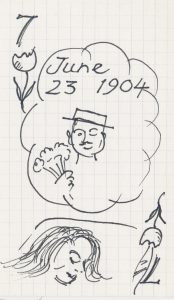 Papers in the Burgess Foundation's archive suggest that the pack was intended as a commercial venture with Rosita Fanto. The idea original idea came from Liana Burgess, with Burgess responsible for designing the pack and executing the drawings, which could be 'improved upon by a draftsman or a student of the Academy of Art in Nice.' It was hoped the pack could be extended to include other sets of cards: Liana was confident that she could persuade Burgess to create a pack based on A Clockwork Orange, and another on Finnegans Wake. The cards would come with an explanation of each card to be printed on the reverse. Liana suggested an initial print-run of 10,000 packs.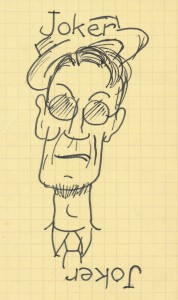 Although the proposed collaboration with Rosita Fanto did not take place, we hope that an enterprising printer or publisher (from Nice, Manchester or elsewhere) will step forward to bring Burgess and Liana's idea to fruition.