NEWS AND BLOG POSTS
The Last Temptation of Christ
Burgess Foundation

25th April 2014
Martin Scorsese and Paul Schrader's adaptation of the novel The Last Temptation by Nikos Kazantzakis caused immediate controversy on its release. Inspiring vocal protests from fundamentalist groups in the US, and banning and censorship in many countries including Turkey, Mexico, Chile and Argentina, the main objections to the film centred on its clear departure from the gospels, and in particular the suggestion of a physical relationship between Willem Dafoe's self-doubting, reflective Jesus and Mary Magdalene, played by Barbara Hershey. 
Anthony Burgess reviewed Kazantzakis's novel in the Yorkshire Post of 23 March 1961. His review is, even by Burgess's usually generous standards, hugely enthusiastic, describing the book as a 'fiery masterpiece, heretical and blasphemous', with a Christ figure who is 'colossal, vital, epic' in his struggle to reconcile his human freedom with his immortal destiny . The 'terror and strength of the book lie in a profound seriousness and an astonishing consistency … Kazantzakis's own logic knits the tale together with steel.'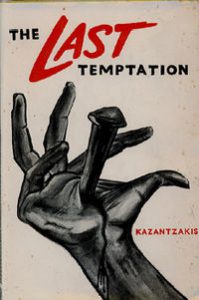 Burgess created his own Christ figure in the screenplay for Franco Zeffirelli's Jesus Of Nazareth (1977), the visually majestic mini-series and theatrical release starring Robert Powell as Jesus. Burgess's working titles were 'Christ The Tiger' and 'Jesus Christ and the Love Game', and the project first emerged as a novel, Man Of Nazareth. (The second title survived into the Spanish first edition, Jesucristo Y El Juego Del Amor.) Writing in the Observer in the year of the release of the film, Burgess claims that 'even before the preview the American fundamentalists began to rage against alleged blasphemy and General Motors withdrew its sponsorship … It is still dangerous to dramatise the life of Jesus; to suggest that Jesus had ordinary human instincts, including sexual ones. To humanise Christ, which might be considered a legitimate fictional aim, is to dedeify him.'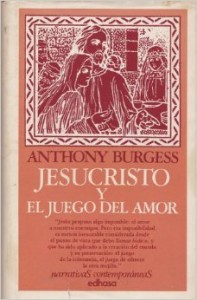 Perhaps to Burgess's disappointment the rage of the protestors did not really materialise, and the television version is now standard Easter holiday fare. While Burgess's Jesus may have been a fierce, revolutionary figure, the rough edges and fleshly appetites were smoothed out almost to insipidity in Zeffirelli's devotional picture.
Discussing his first marriage in a 1989 interview with Rosemary Hartill, Burgess aligns his thoughts about Jesus participating in all human activities with those of Scorsese: 'One of the reasons why some people have turned against Jesus Christ, why people are prepared to accept Scorsese's film The Last Temptation Of Christ, is that Christ didn't do the most difficult thing of all – which was to live with a woman. The new view of Christ is that he should have lived with a woman, and perhaps he did. I believe that when he began his mission at the age of thirty, he couldn't have lived in Galilee without being a married man, but that's my own personal belief.'

Towards the end of Burgess's life, his newspaper articles often covered religious subjects. In a 1992 review of Jesus by A.N. Wilson, he strikingly asserts the importance of the essential humanity of Jesus in his influence on Christianity. 'I cannot accept that Jesus did not institute the Eucharist as a sempiternal and miraculous rite. This was an act of genius that has appalled the reformers, as, indeed, has the more revolutionary doctrine of loving one's enemies. The man Jesus, with no coherent philosophy to deliver, full of ironic parables, wit, compassion, totally without fear of women, very human, sometimes frightening, often lovable, remains to say the least of it unique. If God is like Jesus, God is worth believing in.'
As with his many other engagements with semi-mythical historical figures in his writing – Napoleon, Moses, Shakespeare – Burgess is primarily interested in real, human qualities and their radical and disruptive effects. In this regard he shares his approach to the story and character of Jesus with Kazantsakis and Scorsese.  The Last Temptation of Christ is showing as part of the 'Christianity, Controversy, Cinema' film season at Cornerhouse, 70 Oxford Street, Manchester on 28 April, 17:20. Tickets are on sale here.
Will Carr