NEWS AND BLOG POSTS
The Man And His Music
Burgess Foundation

30th September 2013
A new recording of music by Anthony Burgess and others has just been released on the Metier label.
In the later part of Burgess's life he wrote several recorder works for his only son Andrew Burgess Wilson, who played both oboe and recorder. The leading recorder player John Turner and the pianist Harvey Davies have now recorded several of these for the first time on a new double CD release in collaboration with the International Anthony Burgess Foundation. The commentator David Wordsworth writes:
'There are littered through musical history several examples of composers who also turned their hand to writing. Berlioz and Schumann are perhaps the most famous examples, Virgil Thomson nearer our own time – all elegant and brilliant writers on the subject of music. Thinking of writers who also turned their hand to musical composition, even dabbling in the art of putting notes on paper in the way others might collect stamps or coins is more difficult. In this respect Anthony Burgess is almost unique at least in terms of his vast musical output. More than once Burgess expressed the hope that he might be remembered as much for his music as for his writing. The determination and single-mindedness that Burgess showed is nothing short of remarkable. His father refused to pay for piano lessons; and having been turned down to study music at Manchester University and teaching himself, alongside his voluminous literary output, Burgess also managed to find the time to write over 250 musical works. These range from piano music and songs to concerti, 3 symphonies, a huge setting of Gerard Manley Hopkins's 'The Wreck of the Deutschland'; works for the stage, including an operetta 'Blooms of Dublin' based on Joyce's 'Ulysses' and an interest in writing music for some of the more neglected instruments such as the guitar, recorder and tuba.
Burgess described his music as 'post tonal' – perhaps 'neo-romantic' might be a more accurate description in an age when attaching labels to a composer is as important as the music itself. A turning point in his musical development was hearing Debussy's 'Prelude a l'apres midi d'un faune' as a child, an experience that opened up a whole new world and left him with a life-long love of Debussy and Ravel. The other choices Burgess made when he was a guest on the iconic radio programme 'Desert Island Discs' might help to describe the aesthetic of Burgess the composer – alongside Debussy's masterpiece was music by Purcell, Bach and Wagner, and perhaps more interestingly from the point of view of Burgess' own music, Elgar, Vaughan Williams, Constant Lambert and William Walton.'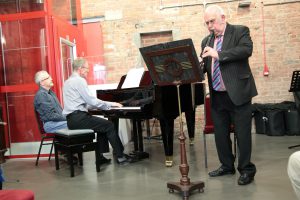 CDs and downloads are available from Divine Art Recordings.