NEWS AND BLOG POSTS
The Worm and the Ring: A Review
Frank Beyer

30th October 2019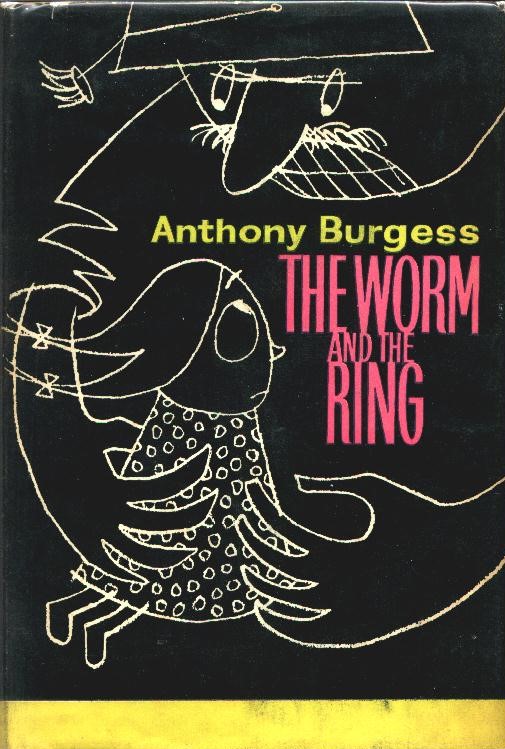 The Worm and the Ring is remarkable, not so much for Anthony Burgess taking a crack at his former colleagues at Banbury Grammar School, but rather for his creativity in animating a school serving 'drearily picturesque towns'. Burgess had already written about school-teaching in The Malayan Trilogy, but the birth of independent Malaysia, being a significant historical event, was easier material to work with. The school in this novel is based on the real-life school in Oxfordshire where Burgess worked in the early fifties, undoubtedly a place that clipped his wings somewhat.
Burgess presents a provincial England in 1951, the year of the Festival of Britain, that is timeless. The headmaster can't work out if his mother is talking about the First or Second World War or indeed the Boer War, while the gloomy school environment suggests the struggle down the ages to control children and, if possible, educate them: 'The uneasy atmosphere there, the bloody-mindedness, it was all epiphenomenon, a mere reflection of the rotting floorboards and carious walls.' The staff of this dilapidated institution struggle against, or remain aloof from, the children as best they can.
After school on a rainy day in February, a fourteen-year-old girl's diary is stolen by a bully, Albert Rich. The diary, like the ring in Richard Wagner's Ring Cycle, is a treasure that gives the holder power. The girl, Linda, has written a racy fictional account of encounters between her and the Headmaster, Mr Woolton. The diary, through a series of mishaps, falls into the hands of Woolton's enemy, the ambitious Head of Modern Languages, Dr Gardner. This is Burgess's setup for a comic plot not without depth. Fans of Wagner will be able to find a web of character traits, plot fragments and motifs taken from the Ring of the Nibelung operas. However, no knowledge of Wagner's work is necessary to enjoy the story. The real strength of the novel is Burgess's hilarious lampooning of the personalities one might find in any school. The local pub, the Dragon, is also a rich source of the colourful: 'The bar was already filling up with provincial characters —  the elderly retired major who could quote from the poems of D. H. Lawrence; the one-eyed homosexual farmer; the gaunt vicar who stood with the bellied burgesses, his nose like a piece of cuttlefish bone stuck between the wires of a budgerigar's cage.' 
Woolton is a retiring intellectual type inspired by Wagner's king of the Gods, Wotan. As headmaster he is liberal, and feels that his good intentions are misunderstood. Oppressed by a jealous wife and senile mother, his nemesis (aside from Gardner) is the school secretary, Alice, the embodiment of provincial small-mindednes, who, wants to get in on Woolton's domestic life and takes rejection rather badly. In the fictional character of Alice, Banbury Grammar School's real-life secretary recognised herself, leading to a libel case and the pulping of the first edition of the novel, printed in 1961. A revised second edition was published in 1970. Woolton has hope for a new start as the school is switching premises to a new campus in the suburbs, his Valhalla, but his troubles follow him there. Both his mother and wife take ill, leading to the comic debacle of him never being sure which Mrs Woolton's health is being asked after. Woolton is a declining spirit, but Burgess gives him a heroic moment: not a Wagnarian one, but a Burgesian one. Woolton tells the fat-cat, philistine school governors to shove it after they try to put the squeeze on him: 'But how the majority of you can presume to regard yourselves as equipped for promoting the education welfare of this borough, God alone knows.' Woolton's attack is only partly successful as his audience doesn't have much of a clue what he's on about. 
Gardner has recently become Doctor Gardner, having plagiarised a manuscript written by another teacher, Christopher Howarth. Gardner is hollow: he has money and now academic status but no inner life or conscience. Catholic, broke and gifted at languages, Howarth also has an unhappy home life. Veronica, his wife, is unwell and blames Howarth for their financial problems. Howarth finds relief drinking in the Dragon, musing on the words of Rilke and Martin Luther and lusting after another teacher, Hilda Connor. In a particularly brilliant scene, Howarth declares his love for Hilda in the school canteen. While the two teachers are occupied with each other, chaos breaks out: 'The children, free from reproof, played games while waiting for their pudding: they emptied the salt-cellars into each other's hair, gargled with the water and spat it back into the jug, aped the gestures of professional knife-throwers, made horrid noises with their lolled-out tongues, passed on kidney punches, edged the weaker ones off the benches.'
Howarth is hard to get at because of his give-a-damn attitude, but his son, Peter, is vulnerable. Peter struggles with faith, sin and hellfire and is not helped by his father, who reveals in a German lesson his admiration for Martin Luther's speech from the Diet of Worms. Rich, the school bully, also targets Peter. Burgess shows himself to be an expert in teenage psychology: Rich is rather dim (despite being in an A-steam), but has an instinctive cunning. When Rich sneaks out of the hotel on a school trip to Paris and gets himself and another boy into some bother with pederasts, he puts the blame on Howarth: '"He should have looked after us better", said Rich. "He shouldn't have let us go out like that. He's got no sense of responsibility."'  Like Gardner, Rich has no conscience and therefore can manipulate those who do.
In Paris, Howarth (a man of the world, much like his creator) comes into his own. By contrast, the children and Hilda lose their power as they are unsophisticated fish out of water. The big city setting allows Burgess to send Howarth to seedy bars and cafés on a Pernod-fuelled binge. This gives the reader vicarious fun, until there is a chance meeting with an American Howarth knew in the war. This American, Captain Muller, gives Howarth his business card, offering him an escape from England and financial troubles, foreshadowing Burgess's own escape in years to come.
The politics and atmosphere of the school and town should be easy for a modern readership to relate to. However, the scandals faced by the two heroes, Woolton and Howarth, and the whiff of sexual impropriety hanging around them, could have brought much more trouble in a novel with a contemporary setting. In The Worm and the Ring, true to form, Burgess has great fun wrestling with religious doubts, English stodginess and the nature of authority. He comes to the conclusion that those suited to power want it merely to maintain and get more of it, not to defend any liberal or, God forbid, intellectual ideals. Despite the worldly success of the ambitious, underhand and practical, Burgess shows that there are other paths to take and his scholarly stand-ins have their moments.