NEWS AND BLOG POSTS
This Man And Music: A Review
Paul Phillips

17th August 2020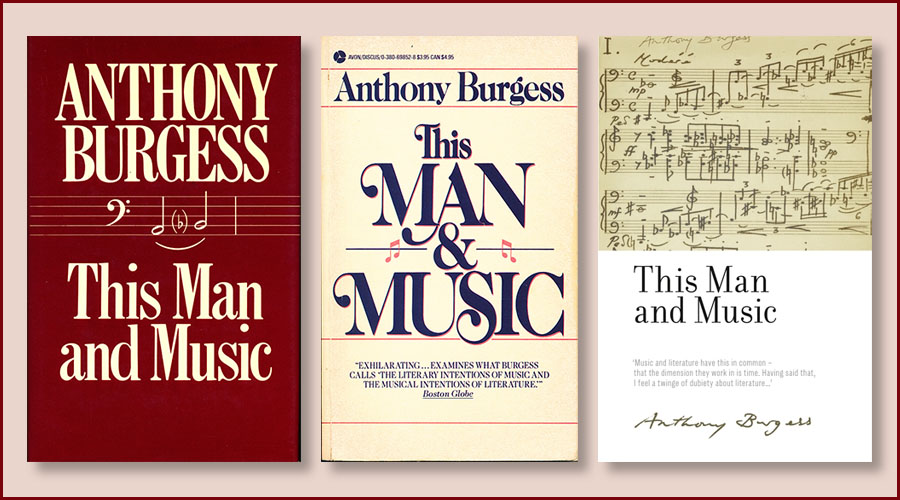 As Christine Lee Gengaro, editor of the new Irwell Edition of This Man and Music, points out, 'The book might more accurately have been called This Man, Music, and Literature, or Music, Literature, and This Man. But as it stands, the title This Man and Music is misleading.'
Indeed it is, for less than a third of the book focuses principally on music and Burgess's relation to it. The relationship of literature to music is the main subject of the book, which is essentially an expansion of the four T.S. Eliot Memorial Lectures that Burgess delivered in April 1980 at the University of Kent.
Under the title 'Blest Pair of Sirens: Thoughts on Music and Literature', Burgess held forth on such topics as prosodic rhythm in the poetry of Gerard Manley Hopkins, efforts by James Joyce to incorporate musical structure into his writing, and ways in which Eliot wove snippets of popular song lyrics and opera libretti into his verse.
Five months later, Burgess covered much the same ground in the John Crowe Ransom Memorial Lectures at Kenyon College. He called that set of four lectures 'Disharmonious Sisters: Observations on Literature and Music', repeating the content of the Eliot lectures while adding remarks on his novel MF in the final lecture. Seven of the eleven chapters of This Man and Music are based closely on the Kent and Kenyon lectures, with two of the remaining four also concerned primarily with literary matters.
A stipulation of the agreement with the University of Kent was that Faber & Faber would publish the T.S. Eliot Memorial Lectures after Burgess delivered them. Having endowed the lectures, Faber reserved the right to publish them, as it had done since W.H. Auden's inaugural Eliot Lectures in 1967. One benefit of this new edition is the explanation of how Burgess and his agent Gabriele Pantucci (to whom This Man and Music is dedicated) managed to wrest the publication rights away from Faber and sell them to Hutchinson instead, with McGraw-Hill printing the US edition. Part of this maneuver required changing the title, which is how the book came to be called This Man and Music. Faber retained the right to publish Burgess's four Eliot Memorial Lectures as Blest Pair of Sirens, but with the content of those lectures having already made it into print in 1982, it's hardly surprising that Faber has never exercised that option.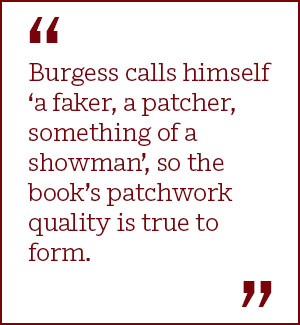 In the opening chapter, Burgess calls himself 'a faker, a patcher, something of a showman', so the book's patchwork quality is true to form. As a master novelist and prolific composer, Burgess was exceptionally well qualified to reveal ways in which music and literature inform each other, yet he often substitutes vague generalities for specific explanations.
For example, in the discussion of MF, he writes, 'As a bare skeleton, the story discloses all the elements of a closed structure, like a piece of music, with a labyrinth of logic that does not apply to a world where incest is just a pleasantly horrible perversion and not an aberration to be considered amorally, with reference to riddles and talking animals.' And 'it is possible to juggle with the free will of fictional characters and the predestination of an imposed structure. This is, after all, the manner of music, in which the component strands seem to go their own way but are locked in a preconceived pattern.' While such comparisons are tantalizing, the lack of details can be frustratingly unsatisfying.
The premise of the title is fulfilled principally in the first, third, and final chapters: 'Biographia Musicalis', 'Let's Write a Symphony', and 'Bonaparte in E Flat'. In Little Wilson and Big God, published in 1987, Burgess presented a much fuller autobiographical portrait than the one presented in this 'musical biography'. Not only fuller, but starkly different! One of the foundational myths presented in This Man and Music is that Burgess learned to play piano and read music entirely by himself, starting from a single note: 'Find middle C and you have found everything.' His piano-playing papa was too preoccupied with his 'boozing friends' to bother with little John Wilson (Burgess's birth name): 'My father was unhelpful … He would not even indicate the double location of middle C – the note on the keyboard, the sign on the stave.'
Yet in Little Wilson, his cigarette-smoking sire does exactly that: 'He found the slow movement [of Beethoven's Fifth Symphony] and pointed to the mock-martial secondary theme. "That's the tune," he said, and, bowlered, he played it with a fag in his mouth. "All you have to do is copy it out. That, by the way," pointing with a nicotined index, "is middle C. Under the treble stave or over the bass stave, it's still middle C. And here it is on the joanna." He prodded and it sounded, "Just to the right of the lock," meaning the ward. And then, fresh fag glowing, he went off to the Alec. He had given me a music lesson of exemplary brevity, the only one he ever gave, the only one I needed.' Ever inventive, Burgess generously provides multiple versions of his life story, leaving it up to his readers to choose their favorite.
This Man and Music is an indispensable book on the subject of Burgess and music, and it is good to have it back in print again, thanks to the Irwell Edition.
Review by Paul Phillips, Stanford University