NEWS AND BLOG POSTS
This Man and Music: Q&A with Raymond Yiu
Burgess Foundation

8th April 2020
Raymond Yiu, composer of the song cycle The World Was Once All Miracle based on Anthony Burgess's poems, describes his love for This Man and Music in this Q&A, exclusive to the Burgess Foundation and Manchester University Press.

Tell us how you first came to Anthony Burgess's This Man and Music. What impression did it make on you?
I first came across This Man and Music over 20 years ago in a second-hand bookshop. At the time I was interested in the music of Paul Bowles, and hence curious to know if there were any other writers who also composed. Discovering Anthony Burgess the composer via This Man and Music was timely. In fact, it was the first book of Burgess that I read. For that reason, I always saw him as a composer who wrote books.
Your journey as a composer is perhaps unusual as you are self-taught, like Anthony Burgess. Did this similarity resonate with you? What other aspects of Anthony Burgess's approach to music did you respond to?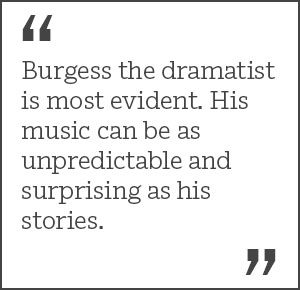 I think the fact that both Burgess and myself are autodidacts as composers allowed me to hear and understand his music in a more sympathetic way. Although technically far from perfect — after all, he did not get to hear his music until much later on in life, and composing is a practical craft which can only be improved by hearing the errors and misjudgments one made in older works — all the compositions by him that I have heard displayed a unique sense of structure and, more important, an often unusual musical discourse. In a sense, Burgess the dramatist is most evident. His music can be as unpredictable and surprising as his stories.
Burgess's most ambitious work is perhaps his Symphony in C, to which he devotes a chapter in this book. Who do you think were Burgess's main influences, and what makes his music distinctive?
I think one of the towering figures in Burgess's musical thinking is undoubtedly Beethoven, an obsession which can be traced from the way he discussed his Symphony in C in This Man and Music, and the fact that Napoleon Symphony (1974) is modelled on Beethoven's Eroica Symphony. Harmonically, there are traces of the influence of Elgar, Britten, Hindemith, Walton, Tippett (most notably in the third movement of the Symphony) and even Ives (in the last movement). However, there is an underlying individuality that underlines the whole work — the way it unfolds and develops — which I feel is uniquely Burgessian.
This Man and Music is partly an autobiography and partly a book about composition. How would you describe it to those who haven't read it before?
It is a fascinating glimpse into a fascinating mind. To understand Anthony Burgess the writer completely, it is essential to see how the mind of Anthony Burgess the composer works, and one cannot find a more perfect way to do so than to read This Man and Music. Burgess always considered himself a composer who wrote words in order to make a living. For that reason, I saw This Man and Music as a love letter to a mistress who he truly adored, but knowing full well it would never be fully accepted by the general public.
You set Anthony Burgess's poetry to music for your song cycle The World Was Once All Miracle. Tell us something about how you wrote that work.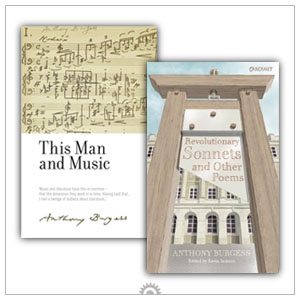 Taking from my knowledge of Anthony Burgess as a composer who wrote books, I wanted to create a musical impression of him for the celebration of the centenary of his birth. After a lengthy period of research, I finally managed to locate six fragments from his poetry collection, Revolutionary Sonnets (2017), to highlight the three things that concerned him most in his works — words, music and the conflict between good and evil. I have also taken into account the several years when he and his first wife lived in Malaya in the mid-1950s (which forms the premise of the third song in my song cycle). The title of the cycle, however, comes from Earthy Powers.
We're looking forward to your album appearing later this year. What are you working on at the moment, and what are you excited about for the future?
If everything is going as planned, the album of three orchestral works of mine, including The World Was Once All Miracle, will be released later this year by Delphian Records. Currently I am composing a work celebrating Beethoven 250 for Hong Kong Philharmonic, as well as a violin concerto in the pipeline.
Until 30 April 2020, readers can get 50% off any Irwell Editions brought from Manchester University Press. Enter the code IRWELL20 at checkout here.