NEWS AND BLOG POSTS
Burgess Memories: Brian Aldiss
Brian Aldiss

23rd August 2017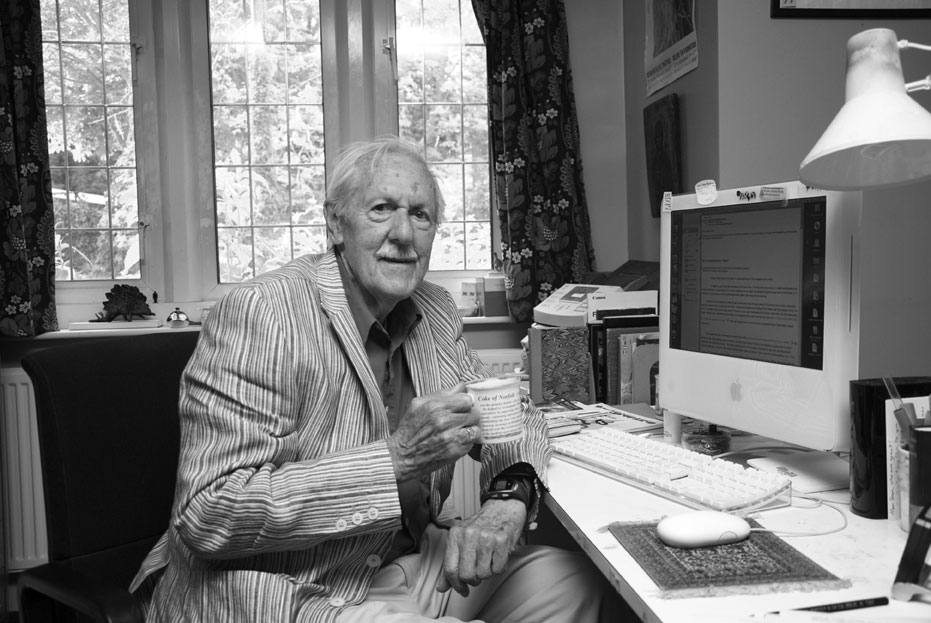 Burgess was always courteous and kind; the fact we enjoyed each other's writing helped a great deal.
When Burgess's early novels of what were later called The Malayan Trilogy were published, I had only recently returned from that exotic region myself. Not only were Time for a Tiger and the others extremely funny, Burgess showed an amazing ear for the way in which Malays, Chinese, Sikhs et al spoke. I was full of admiration and wrote to Burgess to compliment him. Of course, I was away-from-homesick for those brilliant parts of the world.
I met him casually several times, for instance at Faber parties in the late Fifties and early Sixties. He was extremely patient with a wife whose eccentricity readily turned into tipsiness.
When my wife was pregnant with our first child, we went to Malta to enjoy a little December sun. How pleasant it was to breakfast on our balcony and experience a slight heat problem. We stayed in an excellent hotel in the centre of the island. One evening, we were sitting in the bar when in came a tall figure dressed in a tropical shirt and a pair of eye-jarring blue cord trousers. 'Good God!' I said. 'It's Burgess.' I went up to him and bought him a drink. Well, several.
He invited us to his palazzo. I went alone. The building was quite modest, set unobtrusively behind large double carriage doors in a steep street. Anthony was there with his new Italian wife, Liana. They were most welcoming. We sat on a balcony which overlooked the palazzo's central square, in one corner of which a lemon tree flourished. We were both smoking in those days; both of us have had to give up that agreeable habit, death being Anthony's motivation, survival being mine. Liana wheeled over a drink trolley and we started in on – well, I don't recall what now. Possibly on Cinzano, to which at that time I was addicted. Then into red wine. From discussing the many pleasures of Malta, we changed the subject and Anthony embarked on a long tale of his difficulties in getting to Rome to meet Liana, and then to Malta to claim his palazzo.
It was a pretty melancholy tale. Anthony had driven down to the south of France in a motor caravan. While parked in a camp, his vehicle was broken into. He was away in town; he returned to find all his valuables gone, including his passport. However, one of his own novels remained. He pretended to be disappointed at that; he felt the thieves had had no feeling for literature. But the book carried his photo on the back of its dust jacket. When he reached the Italian frontier, he showed the customs men his book, and they let him through. We discussed whether the British customs would have been so author-oriented!
The story carried Anthony and Liana down to Brindisi, where they caught a boat to Malta. Terrible transport problems met them in Valletta harbour. There were more terrible setbacks. As the stage darkened, Anthony laughed the more. We were all three shaking with laughter. Then he gestured down to the lemon tree. 'And here we are, thank God, with drink abounding!'
I was immensely fond of him. Only with Kingsley Amis have I laughed as much. He was a fertile and diverse writer. He did not hesitate to plunge into science fiction when he felt like it. And, of course, he knew a great deal. As he grew older, he looked even grander, though the shabby eagle aspect was not far distant. He talked with his eyes closed or, at best, with his eyelids aflutter. The literary scene is less interesting for his passing.
You know why he had to leave Malta, don't you? Desmond Morris had published The Naked Ape and went with his wife, Ramona, to holiday on Malta. He gave a lecture at the university, where he condemned the Maltese Catholic government for banning condoms. He was at once in trouble. Burgess, a good man, rose to Desmond's defence. So eventually they were both kicked out – sorry, invited to leave!
Brian Aldiss (1925-2017) was a novelist and editor, widely regarded as one of the greatest British authors of science fiction. He wrote the Helliconia Trilogy (1982-85), and the short story 'Super Toys Last All Summer Long', adapted into the Steven Spielberg film A.I.: Artificial Intelligence. He wrote this memoir in 2003.