NEWS AND BLOG POSTS
Burgess Memories: Tony Palmer
Tony Palmer

31st January 2017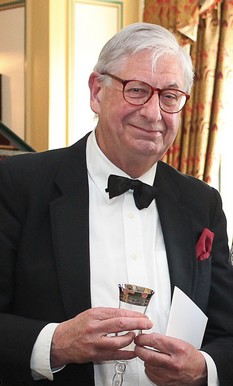 Knowing of his love for and great knowledge of music, I interviewed Anthony in 1968 for one of the first BBC films I ever made, All My Loving, which was essentially about 'pop music' and all that that entailed in the late 1960s. The Monterey Festival was behind us, and Woodstock still to come. But the musicians of both those extraordinary events – The Who, Jimi Hendrix, The Animals, Pink Floyd, as well as Cream, Frank Zappa and of course The Beatles – provided the soundtrack and also the intellectual pretension of my film. This is what Anthony Burgess said, ironically in the Crush Bar of the Royal Opera House, to the fury of the management:
'I remember an old proverb which says: "Youth thinks itself wise, just as drunk men think themselves sober." Youth is not wise; youth knows nothing about life. Youth knows nothing about anything except a mass of clichés which, for the most part, through the media of pop songs, are just foisted on them by middle-aged entrepreneurs and exploiters who should know better. And when we start thinking that pop music is close to God, then we'll think that pop music is aesthetically better than it is. And it's only the aesthetic value of pop music we are really concerned with. I mean, the only way we can judge Wagner or Beethoven or any other composer is aesthetically.  I mean, we don't regard Wagner, or Beethoven, or Shakespeare, or Milton as great teachers. But when we start claiming for Lennon or McCartney or the Maharishi or any other of these pop prophets the ability to transport us to a region where God becomes manifest, then I see red.
'We're satisfied with our little long-playing records, with ten pop numbers or thereabouts a side. This is great art; we've been told this by the great pundits of our age.  In consequence, why should we bother to learn? There's nothing more delightful than to be told, "You don't have to learn, my boy. There's nothing in it. Modern art? There's nothing in it." When you're told these things, you can sit down with a sigh of relief; thank God, I don't have to learn, I don't have to do travel, I don't have to exert myself in the slightest. I am what I am. Youth is youth. Pop is pop. There's no need to progress. There's no need to do anything. Let us sit down, smoke our marijuana, an admirable thing in itself, but not the end of anything. Let us listen to our records. Life has become a single moment. That single moment is eternity. We're with God. Finis.'
I have kept a print-out of this manifesto on my office wall throughout my career, to the amusement of Anthony B. It confirmed a lifelong mutual admiration and, I hope, friendship.
Tony Palmer is one of the leading directors of music documentaries and historical drama films in the world. He has won over forty international prizes for his work, including and especially television's most coveted award, the Prix d'Italia. He is the only person to have won this prize three times.