The Foundation
The Burgess Bar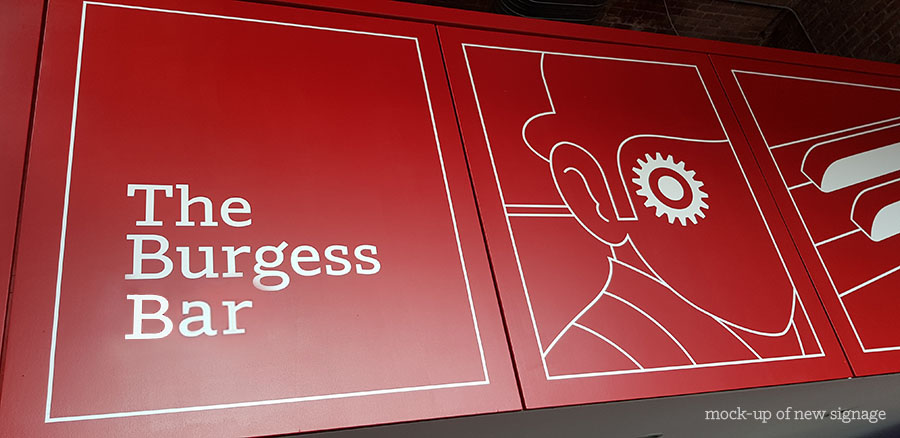 The Burgess Bar is a fully-licensed bar set in the Victorian splendour of Chorlton Mill in Manchester, and from 21 June 2021 will be open especially for events at the International Anthony Burgess Foundation.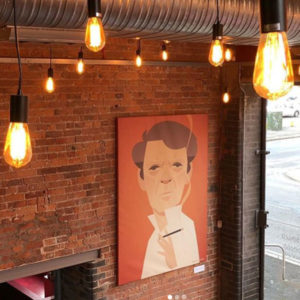 When you hire the Burgess Foundation for your event, the bar will offer an excellent range of beers, wines, soft drinks and snacks. As well as a great hang-out space for your audience, the bar can operate as your box office or registration room, or a break-out space for workshops.
The Burgess Bar is home to a specially commissioned portrait of Anthony Burgess by the internationally-renowned illustrator Stanley Chow. We have A3 prints of this incredible artwork on sale exclusively in our bar for £12 each.
We also have a range of Anthony Burgess books for you to browse or buy, and an ongoing Burgess exhibition illuminating the life of Manchester's best 20th century author.
The daytime café operation is now closed, but event hire is available at any time of the day. To hire the space, or to discuss drinks receptions or catering, get in touch via our Venue Hire page.
Scroll down this page to see our drinks offer. Please note that this offer is currently under review as we prepare for the post-lockdown relaunch of the Burgess Bar.
The Burgess Foundation and Burgess Bar is wheelchair accessible, with accessible toilets located on the ground floor. If you need to plan assistance for your visit, please get in touch.
---
All coffee is served double-shot
Espresso £1.75
Americano £2.50
Latte £3
Cappuccino £3
Flat white £2.50
Mocha £3.25
Hot chocolate £3
Soya, almond, oat and coconut milk available
---
Loose leaf teas: £2.50
Choose from:
Castlefield breakfast
English peppermint
Rosehip and hibiscus
Earl grey and cornflour
Yunnan Green
---
Beer Brothers:
Hop chocolate (4.3%) £4.25
Gold (3.8%) £4
IPA (3.8%) £4
First Chop:
Jam (4%) £3.75
IPA (4%) £3.75
Brightside Brewery:
B-side Golden Ale (4.2%) £4.25
Pale Ale (4.5%) £4
Lager (4.4%) £3.75
Manchester Skyline (4.6%) £4.25
Smashed Hops (0.0%) £2.50
Moss Cider Apple Cider £4.25
---
White: Monte Verdiccio Schiavo (12.5%)
Small 125ml £3.25
Medium 175ml £4.50
Large 250ml £5.50
Bottle £15
White: Il Badalisc Pinot Grigio (13%)
Small 125ml £3.75
Medium 175ml £5
Large 250ml £6
Bottle £16
Red: Borso Garnacha (13.5%)
Small 125ml £3.25
Medium 175ml £4.50
Large 250ml £5.50
Bottle £15
Red: El Viejo del Valle Pinot Noir (13.5%)
Small 125ml £3.75
Medium 175ml £5
Large 250ml £6
Bottle £16
Rosé: Mirabello Pinot Grigio (11.5%)
Small 125ml £3.25
Medium 175ml £4.50
Large 250ml £5.50
Bottle £15
---

Stepmothers cocktail £5.50
Three Rivers £6
Zymurgorium £5
Thomas Dakin £5.50
Manchester Gin
All gin served with tonic water
---