what's on
Concert: A Clockwork Orange – responses to the music of Wendy Carlos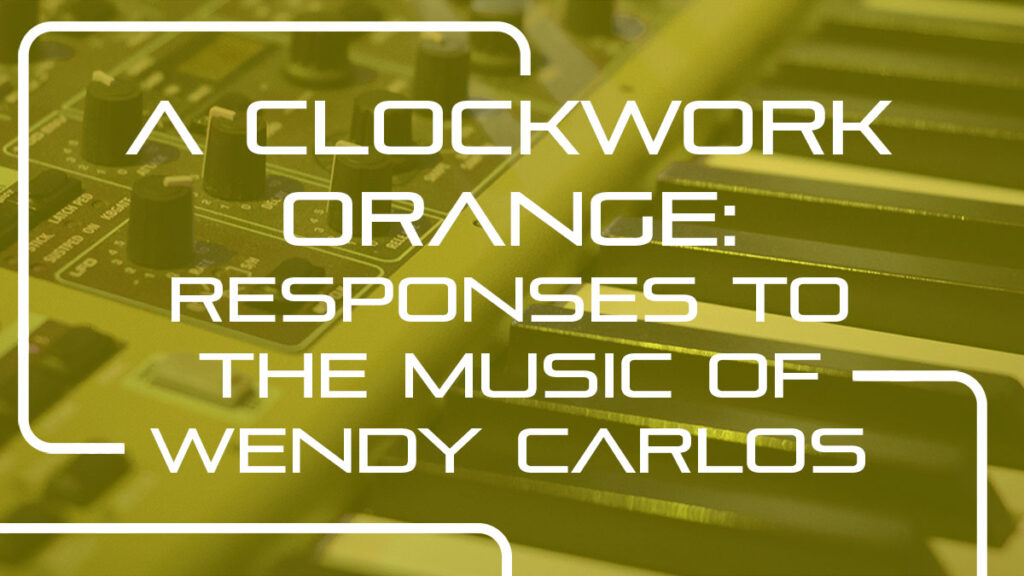 Oh, it was gorgeousness and gorgeosity made flesh. The trombones crunched redgold under my bed, and behind my gulliver the trumpets three-wise silverflamed, and there by the door the timps rolling through my guts and out again crunched like candy thunder.
2021 marks the 50th anniversary of Stanley Kubrick's film adaptation of A Clockwork Orange, and 60 years since Anthony Burgess completed his most famous novel. To celebrate the anniversary, we present a concert of electronic music inspired by Wendy Carlos's synthesiser score for Kubrick's film.
The concert features Tom Richards, who rebuilt the Mini Oramics machine invented by BBC Radiophonic Workshop co-founder Daphne Oram, in partnership with artist Frances Scott, whose book Incantation, Wendy precedes Wendy, her forthcoming film fan-letter to Carlos. In support will be Caro C, co-founder of Delia Derbyshire Day whose fourth album Electric Mountain came out earlier this year.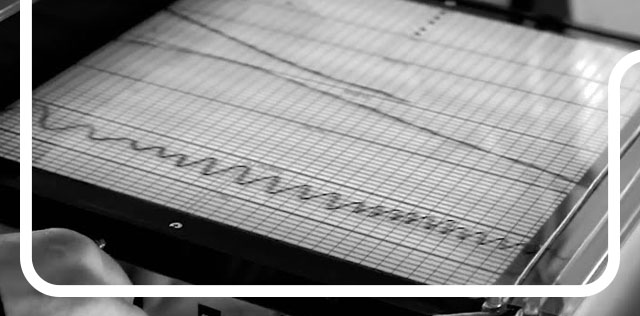 Tom Richards and Frances Scott: rehearsal letter (2021)
rehearsal letter is a live performance by musician and instrument designer, Tom Richards, and artist filmmaker Frances Scott. The session has been developed as part of a soundtrack for Scott's forthcoming work Wendy, a film fan-letter to composer and musician Wendy Carlos.
For this event, Richards re-interprets pages from Carlos' original scores Timesteps and Theme from Theme from A Clockwork Orange (Beethovania), which she composed for Stanley Kubrick's film adaptation of A Clockwork Orange (1971). Here, Richards uses the Mini Oramics machine which he built in 2016, based on an original 1976 design by composer and inventor Daphne Oram. It is a musical interface which allows the composer to draw graphic scores on overhead projector rolls, which are then read directly by the machine, creating 'drawn sound synthesis'. These new, Mini Oramics scores are combined with other hand made instruments, custom dub-plates, an analogue vocoder and modular synthesiser equipment.
Bringing together digital footage with hand-processed 16mm film, shot in a previous rehearsal, projected images by Scott suggest a surreal synchronicity between the act of Richards' drawing on acetate, with the pulses and scratches produced in the act of realising the filmed image. The final film Wendy will progress this synthesis of digital and analogue, to combine 16mm with 4D volumetric filmmaking, locating 'real' bodies in virtual space.
A 'rehearsal letter' is a letter of the alphabet used at structural points in an orchestral score, to indicate where a musician or performer might begin, other than the start of the piece or movement. In this spirit, the session presents fragments of a score in the process of its construction.
Incantation, Wendy, published by An Endless Supply under their Bobo imprint, will be available to buy on the night.
rehearsal letter was first commissioned as a recorded studio session for transmediale x CTM 2021, Berlin. Wendy is a research residency and commission with TACO!, supported by Arts Council England.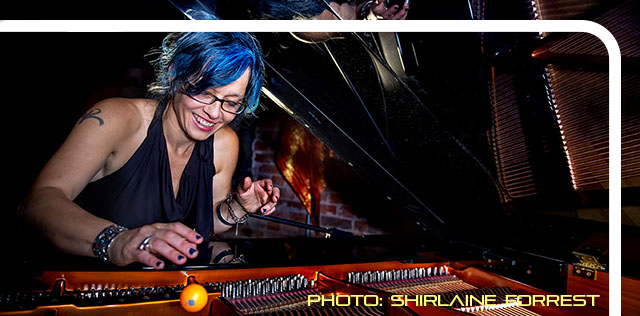 Caro C: Improvisations on Electric Mountain
Improvisations on Electric Mountain centres around Caro's C latest album Electric Mountain using piano, synths, voice, electronics, climbing gear, oven shelves, a ping pong ball and a panoply of samples.
Electric Mountain brings together Caro's love for the mountains, the natural elements and the technology that enables her to express herself so fully. As the sixth mass extinction is underway, themes include connection, conscious evolution, loss and belonging. There's also the glory of rock climbing – the physical power and connection to the elements after being disabled for 15 years or so.
Caro C has been described by BBC Radio 3 as a "sonic enchantress". She is an artist, engineer, teacher and bespoke composer/sound designer including for other artforms like dance, theatre, film and sculpture. She is an instigator of Delia Derbyshire Day, which celebrates the famed BBC Radiophonic Workshop composer, most famous for her work on the Doctor Who theme tune.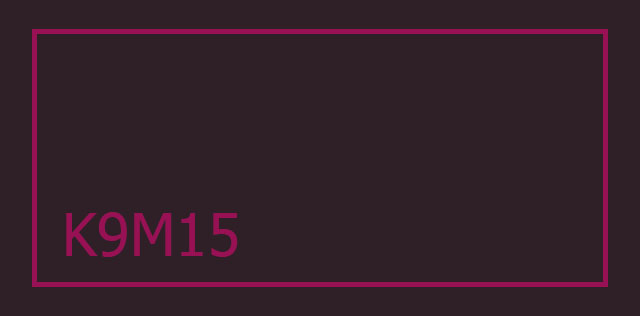 K9M15: Carlos Digital Soundscapes
Donated anonymously to A Clockwork Orange: Responses to the Music of Wendy Carlos, Carlos Digital Soundscapes comprises a series of process recordings featuring abstract and obscured elements closely related to the work of Wendy Carlos. The work is inspired by Carlos, modern ambient music, and the sonic adventurism of the Radiophonic Workshop.
The only performance element of this work is a series of statement cards as plain and as functional as the architecture of A Clockwork Orange's brutalist Southmere Estate location. The artist, who sent their work to the Foundation as a series of Wav files with titles akin to mathematical equations, wishes only to be known as K9M15 .
Location: International Anthony Burgess Foundation, Cambridge Street, Manchester M1 5BY
Early bird tickets: £6 (limited availability – buy now) | Standard advance tickets: £8 | On the door: £10
Doors 7pm | Starts 7.30pm