what's on
Concert: Apollo Saxophone Quartet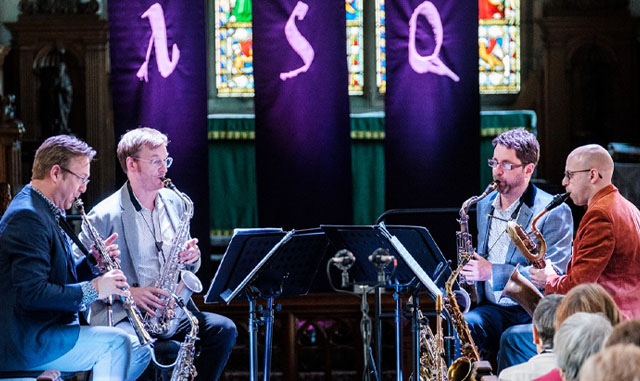 The Apollo Saxophone Quartet is delighted to announce their latest series of commissions from some of today's most exciting and innovative composers.
The new pieces will be premiered at the International Anthony Burgess Foundation on 5th November, 2022. There will be 2 performances, at 5.30pm and at 8pm. Please join us for a chat and a drink with us and the composers afterwards.
The ASQ will premiere and record new works from Dani Howard (Royal Philharmonic Society Awards Winner 2021); Grace Evangeline-Mason (Royal Philharmonic Society Awards Winner 2018); Jenni Watson, one of the most distinctive and individual composers with a flair for saxophone composition; Claire Cope, pianist, composer, bandleader and educator (shortlisted for a Marvin Hamlish Award 2021, presented by Quincy Jones); Adam Caird, well-respected pianist and composer; and Bill Connor, one of the UK's most respected film and concert composers.
---
"Glorious music….superbly performed by the Apollo Saxophone Quartet" Sunday Express
"Jazz rhythms met minimalism in a lyrical embrace; motifs and patterns chased tails in music instantly attractive, but never vacuous… the phenomenal skill of the Apollo four…the silkiest transformation from furnace blast to the softest whisper this side of the Milky Way" The Times
"A unique virtuoso banquet" Classical Music Magazine
"The Quartet's ensemble of Saxophone registers sounded as tight as fingers in a fist" The Independent
---
Photograph of the Apollo Saxophone Quartet in concert by Guy Carpenter
Video features Calheta by Andy Scott, written for the Apollo Saxophone Quartet in 2021