what's on
[CANCELLED] Concert: Eroteme #03 – John Butcher, Christian Kobi, Lee Patterson & Christian Müller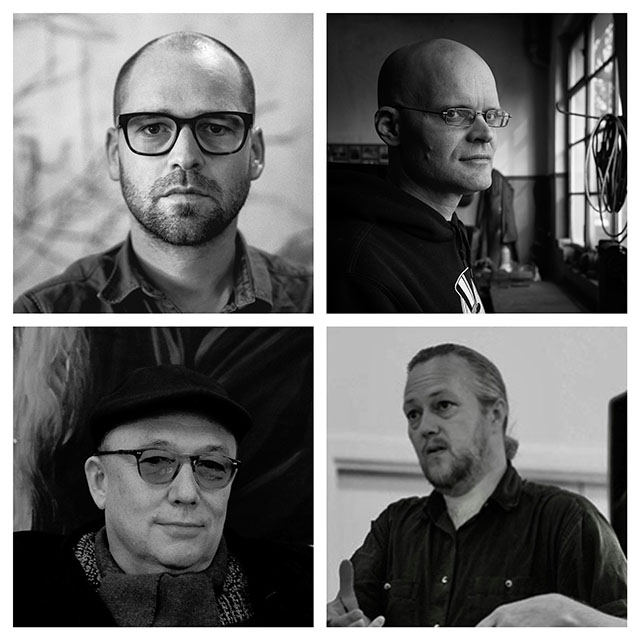 Note: this event has been cancelled for various reasons outside the organsers' control. Ticket holders will be contacted.
Eroteme presents the newly formed quartet of Swiss and UK luminaries: John Butcher, Christian Kobi, Lee Patterson & Christian Müller.
Fresh from a London studio recording and their debut concert at OTO we will allow the group to further expand their vocabulary and investigate modes of operation as yet undefined.
Also joining us for the first time is Leeds-based interdisciplinary artist Lottie Sadd who will be performing a new piece for solo piano.
---
John Butcher (UK)
John Butcher is well known as a saxophonist who attempts to engage with the uniqueness of time and place. His music ranges through improvisation, his own compositions, multitracked pieces and explorations with feedback and unusual acoustics.
He has collaborated with hundreds of musicians – including Derek Bailey, Rhodri Davies, Andy Moor (EX), Phil Minton, Christian Marclay, Eddie Prevost, John Stevens' SME, Gino Robair, Polwechsel, Mark Sanders, John Tilbury, and Okkyung Lee.
"English saxophonist John Butcher may be among the world's most influential musicians, operating at the cutting-edge of improvisatory practice since the '80s. Whenever an acoustic musician starts to sound like a bank of oscillators, a tropical forest, a brook or an insect factory, Butcher's influence is likely nearby." – New York City Jazz Record.
---
Christian Kobi (CH)
Founder / Curator of »zoom in« festival for improvised music at the Minster of Bern, Co-founder of the music label «CUBUS RECORDS» and Artistic director of Szofa Budapest: Christian Kobi pursues a prolific solo career alongside his many activities as a saxophonist in the Konus Quartett.
He performs and creates with various musicians, composers and artists such as Phill Niblock, Jürg Frey, Taku Sugimoto and Keith Rowe.
Through an intensive exploration of improvised music he has developed a highly personalized language, exploring the relationship between sound, silence and action in space.
---
Lee Patterson (UK)
To make music, Lee Patterson exploits mechanical and chemical synthesis. Using sound making and recording to devise performances with a selection of amplified objects, devices and processes, from rock chalk to springs, from burning nuts to vibrating metal, he makes a novelty of playing objects and situations otherwise considered mute.
Lee's collaborators have included some of today's most respected experimental musicians, artists and filmmakers, including Angharad Davies, Rhodri Davies, Luke Fowler, Rie Nakajima, Vanessa Rossetto, John Tilbury, David Toop, Tetsuya Umeda, Mika Vainio, Jennifer Walshe and many others. His work has featured in various exhibitions and festivals, and on UK TV, BBC Radio 3, 4 and 6, Resonance 104.4 FM and on radio stations worldwide.
---
Christian Müller (Ch)
During the last twenty years Christian Müller has worked mainly as an improvising electronic-musician, electro-acoustic bass-clarinetist and composer. As a member of Strøm and as a solo musician he has created several sound installations and audiovisual pieces.
He collaborates in diverse constellations with the musicians Martin Schütz, Christian Kobi, Tomas Korber, Diatribes, Oren Ambarchi, Jonas Kocher, Bertrand Denzler, Jacques Demierre, Burkhard Beins, Clayton Thomas, Bertrand Gauguet, Michel Doneda, Flo Götte, Norbert Möslang, toktek, Simon Berz, Lionel Friedli, Lê Ninh Quan, Mitsuaki Matsumoto, Strotter Inst., dieb13, Susanna Gartmayer, Patricia Bosshard, Yan Jun, Cristián Alvear, Sergio Merce, Loenel Kaplan, Gabriel Areal, Fernando Perales…
Furthermore he works continuously in various contexts and in various bands like DEER, IMO, Convulsif or Infest.
---
Lottie Sadd (UK)
Lottie Sadd (she/her) is an interdisciplinary composer-performer making immersive sonic performances and installations. Informed by ideas of ritual, her holistic practice is broadly concerned with exposing the processes of creation. Sadd experiments primarily with long-form and improvised sound works, moving image, and text, inviting audiences to step outside an object-centric art experience and into these dynamic processes.
She is particularly interested in smallnesses, exploding the minutiae of things and 'writing a lot about a little'. Recently, she has been developing her embodied practice involving vocal (non-verbal and verbal) and bodily performance, responding to feminist mythologies of 'monstrous' women, and re-imagining corporeal and empathetic approaches to communication.
Note: this event has been cancelled for various reasons outside the organsers' control. Ticket holders will be contacted.