what's on
Concert: Eroteme #04 – Adam Bohman, By Biro And Umbrella Spring film screening + The Bohman Brothers (Live)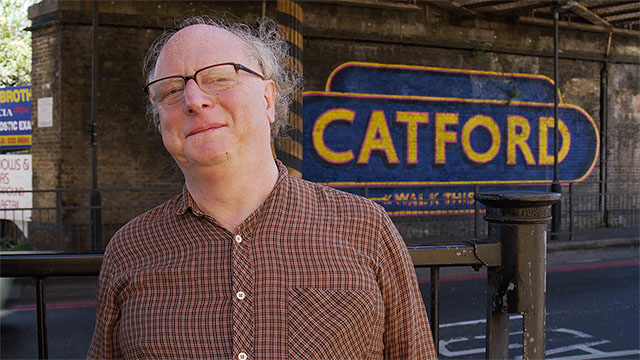 The Eroteme series presents a special film screening of By Biro and Umbrella Spring, with a Q&A with the Director Cathey Soreny and Adam Bohman, followed by a performance by The Bohman Brothers.
Adam Bohman's life is a continual bricolage – from his artworks to his sound works, via his tape diaries and text pieces. He magpies and gleans away pedestrian gems, and from his hoard he conjures up a prolific and kaleidoscopic creative output.
Filmed within and around his creative den – his sublimely cluttered flat in Catford – Adam guides us through tabletops overspilling with springs and metal, tottering piles of collages, and the joys of street signs of Lewisham, offering an intimate glimpse into his processes and passions.
---
Adam Bohman
Adam Bohman has been operating on the outer fringes of underground music for decades. Working with home-built instruments, found objects, tape cut-ups, collages, ink drawings and graphic scores. Favouring acoustic sounds over electronics, he explores the minute tendrils of sounds coaxed from any number of non-musical instruments and objects. He is a member of British experimental groups, Morphogenesis, The Bohman Brothers, Secluded Bronte, and The London Improvisers Orchestra. Adam's music is unique and experimental, incorporating Fluxus japery, musique concrete, sound poetry and free improvisation.
---
Cathey Soreny
Cathy is a documentary filmmaker who on one hand focuses on co-created films for social change, on all the rest of her limbs documents and celebrates the UK underground improvising scene. As part of Sheffield community TV collective Peak Signal 2 Noise she has developed a unique approach to exploring creativity.
---
The Bohman Brothers
"Sound art veterans The Bohman Brothers invest random words with unearned meanings via the eloquent juxtapositions of their elegantly neutral voices. After three decades of experimentation, these alchemists of banality, these banalchemists, turn everyday leaden language into poetic gold." – Stewart Lee (reviewing the Back On The Streets album)
Adam Bohman and Jonathan Bohman have been recording together since their early teens and playing live since 1984. Their repertoire includes a combination of sounds created in the moment and distinct compositions including songs. They use unconventional instruments, household objects, dislocated text from found, literary and commercial sources and collaged layers of recordings.
Working together they are in a number of groups, including Secluded Bronte with Richard Thomas, Apricot My Lady with Lukas Simonis and Anne La Berge and Ischio Romantico with Leonard Aspen & Roger Boulding. They have also worked with film-maker Peter Strickland on various projects.
Additional collaborations with Christian Marclay, Luke Fowler, Andy Holden, Ken Campbell, Ilan Volkov, Steve Beresford, Lol Coxhill, L.Voag, Lepke B, Peter Fengler, Felix Kubin, Jim O'Rourke, Charles Hayward, Michael Prime and Neil Luck.
They have performed at Tate Britain, Tate Modern, Roundhouse, Royal Albert Hall, South Bank and numerous smaller venues around the UK. Also across Europe and America.
Their duo recordings include A Twist For All Pockets (Rossbin, 2001), Purely Practical (Peripheral Conserve, 2002), Back On The Streets (Peripheral Conserve, 2012), Library Music (Des Astres D'Or, 2019) and In Their 70s (Fort Evil Fruit, 2021).
---
For your safety we ask you to wear a mask and you'll need to bring with you proof of a negative lateral flow test…. If your finding it hard to get hold of one we'll have a limited number on the door!
---