what's on
Concert: Eroteme #1 with Ryoko Akama & Sam Weaver, Adam Fairhall and Sam Mcloughlin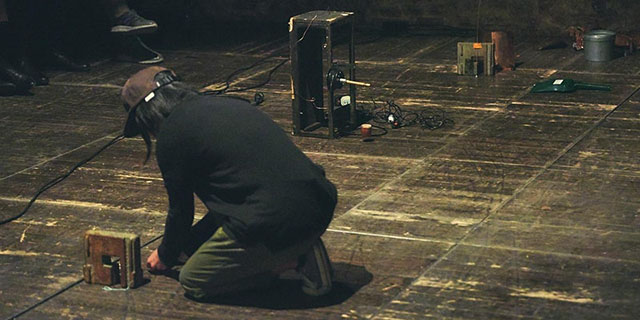 Cuspeditions & Kambuja team up to present a new concert series championing experimental music from the hinterlands.
Joining us for our first event at Manchester's Anthony Burgess Foundation will be:
Ryoko Akama & Sam Weaver (Duo of objects and localized electronics)

Adam Fairhall (Solo Accordion)

Sam Mcloughlin (homemade instruments, found objects)
Ryoko Akama approaches listening situations that magnify silence, time and space. Her sculptural work engages with mundane objects and invisible energies such as magnetism and gravity, embodying 'almost nothing' sound aesthetics. She also composes and performs non- traditional scores. She is an artistic director for ame C.I.C. and co-runs the independent publisher mumei publishing and melange edition.
Sam Weaver is a composer and sound artist who uses the studio as a laboratory for sonic investigation and production, often re-routing instruments into abstraction and deliberately misusing his equipment: the Hordjik analogue modular synthesizer. His music exists between acousmatic music, free improvisation and experimental electronics.
Adam Fairhall has forged an international reputation as a jazz pianist and improviser of exceptional versatility. Adam's solo playing draws on his "compendious knowledge" (Jazzwise) of the jazz tradition, from ragtime to free, to produce music in which ancient idioms cross-pollinate with contemporary approaches. Adam's solo concerts often involve the use of unusual mechanical keyboards from his extensive collection, and for this Manchester gig he will be focusing on the accordion.
You may have come across Sam McLoughlin's work under various guises including N Racker and Tongues of Light, each taking on different restrictions or ways of working. Under his own name tonight he will most likely be using his collection of homemade instruments, found objects, analogue synths and harmonium, which can be seen in action in his many youtube videos.
Tickets on the door: £7.50
Advance: £5 / £3 concession
Wednesday 10th November 2021
Doors 7:30 / Concert 8:00