what's on
Concert: Eroteme present – Lucy Railton & Joseph Housten / Biliana Voutchkova & Isidora Edwards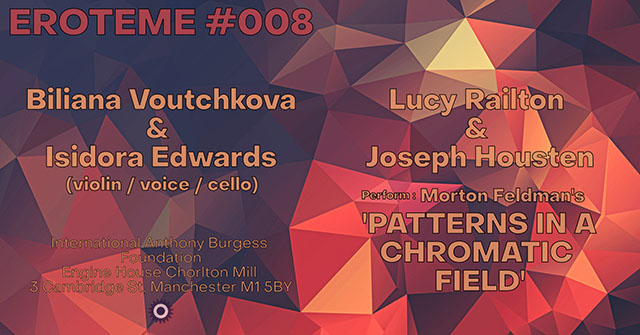 Eroteme presents an evening of contrasting contemporary improvised and composed music : Biliana Voutchkova & Isidora Edward's new duo of violin, voice and cello alongside a special performance of Morton Feldman's 'Patterns In a Chromatic Field' by Lucy Railton and Joseph Housten.
---

Lucy Railton & Joseph Houston perform Morton Feldman's monumental 1981 work: 'Patterns in a Chromatic Field' for cello and piano
"Written in 1981, 'Patterns in a Chromatic Field' is one of US composer Morton Feldman's lengthy 'late' works in which, as he famously explained, ideas of form give way to a sense of scale. Running to more than 90 minutes, it's a succession of seemingly disconnected patterns, with cello and piano mulling over a few chosen pitches, chords and articulations, maybe moving in and out of sync with each other, before simply moving on to something else. The cumulative effect is almost like experiencing the compositional process unfold before your very ears; and despite the apparent objectivity and detachment of the music, there's intense subjectivity, too, in Feldman's minute alterations to his patterns, and his often witty, telling choices as to how they succeed each other." – The Strad
About Lucy Railton:
Berlin/London based musician Lucy Railton has been an active performer, programmer and music maker since 2008, releasing albums on Modern Love, Editions Mego – GRM Portraits, PAN, ECM, SN Variations, Shelter Press and Takuroku. Having emerged from a long-term engagement with classical and contemporary music, she now makes her own work alone or in collaboration with artists and musicians from varied disciplines, including Rebecca Salvadori, Peter Zinovieff, Catherine Lamb, Khyam Allami, Kit Downes, Kali Malone and Stephen O'Malley, and in recent years has worked with Beatrice Dillon, Philippe Parreno, Rhodri Davies, Laura Grace Ford, Alex Hills, choreographers Akram Khan and Sasha Milavic Davies, Yair Elazar Glotman and the film director John Lee. As an organiser she has been involved in presentations of work by Maryanne Amacher and Henning Christiansen amongst many other productions during her time as co-director at London Contemporary Music Festival and Kammer Klang, and has performed in focus concerts lead by Pauline Oliveros, Iancu Dumitrescu, Mary Jane Leach, Cally Spooner, Matmos and many more. Lucy has performed at festivals and venues including Dark Mofo (Tasmania), Blank Forms (New York), Cafe Oto, Borealis Festival, Atonal, Koln Philharmonie, Barbican, Berlin Jazz, Donaueschingen, Sydney Opera House, Rewire, AKOUSMA (GRM), Norbergfestival, Centro de Creación Contemporánea de Andalucía and CTM.
About Joseph Houston:
Joseph Houston is a British pianist active in the fields of contemporary and experimental music. Based in Berlin, he performs a wide range of repertoire, recent performances including Feldman, Jennifer Walshe, Scarlatti, Rebecca Saunders, Ives, Klaus Lang, Bartók, Catherine Lamb, and Chiyoko Szlavnics. He plays regularly in festivals and venues across Europe both as a soloist and with other artists.
Joseph aims to create unique and immersive programmes that combine works from various musical worlds, generating a whole that is bigger than the sum of its parts, while involving himself as much as possible in the compositional process of new commissions. He believes music is fundamentally collaborative and is particularly interested in works that challenge the traditional composer-performer-listener triangle; use performance practice as a compositional parameter; and intensely explore the sonic possibilities of the instrument. He works on a project-by-project basis, building programmes that explore these ideas.
Recent highlights include solo performances at Donaueschinger Musiktage 2019, broadcast on SWR; duos with Sarah Saviet (violin) at Radialsystem as part of Sasha Waltz's ZUHÖREN #4; a CD of chamber music by Thomas Simaku with Quatuor Diotima on BIS; and a recording of Mark Barden's Études 1-3 on WERGO.
---

Biliana Voutchkova (violin, voice) & Isidora Edwards (cello)
Isidora and Biliana had their first encounter in 2019 in Chile. The two artists connected strongly and committed to continue their collaboration. They perform regularly and are joined by different guests – John Russell and Nina de Heney among those. This season, the duo will perform in Duisburg, Berlin, London and Manchester and release their first album, part of Biliana S DUOS2022 series.
About Isidora Edward:
Isidora Edwards is a Chilean cellist, improviser and composer residing in London. Her work is based on investigation of the sound possibilities of the cello and analogue electronics from a feminist perspective. She is actively exploring the intersection between performativity, materiality and imagination. Isidora has taken part in festivals of contemporary and experimental music worldwide, playing solo and in collaboration with various ensembles. As a composer, she has created the music for the dance works "Paisajes" by choreographer Paula Sacur and "Un uno de a dos", by choreographer Teresa Prieto. Isidora graduated from the P. Universidad Católica de Chile, and she holds a MMus in Creative Practice from Goldsmiths, University of London where she is currently a PhD Researcher in Music.
About Biliana Voutchkova:
Biliana Voutchkova is a dynamic and thoroughly engaged interdisciplinary artist with a truly personal, unconventional artistic language. Through the prism of listening, her early training in classical music and the following years of development as a mature contemporary artist-performer, she explores states of spontaneity and intuitive resonance embodied in her multifaceted activities. Her work spans the widest possible range of sound, vision, movement and includes solo / ensemble work, long durational and multidisciplinary formats, concerts, performances, compositions and installations with focus on the specifics of the sound space.